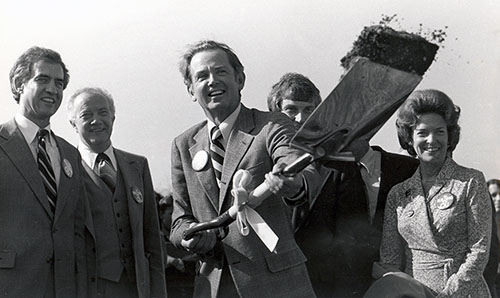 University administrators break ground on O'Dowd Hall in 1978.
When Alfred and Matilda Dodge Wilson donated the land to establish Oakland University, they could hardly have envisioned the shape of
campus today
.
Cranes litter the skyline, students fill state-of-the-art classrooms and academic programs expand at an energetic rate. Oakland is currently enjoying a renaissance of sorts, with multiple construction projects in place that promise to transform the university by 2014.
"We believe that what southeastern Michigan and the state as a whole need most now is renewed investment in the resources that will enable us to thrive in the 21st century," said Oakland University President Gary Russi.
"Our most valuable resources are the young people who will soon assume leadership of our collective future. We believe the investment we're making will inspire them to work toward great successes that will undoubtedly be of tremendous benefit to all of us in years to come."
The university community is now preparing for the construction of a nearly $30 million student housing complex, the Elliott Carillon Tower, a 1,240-space parking structure, a new recreation and athletic complex, and a new headquarters for facility and grounds maintenance operations.
All this has emerged from humble beginnings.
In 1957, the Wilsons donated their 1,500-acre estate, along with $2 million to Michigan State University to establish a satellite school. The first course was a non-credit continuing education class that was taught in a converted chicken coop.
The campus was renamed Oakland University in time for the graduation of its first class of students in 1963. Since that time, the university has grown at a tremendous pace. In recent years, student enrollment has increased to nearly 20,000 undergraduate and graduate students in Oakland's more than 260 degree and certificate programs.
In 2011, Oakland established Michigan's first new medical school in 47 years. Last fall saw the completion of Oakland's nearly 172,825-square-foot Human Health Building, followed by the groundbreaking for a 127,000-square-foot Engineering Center.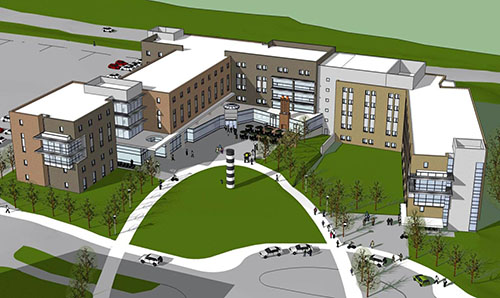 The new student housing complex should be complete in 2014.
This Founder's Day, the university community will look toward the future with several significant campus events.
At 10 a.m. on Tuesday, April 16, university administrators will break ground on the new student housing complex, located on Meadow Brook Drive just east of the Ann V. Nicholson Student Apartments.
Following the ceremony, the annual Faculty Recognition Luncheon will celebrate academic excellence in teaching, scholarship, and service at 11:30 a.m. in the Oakland Center Banquet Rooms.
The festivities will continue at 2 p.m. on Friday, April 19, with a groundbreaking ceremony to begin construction of the Elliott Carillon Tower, located north of Kresge Library.
To view a map locating each project on campus,
click here
. For interactive and printable maps of the campus, visit
oakland.edu/map
.
View the new timeline
to watch Oakland's campus change, grow and expand over the years.
Oakland University is a vibrant academic community with nearly 20,000 students and more than 260 degree and certificate programs. To learn more about academics, achievements, and events at OU, visit the news site at
oakland.edu/newsatou
and follow the news team on Twitter at
@OaklandU_News
.
OU will celebrate Founder's Day with several events this week, including the groundbreaking for the student housing complex and Elliott Carillon Tower.

Created by Katherine Land - Deleted (land@oakland.edu) on Monday, April 15, 2013
Modified by Vadim Garber (vigarber@oakland.edu) on Friday, May 17, 2013
Article Start Date: Monday, April 15, 2013