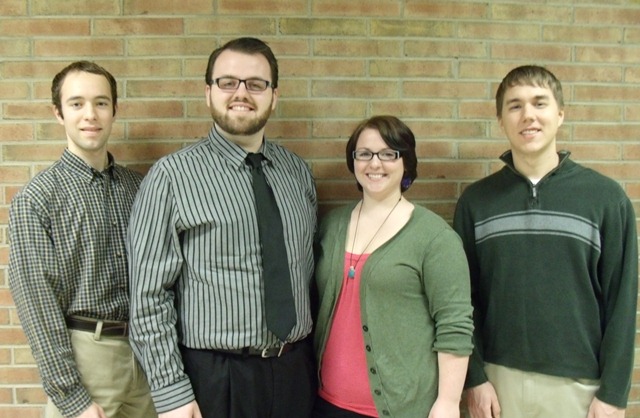 As you read this, the real Michigan winter may have shown up, but January's mild weather was very welcome, insofar as it helped our audiences find their way to our events without the whole tiresome business of negotiating snow. Our fully-costumed and fully-staged opera,
Cosi fan tutte
, was very well attended and received. Dean of the College of Arts and Sciences
Ron Sudol
attended opening night and afterwards sent his congratulations to
Cosi's
director, Assistant Professor
Drake Dantzler
and the entire cast and crew. "Presenting a full-length Mozart opera with a 20-piece orchestra is a major step forward in our music programing and opens many new opportunities for our music students. To have done so well in the thoroughly inadequate space is quite remarkable, in addition to the fact that Varner Recital Hall was filled nearly to capacity with an enthusiastic audience consisting mostly of students. Just in the past year I saw a professional production of
Cosi
in Boston. The production I saw last night compares very favorably and has the added element of a rich profusion of amusing stage business. I was quite swept away by the high quality of singing and stage performance by the six principals." Everyone in MTD echoes the dean's congratulations, especially to the often "unsung" technical crew.
We offer our congratulations also to this year's recipients of Oakland University's Concerto and Aria Competition. The competition is open to any music student. Preliminary auditions are held within instrumental or vocal disciplines, and each studio then sends their own choices forward to multidiscipline final auditions. This year four young musicians, all of whom expect to graduate in 2013, will perform with the Oakland Symphony Orchestra at their upcoming concert.
Daniel Turchyn
plays the euphonium. Daniel attended Lake Orion High School during which time he took lessons with OU faculty member
Dr. Ken Kroesche
, who remains his primary instrument teacher today.
Jacob Skipworth
, bass/baritone, studies with
Professor John-Paul White
. While he was in high school at Avondale High, Jacob took a few private lessons with his choir director Kevin Cornwell, but most of his voice experience was choral.
Soprano
Cheyanne Coss
also took few private lessons before beginning her studies at OU with
Edie Diggory
. Those she did take were with her choir director, Marcia Wiegand, at Eaton Rapids High School, south of Lansing.
Stephen Komer
studies piano with
Mary Siciliano
. He was home schooled and began to learn piano with private teacher Gail Gebhart at age 6. He studied with her until he entered college. You can hear all of these young musicians perform at the upcoming
Oakland Symphony Orchestra concert, the 15th Annual David Daniels Young Artist Concert, on Sunday February 12 at 3 pm
. For more information visit our website and
download the season brochure
. You can find ticket information online at
oakland.edu/tickets
or call our ticket service at 1-(800) 585-3737. There is no service fee on advanced ticket purchases.
Our young musicians represent the very best of OU and we were also ably represented at the recent Michigan Music Conference in Grand Rapids where an alumnus and a current doctoral student made well-received presentations.
Mike Medvinsky
, (BMus 2005) who teaches in Brandon Schools, gave two presentations. The first was "Sampling Using GarageBand," described in the catalogue as, "one example of how to welcome your student's music into your classroom. We will have a hands-on experience of how to start with a sample of a popular song and create your own composition from that sampling. This is a hands-on Mac lab session with 12 MIDI Digital Audio Workstations." Mike's second presentation was "Musical Independence Through Recording," which offered, "Techniques [which] focus on student composition, concert preparation and individual student growth within [a] large ensemble."
Mike's technological expertise will also be featured in this year's graduate study summer workshops offered at OU. From July 9 to July 20 he will teach "Intro to Music Technology for Music Educators" in the morning and "Teaching for Musical Understanding" in the afternoon. For information about these and other graduate summer music workshops, visit our graduate study page at
oakland.edu/gradmusic
.
Music Education doctoral student
Spiros Xydas
gave a presentation entitled, "Implementing the International Baccalaureate Programme." Spiros says, "The focus was on informing music teachers about the IB program and its expectations for music programs. One of the outcomes of my session was bringing together IB music teachers from all over the state so that we may share our stories and support one another through professional development and collaboration." In addition to his doctoral studies, Spiros teaches the instrumental techniques course at OU and he is the band teacher at Baker Middle School in Troy.
Also working on professional development is
Associate Professor Deborah Blair
, who recently received funding from the College of Arts and Sciences for 20 iPads for use with her OU Music Education majors in schools settings. In addition, she is using them in Cheryl Ogonoski's classroom in Rochester and Mike Medvinsky's classroom in Brandon, in both cases with students on the autism spectrum. Professor Blair expects this pioneering use of tablet technology in music education to yield some very interesting results and we hope to bring you a more detailed report about how students respond and how their musicianship develops in a later issue.
And finally, some alumni news:
Robert Benton
, who graduated with a BMus in Euphonium performance in 2007, appeared in concert in Varner Recital Hall on January 24. Robert will complete a Doctorate of Musical Arts in euphonium performance at the University of Michigan in May. Robert also holds a master's degree from Michigan State University. At OU, his primary teacher was
Associate Professor Kenneth Kroesche
. Robert is currently teaching at Adrian College, the University of Windsor, the University of Michigan, and he maintains a successful studio of area high school students. He has performed throughout the United States and Canada, as well as in Europe and Asia. After the concert Dr. Kroesche commented, "Robert is one of the finest students I have had the pleasure of teaching and it was great to have him on campus to present a recital. I am especially proud of the work Robert has done to create consortiums which have commissioned a number of composers to write works for the euphonium, showing real and significant leadership in the tuba and euphonium community." Robert has a new CD available soon. For details of this and for other information,
visit his website
.
Photo: Concert and Aria Competition Winners (left to right) Stephen Komer, Jacob Skipworth, Cheyanne Coss, and Daniel Turchyn.