Tuesday, August 30, 2011
MTD Launches New Thursday After-Work Performance Series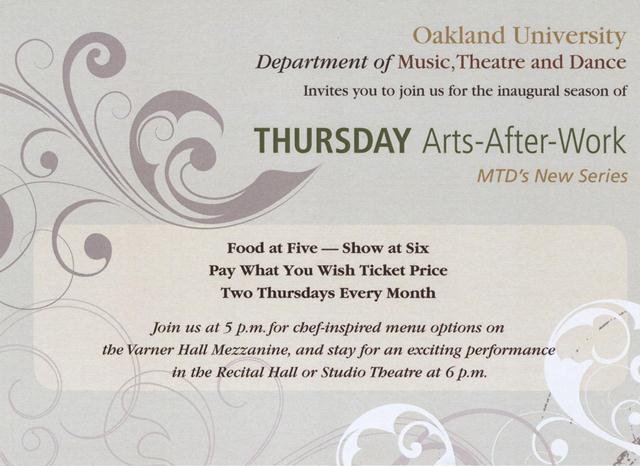 It's been a long hot summer for Michigan drivers caught up in orange-barrel season, and with plenty of good weather ahead, the road congestion is not over yet. The Department of Music, Theatre and Dance (MTD) at OU has a suggestion that will allow you to beat the traffic jams – on Thursdays at least. Come "jam" with us instead.
This fall MTD is launching a new performance series designed to fit the bustling lives of the Oakland community and the community at large. Instead of driving home, we invite patrons to enjoy an "early night out," attending performances that begin at 6 pm. Food and beverages will be available on the mezzanine outside of Varner Recital Hall beginning at 5 pm. Most events will finish by 7 pm, allowing plenty of time for an after-show dinner in a local restaurant or at home.
The series is designed to provide patrons the opportunity to experience the entire range of Oakland's performing arts program, with offerings including student and faculty performers in large and small music ensembles, an opera, plays including Shakespeare and musical theatre, modern dance, soloists, and guest artists. And all for the unbeatable price of "pay what you wish." Tickets are available at the Varner Hall box office and online through Star Tickets at startickets.com, but audience members can set their own price, making the series affordable to everyone.
Thursday Arts-After-Work is designed as a service to the local community, providing a friendly place for friends, colleagues, and neighbors to enjoy one another's company, and we hope the community will embrace the idea for all the potential it has to offer.
The series opens with a bang (and all the fanfare we can muster) on September 22, 2011 when the fabulous OU Jazz Faculty will perform. Dare we say, "Be there or be square?"
You will find more information about Thursday Arts-After-Work and MTD's regular
performance schedule here
.
The students and faculty of MTD look forward to sharing their work with you.
Remember! Food at Five: Show at Six. Pay what you wish
.
| | |
| --- | --- |
| September 22 | OU Jazz Faculty |
| September 29 | MTD Student Showcase |
| October 13 | Little Mary Sunshine |
| October 20 | Six Strings Too Many |
| November 10 | Oakland Chamber Players |
| November 17 | OU Jazz Band |
| December 1 | Oakland Dance Theatre & OU Repertory Dance Company |
| December 8 | From Floor to Ceiling |
| January 12 | Cosi fan tutte |
| January 26 | OU Percussion Faculty |
| February 9 | Much Ado About Nothing |
| February 16 | Wind Symphony |
| March 8 | Percussion Pops |
| March 29 | University Chorus and Oakland Chorale |
| April 5 | MTD Faculty Collaboration |
| April 26 | Meadow Brook Estate, musical theatre showcase |
Photo: The University Chorus and Oakland Chorale will perform on March 29, 2012 as part of the Arts-After-Work Series.

For more information, visit
oakland.edu/artsafterwork
or call (248) 370-2030.


Created by Gillian Ellis (gellis@oakland.edu) on Tuesday, August 30, 2011
Modified by Gillian Ellis (gellis@oakland.edu) on Thursday, September 1, 2011
Article Start Date: Tuesday, August 30, 2011