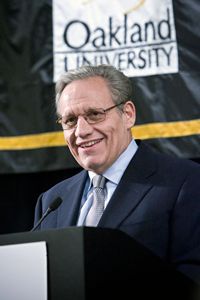 Bob Woodward delievered the fourth annual Distinguished Lecture in the Humanities to a sell-out crowd Tuesday evening.

Pulitzer Prize-winning investigative journalist and Washington Post managing editor Bob Woodward delivered the fourth annual Distinguished Lecture in the Humanities on Tuesday evening in the Oakland Center Banquet Rooms. Tickets to the lecture sold out.
Karen Miller, chair of OU's Department of History, introduced Woodward, noting that 11 of his books had hit #1 on the bestseller list. "As a journalist he has cultivated an extraordinarily useful talent of gaining the trust of his interviewees, and in this process he has been able to describe to us a remarkable insight into the way that policy is made in this country," Miller said. "We have been a better and more informed nation for it."
Woodward then took the podium to a standing ovation from the audience.
He began by talking about error. "We make too many mistakes in journalism and it is probably the matter that we are least introspective about, and so we fail to acknowledge our errors," Woodward said.
He explained that history is a draft that is constantly getting revised, with journalism as history's first rough draft. "What you do as a newspaper reporter is you try to set up a method and a system that will take you to the documents and the witnesses and the participants who will give you more and more of that story to fill it in," he said.
"We're not so smart -- we think we know the meaning of things so often when in fact we don't," Woodward said. He then related an anecdote about his immediate assumption when he heard that President Gerald Ford had pardoned Richard Nixon. He and many others thought there was something shady about the pardon, and that there had been some kind of dirty deal. But 25 years later, Woodward had the chance to interview Ford and asked him why he pardoned Nixon. Ford explained that he did it to let the country move on after Watergate.
Woodward admitted, "I was wrong; it wasn't a deal. Ford believed that Nixon's acceptance the pardon was an admission of guilt. He wasn't letting Nixon off. He was letting the whole country off."
Woodward put this story in the book he was writing at the time. Caroline Kennedy called Woodward and said that his book had so changed people's mind about Ford, that her organization was awarding Ford a Profiles in Courage Award for granting the pardon to Nixon.
"Something looks a certain way at a certain time, and 10, 15, 20 or 25 years later you reassess exactly the same facts, and its meaning and the conclusions you draw from it become the exact opposite of what you were so certain of before. So, we don't figure things out as journalists. We try to establish as many facts as we can," Woodward said.
Woodward then discussed an interview with President George W. Bush about the war in Iraq, the longest interview a sitting president has ever given to a single subject. Woodward asked Bush 500 questions in three and a half hours because Bush's responses were so sparsely worded. "It was a microscopic excavation of what he did and why he did it," said Woodward. "In it, you can see the road he traveled."
Woodward said the last question he asked Bush was "How do you think history will judge your Iraq war?" Bush responded, "History? We won't know. We'll all be dead." Woodward used this statement as the ending to his book "Plan of Attack."
In conclusion, Woodward discussed the perils of secret government. He said, "Presidents are strong when they are the voice of realism, because people like to know the truth. Transparency works. But when you go into the White House, people see a reporter and they close the door. There is an absolute obsession with keeping the truth from getting out. The art of concealment seems to know no limit."
Following his lecture, Woodward answered questions posed by audience members.
Woodward has worked for the Washington Post since 1971. The recipient of nearly every American journalism award, Woodward's work with Carl Bernstein on the Watergate scandal earned a Pulitzer Prize for the Washington Post in 1973. In addition, Woodward was the main reporter for the Washington Post's articles on the aftermath of the September 11 terrorist attacks, coverage that won the National Affairs Pulitzer Prize in 2002. Woodward won the Gerald R. Ford Prize for Distinguished Reporting on the Presidency in 2003.
The Distinguished Lecture in the Humanities was established and is sponsored by Gretchen and Ed Adler. Additional sponsors for Woodward's visit include
the Oakland Press, the Oakland University Student Life Lecture Board, and OU's College of Arts and Sciences.