Thursday, April 9, 2015
Nick Walter and Madison Kubinski announced as next year's student leaders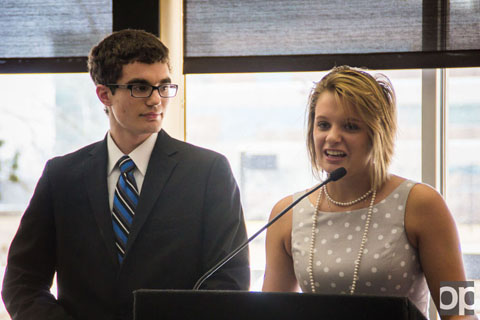 Photo courtesy of The Oakland Post

Junior Nick Walter, criminal justice major, and Madison Kubinski, political science major, will be taking the reigns as the new Student Body President and Vice President for Oakland University Student Congress.

The duo won the election with 532 votes out of 1,244. The announcement was made last week in the Fireside Lounge of the Oakland Center.

Walter has previously served with OUSC as senior legislator and Student Activities Funding Board student liaison. Kubinski has also been an OUSC Legislator and Steering Chair.

"The plan is to work on our (four) main initiatives: more 4.0's, more swag, more outlets, and more space," said Walter.

Walter and Kubinski said they want more students to have 4.0 grade point averages, more OU merchandise to choose from, and more space in the Oakland Center.

The two said they will work toward those goals and many more by collaborating with administrators and starting campaigns to raise awareness and funding.

Kubinski and Walter say their platform is based on student input.

A list of next year's legislators can be found on OUSC's Facebook page.



Created by Colleen Campbell (cjcampbell@oakland.edu) on Thursday, April 9, 2015
Modified by Colleen Campbell (cjcampbell@oakland.edu) on Thursday, April 9, 2015
Article Start Date: Thursday, April 9, 2015