Tuesday, April 7, 2015
DSO invites OU community to "Journey to Exotic Places"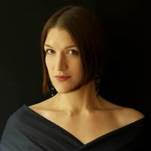 Isabelle Druet
The Detroit Symphony Orchestra is offering the Oakland University campus community a discount ticket offer for its Journey to Exotic Places performance featuring worldly song and dance from Ravel and Ginastera. The DSO will be conducted by Leonard Slatkin and accompanied by associate concertmaster Kimberly Kaloyanides Kennedy, rising young French mezzo-soprano Isabelle Druet, and multi-talented classical and jazz pianist Simon Mulligan
Set for 7:30 p.m. on Thursday, April 16, at Orchestra Hall in Detroit, the concert will include Ginastera's "Piano Concerto No. 1" and "Pampeana No. 1" for violin and string orchestra, both DSO premieres, and four dances from "Estancia." The Ravel pieces to performed are "Two Hebraic Melodies," a DSO premier, and tthe "Scheherazade Song Cycle."
While regular ticket prices are $50 and $25 for main floor seating, Oakland University students, faculty, staff and family and friends can purchase tickets for $20 or $15 each. The offer is available online only and the deadline for ticket purchases is 5 p.m. on Wednesday, April 15. It does not apply to previously purchased tickets. This offer may be discontinued at any time due to availability.
To order tickets, visit dso.org, click on the concert date in the performance calendar and click on "Buy Tickets." Enter the promo code "EXOTIC" and click on "Apply." Then select seats, ensure the applied ticket price is correct and check out. Service fees will be added at check out
For additional information, visit
dso.org
.Those experiencing technical difficulties with the DSO website can call the box office at (313) 576-5111.

The DSO is offering discount tickets to is April 16 "Journey to Exotic Places" performance featuring worldly song and dance from Ravel and Ginastera.

Created by David Groves (groves@oakland.edu) on Tuesday, April 7, 2015
Modified by David Groves (groves@oakland.edu) on Tuesday, April 7, 2015
Article Start Date: Tuesday, April 7, 2015