Friday, March 20, 2015
OUWB students and leaders celebrate school's first Match Day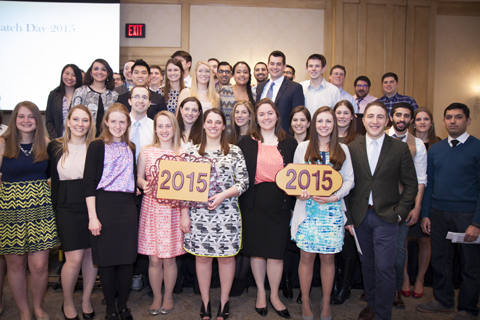 The charter class of Oakland University William Beaumont School of Medicine celebrates its first Match Day.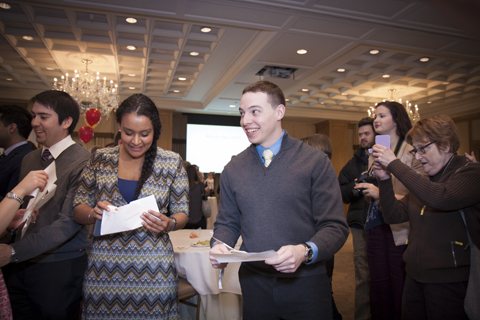 Kimberly Lemkin (left) finds out she is going to Tufts Medical Center, Mass. while Adam Weiner learns he is going to fulfill his residency with Beaumont Health System.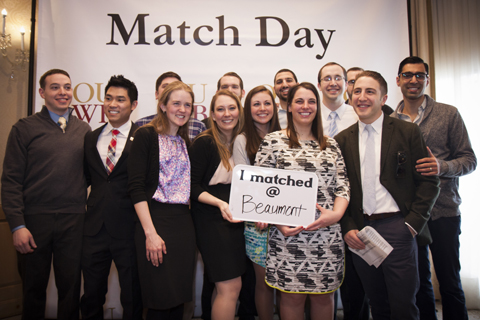 Of the 47 OUWB students matched, 14 will be staying in the Beaumont Health System.
On the brink of finishing four years of rigorous medical education, students from
Oakland University William Beaumont School of Medicine's
charter class gathered to find out where they will embark on the next phase of their medical training.
OUWB faculty and other leaders joined the students at The Townsend Hotel in Birmingham, Mich., to celebrate the school's inaugural Match Day on Friday, March 20. During the event, 47 students opened envelopes to discover where they will serve their residency programs as assigned by the National Residents Matching Program.
OUWB Founding Dean Robert Folberg, M.D., addressed the crowd by offering "a big thank you" to all the students, faculty and leaders who helped make the day possible. He also welcomed the many families that were in attendance and had a special message for those without their families.
"You should consider the entire OUWB as your collective family," Dr. Folberg said.
Students were assigned to residencies in more than a dozen specialty areas at health systems in Metro Detroit and around the country. Medical residencies run for varying time periods, depending on the specialty, and are required to become a physician in the United States.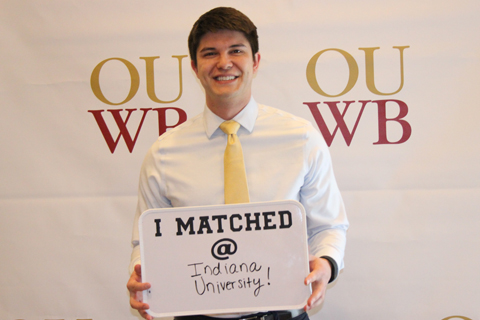 David McNaughton was matched with his first-choice institution.
For OUWB student David McNaughton, Match Day represented both a finish line and a new beginning. The Clarkston native completed his bachelor's degree in biology at Oakland University in 2010 and decided to pursue his medical degree at OUWB. His envelope contained the news that he will serve his residency at Indiana University, his first-choice institution.
"I'm really happy," said McNaughton. "I really liked Troy Beaumont, but I wanted something new this time. I think it's going to be great."
McNaughton said his time at OUWB prepared him to tackle the challenges ahead as he pursues a career in family medicine.
"It was very personable," McNaughton said of his OUWB experience. "Being the charter class, there were only 50 of us, so we knew each other very well and had a great camaraderie. I think that's what (OUWB leaders) were going for."
Match Day is the culmination of a residency application process in which students rank the hospitals and medical facilities where they prefer to continue their graduate medical training. Since 1952, the National Residents Matching Program has placed graduating medical students in residencies throughout the country. OUWB's Match Day marks the last milestone leading up to the charter class graduation, which is scheduled for May 15.
On the brink of finishing four years of rigorous medical education, 47 students from the charter class gathered to find out where they will serve their residency programs.

Created by Colleen Campbell (cjcampbell@oakland.edu) on Friday, March 20, 2015
Modified by Eric Reikowski (esreikow@oakland.edu) on Monday, March 23, 2015
Article Start Date: Friday, March 20, 2015