Tuesday, March 17, 2015
Oakland University to host second annual diversity conference on April 2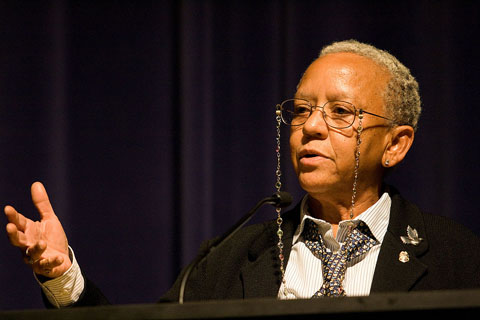 World-renowned poet, writer, activist and educator Nikki Giovanni will be the keynote speaker at the diversity conference. photo credit: Brett Weinstein
As part of its commitment to fostering inclusion and enhancing diversity, Oakland University will present its second annual Diversity, Equity and Inclusion Conference on Thursday, April 2. Free and open to all OU faculty and staff, the event will take place from 8 a.m. – 4 p.m. in the Oakland Center Banquet Rooms. Those interested in attending must
register
by this
Friday, March 20
.
This year's conference, titled "Leveraging Diversity: Creating a Culture of Inclusive Excellence," features presentations from some of the leading experts in the field of diversity and inclusion. Keynote speaker Nikki Giovanni is a world-renowned poet, writer, activist and educator whose 30-year career includes awards for literary achievements and contributions to equality and civil rights. She has been honored as Woman of the Year by three different magazines and received the Governors' Awards in the Arts from Tennessee and Virginia. The Academy of American Poets voted her the #1 poet for the spring of 2007. She is a University Distinguished Professor of English at Virginia Tech.
Other speakers are John Burkhardt, Professor of Clinical Practice at the University of Michigan and Director of the National Center for Diversity, who will present his talk "Creating & Supporting a Culture of Inclusive Excellence." Mary Howard-Hamilton, Professor of Educational Leadership at Indiana State University, will speak on the topic of "Leveraging Diversity: Creating a Culture of Inclusive Excellence in a Transitioning Society."
The following workshops, led by Oakland University faculty and staff, are also scheduled:
"From Awareness to Actions: Eliminating Microaggressions in Daily Interactions"
Thomas W. Blume, Associate Professor of Education and Jennifer J. Matthews, Assistant Professor of Education.
"Women in Leadership: Challenges and Complexities"
Elizabeth J. Talbert, Special Instructor of Communication
"Understanding and Leveraging the Assets of the LGBTQ Community to Enhance the Experiences of All at Oakland University"
Timothy Larrabee, Associate Professor of Education
"Bullying in the Workplace – Effects and Strategies for Affecting Change"
Jasmine L. Bailey, Project Manager, Professional Development and Continuing Education
Continental breakfast and lunch will be provided. For more information, or to register for the conference, visit oakland.edu/diversity/conference.
Faculty and staff will learn from leading experts on creating a culture of inclusion at OU at the Diversity, Equity and Inclusion Conference. Register by Friday, March 20.

Created by Eric Reikowski (esreikow@oakland.edu) on Tuesday, March 17, 2015
Modified by Eric Reikowski (esreikow@oakland.edu) on Friday, April 3, 2015
Article Start Date: Tuesday, March 17, 2015