Wednesday, March 11, 2015
UN club provides educational opportunities for political enthusiasts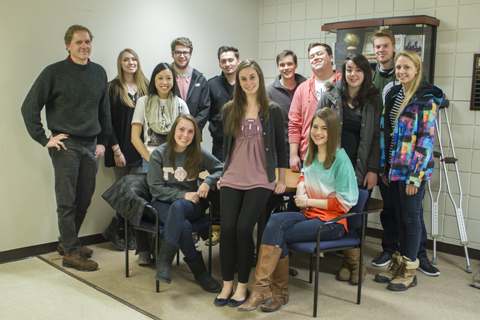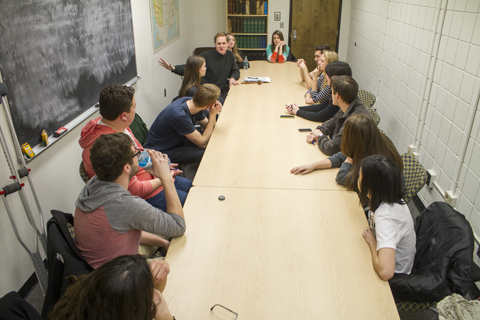 Students in the Model UN student org can earn credits in political science while developing research and communication skills and competing around the country.

by Kelli M. Titus

Open to all students, Oakland University's Model United Nations team learns to effectively debate political issues in scenario-based events.
Last month, 16 students represented Oakland University at the 2015 North American Model United Nations Conference in Toronto. The event hosted more than 350 students from 24 collegiate institutions throughout the United States and Canada. Students debated a range of issues on various UN and specialized committees, including the Arab-Israeli conflict, child soldiers, the military use of drones and reforming UN peacekeeping operations.
Four OU students received recognition for their outstanding efforts:
Adam Derington – Honorable Mention, International Monetary Fund, representing Switzerland
Marissa Coloske – Outstanding Delegate, International Monetary Fund, representing Saudi Arabia
Jane Dixon – Honorable Mention, UN Special Political Committee, representing Italy
Farah Fadel – Best Delegate, Social and Humanitarian Committee, representing China
Model United Nations examines the UN system and contemporary issues in international politics. Members enhance their public speaking skills, study and debate the details of formidable political challenges, and learn to effectively work as a team to pursue solutions.
"Model UN gives students the experience of taking on the role of a country's UN delegation and then delving into the complex linguistics involved with crafting and implementing global policies," said Alexa James, Oakland's Model UN club president. "Through being part of the Model UN team I have gained such valuable experiences, met the most amazing people, and have had a blast while doing so."
For nearly six years, students have participated in Model UN by taking the two-credit course (Political Science 362: Model UN) or by becoming a member of the Model UN student organization.
"Model UN is a great opportunity for students to develop research and communication skills, and learn about international issues in a fun, interactive manner," said the team's faculty adviser Paul Kubicek, professor of political science and director of the international studies program.
Club members use their political knowledge and debate tactics at annual conferences in Toronto and Ohio. They plan to host their own conference for high school students next year.
Students in the Model UN student org can earn credits in political science while developing research and communication skills and competing around the country.

Created by Colleen Campbell (cjcampbell@oakland.edu) on Wednesday, March 11, 2015
Modified by Colleen Campbell (cjcampbell@oakland.edu) on Wednesday, March 11, 2015
Article Start Date: Wednesday, March 11, 2015