Wednesday, March 11, 2015
Romance meets comedy in OU theatre production of "She Loves Me"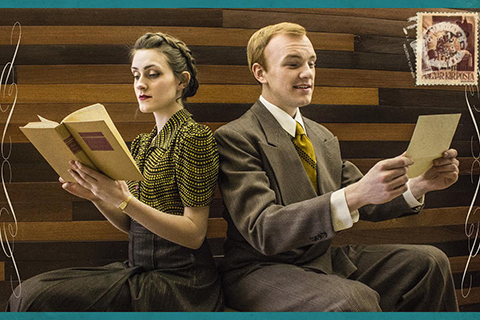 Britney Spindler and William Raveau play the roles of Amalia and Georg in the musical "She Loves Me," which opens March 19 in Varner Studio Theatre. Photo by Daniel Robinson.
Whether you are old enough to remember a time when having a secret pen pal was daring, or young enough to use the matchmaking app Tinder, you cannot fail to be charmed by the romantic and whimsical musical "She Loves Me
,
" which Oakland University's theatre program will open on Thursday, March 19.
The show, which is set in a 1930s perfume shop in Budapest, is based on the play "Parfumerie" by Hungarian playwright Miklós László. The play was also the inspiration for the 1940 film "The Shop Around the Corner," the 1949 film "In the Good Old Summertime" and the 1998 movie "You've Got Mail." Clearly, the romantic tale of two young people who love each other, despite the fact that they don't think they like each other, is timeless.
In this musical comedy version, which according to the show's director, Karen Sheridan, is "long on comedy," two of the shop's employees, Georg Nowack and Amalia Balash, clash with each other at work, but are happily falling in love as they correspond with each other anonymously.
"She Loves Me" is the work of Broadway greats. It has a book by Joe Masteroff, lyrics by Sheldon Harnick, and music by Jerry Bock. The Oakland University production is double cast and features a beautiful set and wonderful period costume, all student-designed.
The Sunday, March 22 and Saturday, March 28 performances of "She Loves Me" will be shadow-signed for the Deaf by Synergy on Stage.
Performances are in Varner Studio Theatre, which is located on the Oakland University campus. Maps of the campus are available at oakland.edu/map or by searching for "Varner Hall" on a smartphone. Parking is free.
Tickets are $18 general admission, $10 for students, and the 10 a.m. matinee. They may be purchased online without service fees at startickets.com or by phone at (800) 585-3737. They can also be purchased at the Varner Box Office on OU's campus.
For more information on Music, Theatre and Dance programs and performances, call (248) 370-2030 or visit oakland.edu/mtd.
Full schedule:
Thursday, March 19, at 8 p.m.
Friday, March 20, at 8 p.m.
Saturday, March 21, at 8 p.m.
Sunday, March 22, at 2 p.m. (Shadow Signed)
Wednesday, March 25, at 8 p.m.
Thursday, March 26, at 8 p.m.
Friday, March 27, at 10 a.m. and 8 p.m.
Saturday, March 28, at 8 p.m. (Shadow Signed)
Sunday, March 29, at 2 p.m.
A talented cast of OU student actors will perform the whimsical musical "She Loves Me," from March 19-29, in Varner Studio Theatre.

Created by Eric Reikowski (esreikow@oakland.edu) on Wednesday, March 11, 2015
Modified by Colleen Campbell (cjcampbell@oakland.edu) on Wednesday, April 8, 2015
Article Start Date: Wednesday, March 11, 2015