Wednesday, March 11, 2015
Learning about and advocating for issues in higher education at the 18th annual OU Day at the Capitol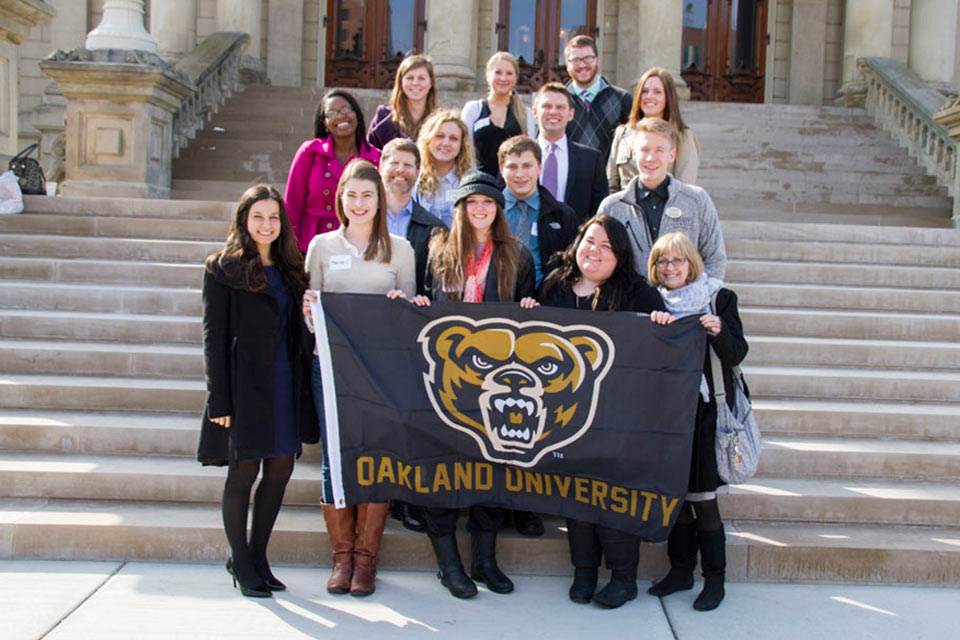 Oakland University students and government enthusiasts stand on the steps of Michigan's Capitol building after spending the day of meeting state representatives and learning about the legislative process.
Oakland University students engaged with state government officials Tuesday at the 18th annual OU Day at the Capitol.

President Hynd along with OU students, faculty, staff and alumni spent the day at Michigan's Capitol building. Students learned about the legislative process by observing the State Senate and House members in session, and touring the state capitol, Michigan Supreme Court Learning Center and Michigan Historical Center.

"It's an opportunity for students to come together, learn and advocate for the issues that impact higher education," said Annie Meinberg, OU student body president.

OU Day at the Capitol is sponsored by the OU Office of Government Relations, Oakland University Student Congress and Project Upward Bound. For more information, contact the Government Relations office at (248) 370-3682.


Oakland University's President Hynd stands with Michigan's Secretary of State and OU alumna Ruth Johnson.



Attendees listen to speaker Dr. Mike Boulus, executive director of the President's Council, State Universities of Michigan, discuss the importance of higher education.



Dave Dulio, associate professor and chair of Oakland University's Department of Political Science, introduced attendees to OU alumna, Tori Rexford, who works as a community and coalitions outreach director for the Office of Governor Rick Snyder.



Students with Oakland University's Jump Start program meet OU President Hynd. The Jump Start program is designed to help students transition from high school to college, and provides opportunities for students to engage at Oakland events.




The Grizz makes an appearance at Michigan's Capitol in Lansing inside the building's rotunda.



The Michigan Capitol building reside in Lansing, where several Oakland University students visited Tuesday, March 10, to the 18th annual OU Day at the Capitol.



Students flip through a handout on Michigan's higher education opportunities.



President Hynd greets The Grizz with a big smile and high-five at the OU Day at the Capitol in Lansing, MI.

President Hynd, along with OU students, faculty, staff and alumni spent the day at Michigan's Capitol building.

Created by Colleen Campbell (cjcampbell@oakland.edu) on Wednesday, March 11, 2015
Modified by Colleen Campbell (cjcampbell@oakland.edu) on Friday, March 13, 2015
Article Start Date: Wednesday, March 11, 2015