Wednesday, March 4, 2015
Government and business leaders to discuss cyber security at Oakland University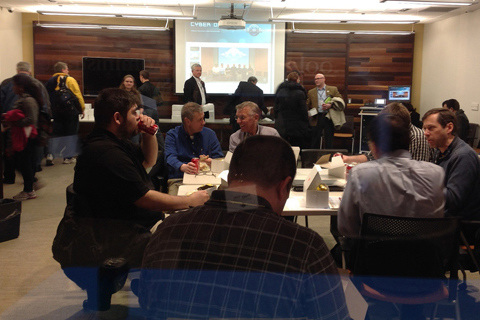 Leaders from around the state will discuss the latest technology and information security trends at Oakland University's second annual Cyber Summit.
Some of the top technology leaders in Michigan will convene on campus for Oakland University's second annual Cyber Summit on Friday, March 20. Presented by Oakland's Cyber Security Club and the School of Engineering and Computer Science, this year's event will offer insights on the latest trends and challenges in the technology and information security field.
"This is a great learning opportunity for attendees because many students and others would not have the chance to listen and learn about important technology topics like this for free," said Arnaud Crowther, president and co-founder of OU's Cyber Security Club, CyberOU. "Most technology summits are a good distance away and cost money. Our organization works hard to bring these leaders to campus, where they can share their expertise about many issues that affect us every day."
Leaders and innovators in government and business will participate in a panel discussion moderated by OU's Chief Technology Officer Theresa Rowe. This year's panelists, listed below, bring a broad range of knowledge and professional experiences.
Rodney Davenport, Chief Technology Officer and Acting Chief Security Officer, State of Michigan.
Phil Bertolini, Chief Information Officer/Deputy County Executive, Oakland County.
Dr. William J. "Joe" Adams, Vice President of Research and Cyber Security, Merit Network.
Titus Melnyk, Senior Manager of Information Security, Identity and Access Management, Fiat Chrysler Automobiles.
Steve Smith, Electronic Commerce Marketing and Sales IT Manager, Ford Motor Company.
This year's keynote speaker will be Dan Lohrmann, Chief Strategist and Chief Security Officer, Security Monitor.
Free and open to the public, the event will take place from 9 a.m. – 2 p.m. (check-in at 8:30 a.m.) in Oakland Center Banquet Room B. A continental breakfast and buffet-style lunch will be provided, along with complimentary CyberOU merchandise. A meet-and-greet will follow the event.
Register for the event at cyberou/summit.
OU's second annual Cyber Summit will take place from 9 a.m. - 2 p.m. on Friday, March 20, in Oakland Center Banquet Room B.

Created by Eric Reikowski (esreikow@oakland.edu) on Wednesday, March 4, 2015
Modified by Colleen Campbell (cjcampbell@oakland.edu) on Thursday, March 12, 2015
Article Start Date: Wednesday, March 4, 2015