Wednesday, March 4, 2015
Chamber Music Society of Detroit at OU to cap season with French-themed show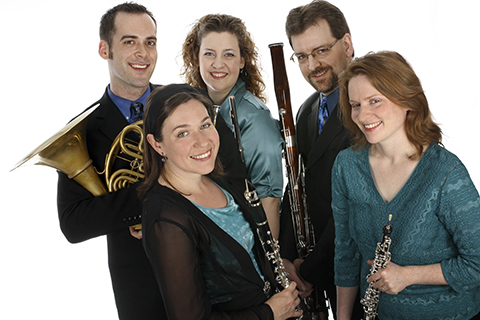 Quintet Attacca will perform with renowned pianist Panayis Lyras in OU's Varner Recital Hall on March 15. The show is part of the Chamber Music Society of Detroit at Oakland University series.
The Chamber Music Society of Detroit at Oakland University will present its final concert of the season at 3 p.m. on Sunday, March 15, in Varner Recital Hall. The show will feature the Chicago-based wind quintet Quintet Attacca, along with pianist Panayis Lyras. The all-French program will include quintets for winds, and sextets for piano and winds by Ibert, Francaix, Ravel and Poulenc.
Quintet Attacca is one of Chicago's most dynamic chamber music ensembles. The group not only won the Wind Division Gold Medal of the 2002 Fischoff National Chamber Music Competition, but also the Grand Prize, one of only two wind quintets ever to do so. They have played in venues across the Midwest, and also appeared at the Emilia Romagne Festival in Italy and at the Schneider Concert Series in New York. The Quintet's innovative approach to programming makes for concerts that are both accessible and cutting-edge.
Panayis Lyras, winner of the silver medal at the 1981 Van Cliburn International Piano Competition, has been seen and heard by millions of television viewers on PBS and the Arts and Entertainment Network. He has performed solo recitals at Lincoln Center, the Kennedy Center, in major cities across North America, and has toured around the world. Lyras is professor of piano and artist-in-residence at Michigan State University College of Music. He received his bachelor's and master's degrees from the Juilliard School.
Varner Recital Hall is located on Oakland University's campus. Maps of the campus are available at oakland.edu/map or by searching for "Varner Hall" on a smartphone. Parking is free.
Tickets are $30 general admission and $15 for students. They may be purchased online without service fees at startickets.com or by phone at (800) 585-3737. They can also be purchased at the Varner Box Office on OU's campus.
For more information on Music, Theatre and Dance programs and performances, call (248) 370-2030 or visit oakland.edu/mtd.
Featuring Quintet Attacca and Panayis Lyras, the event will be held at 3 p.m. on Sunday, March 15, in Varner Recital Hall.

Created by Eric Reikowski (esreikow@oakland.edu) on Wednesday, March 4, 2015
Modified by Eric Reikowski (esreikow@oakland.edu) on Thursday, March 5, 2015
Article Start Date: Wednesday, March 4, 2015