Friday, February 6, 2015
OU employees, retirees fund their passion through All-University Fund Drive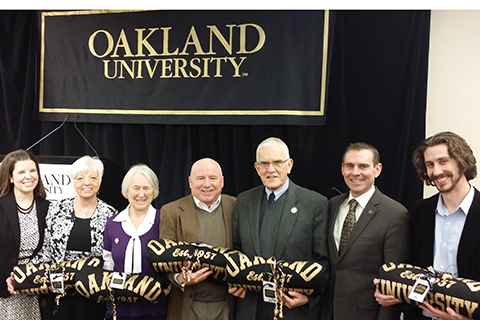 AUFD co-chairs, university leaders and others celebrated the 2014 AUFD results at a recent campus event.
Members of the Oakland University community funded their passion in a big way for the 2014 All-University Fund Drive.
A total of 786 faculty, staff and retirees contributed $388,814, surpassing the campaign's goal and beating last year's total by more than $34,000. In addition, this year's AUFD drew 125 more donors than the 2013 campaign, including 111 donors who participated for the first time.
Gifts made between Sept. 29 and Dec. 12 were matched by the president at 50 percent, up to a $2,500 match.
Top areas supported this year, aside from the OU Fund, include Music, Theatre and Dance, the Center for Student Activities and Leadership Development, Kresge Library, the Golden Grizzlies Athletic Fund and the OU Critical Difference Scholarship. In all, 228 funds were supported.
The total matching funds of more than $170,000 raised the total immediate impact of the AUFD to more than $560,000.
"I am astounded by the record level of support by OU employees and retirees," said Kelly Brault, director of annual giving at Oakland. "We are all invested in the success of this university – our students' achievements, research breakthroughs and programs that are making a better campus and community."
Representing commitment at all levels of the university, this year's AUFD had six co-chairs:
Kevin Corcoran, Ph.D., Dean of the College of Arts and Sciences
Buck Dillon, Ph.D., Professor of Accounting
Ellen Keaton, Academic Records Coordinator, Office of the Registrar
Shaun Moore, Manager of Support Services, E-Learning and Instructional Support
Kathleen Moore, Ph.D., retired Associate Dean of the College of Arts and Sciences; Professor of Chemistry
Pat Nicosia, retired Director of Budget and Financial Planning
To learn more about the AUFD, visit the website at oakland.edu/AUFD, or contact Annual Giving at (248) 370-4504 or giving@oakland.edu. For more information on gifts that give back, such as charitable gift annuities or naming Oakland in your will, contact Planned Giving at (248) 370-3698 or giftplan@oakland.edu.
A total of 786 faculty, staff and retirees contributed $388,814, surpassing the campaign's goal and beating last year's total by more than $34,000.

Created by Eric Reikowski (esreikow@oakland.edu) on Friday, February 6, 2015
Modified by Colleen Campbell (cjcampbell@oakland.edu) on Tuesday, February 10, 2015
Article Start Date: Friday, February 6, 2015