Thursday, February 5, 2015
Reading Recovery program celebrates 30 years assisting children who are struggling to read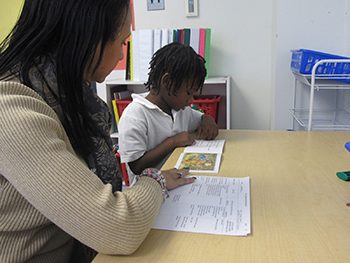 Oakland teacher leader trainee Jacqueline Mitchell works with student D'Andre Smith in the Reading Recovery program in Detroit Public Schools.
As the international Reading Recovery program celebrates 30 years of helping at-risk children in North America gain literacy skills, leaders at Oakland University are reflecting on the thousands of children who have been helped right here on campus. Oakland is one of 19 universities in the U.S., and the only university in Michigan, to serve as a Reading Recovery training center. Since its founding in 1991, the center has served nearly 105,000 of the lowest-performing first-grade children throughout Michigan and more than 1,300 Michigan teachers have been trained in Reading Recovery.
At present, there are 13 certified Reading Recovery Teacher Leaders throughout Michigan, as well as two teacher leader trainees currently studying at Oakland. The trainees – Jacqueline Mitchell and Richelle Barkley – are Reading Recovery teachers in Detroit Public Schools. Teacher leaders train new Reading Recovery teachers at the 12 regional Reading Recovery training sites throughout the state.
"I am constantly humbled by the opportunities we have at the Reading Recovery Center to have a continuing impact on the lives of so many Michigan children," said Dr. Mary Lose, associate professor and director of the OU Reading Recovery Center. "Reading Recovery has been shown to be very successful in helping young children who are struggling with reading. Success in reading at an early age has lifelong benefits for every child."
Developed by pioneer educator and internationally renowned developmental psychologist Dr. Marie Clay, Reading Recovery is a research-based initiative that aims to identify and assist children who are struggling to read. With an emphasis on early intervention, the program has helped more than two million at-risk children return to normal reading levels.
In recent years, Oakland has been at the forefront of an intensive campaign focused on helping some of the state's most vulnerable students in Detroit Public Schools. With support from a multimillion-dollar federal grant, OU's Reading Recovery Center trained 54 Detroit teachers to implement Reading Recovery in their schools. The teachers are employed in 26 of the district's highest priority schools.
"This is a major sustained intervention by Oakland in terms of supporting young children's literacy across the city of Detroit," said Dr. Lose. "These teachers not only teach the most at-risk first-grade students, but also an additional 30-35 students in small group interventions during the other part of their instructional day. The teachers' newly acquired expertise goes beyond Reading Recovery for the children in grade one and has an impact on literacy success for children across grade levels."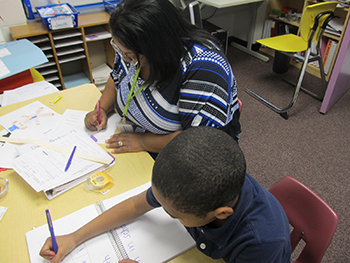 Oakland teacher leader trainee Richelle Barkley works with student Devin Brides-El in the Reading Recovery program in Detroit Public Schools.
In February, Dr. Lose will represent Oakland at the National Reading Recovery and K-6 Literacy Conference sponsored by the Reading Recovery Council of North America. The event is expected to draw more than 3,000 educators from across the U.S. and Canada.
"I always look forward to the national conference," Dr. Lose said. "It is a rich professional learning opportunity where all participants – school administrators, researchers, university faculty, literacy educators and Reading Recovery professionals share valuable ideas and learn alongside each other. We have 30 years of evaluation results for each student taught – more than 2.2 million in the United States and another 200,000 in Canada. It is gratifying to be part of Reading Recovery's amazing contribution to literacy success for young children."
For more information on Oakland's Reading Recovery Center, visit oakland.edu/readingrecovery.
Oakland is one of only 19 universities in the U.S. to serve as a Reading Recovery training center.

Created by Eric Reikowski (esreikow@oakland.edu) on Thursday, February 5, 2015
Modified by Eric Reikowski (esreikow@oakland.edu) on Friday, February 6, 2015
Article Start Date: Thursday, February 5, 2015