Friday, January 30, 2015
OU physical therapy program recognized globally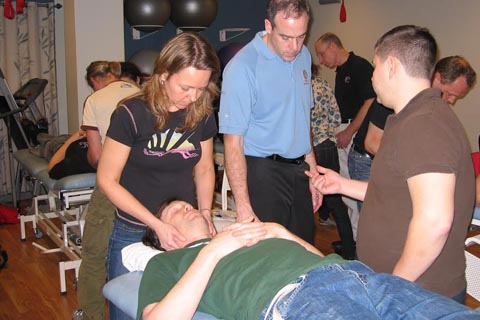 John Krauss instructs a class in Sweden on methods developed in Oakland University's Orthopedic Manual Physical Therapy program.
by Kelli M. Titus

The
Orthopedic Manual Physical Therapy (OMPT)
program at Oakland University is garnering international recognition for instructional methods being adopted in two European countries.
"It started out as little seeds planted, and is now gradually getting bigger and bigger," said OU instructor Dr. Melodie Kondratek. " There are lots of ways for this material to grow, and all the people using these methods are out there planting seeds of their own. It's exciting to see where it will go next."
Kondratek, along with OMPT Coordinator Dr. John Krauss, have been instrumental in working with the university systems in Spain and Sweden on adopting Oakland's OMPT methods for instruction. Krauss has been developing these methods since he began coordinating the program in 1996, and enlisted the help of Kondratek and colleague Dr. Doug Creighton as well as other physical therapy industry professionals to mold and adapt the program to specifically accommodate learner and patient individuality.
The methods adopted by these university systems are founded on evidence-based practice and manual exercise techniques, spinal manipulations, functional massage, and advanced orthopedic therapeutic exercise concepts combined into a platform of textual, video and audio layers.
"It's a very technical field with very technical levels of information," Krauss said. "All these different teaching materials that I have developed are focused on creating schema in the long term memory that allow people to pull forward large amounts of information in a structured way."
Oakland's OMPT program is a graduate certificate designed to offer advanced, graduate level classes in orthopedics to physical therapists interested in developing clinical specialty skills. The program leaves students with a higher level of proficiency in physical therapy, and its international status provides valuable name recognition for OU to universities across the globe.
Learn
more about the OMPT program
.
University systems in Spain and Sweden adopt Oakland University's Orthopedic Manual Physical Therapy (OMPT) methods for instruction.

Created by Colleen Campbell (cjcampbell@oakland.edu) on Friday, January 30, 2015
Modified by Colleen Campbell (cjcampbell@oakland.edu) on Friday, January 30, 2015
Article Start Date: Friday, January 30, 2015