Tuesday, January 20, 2015
OU students bring free health care to needy in Nicaragua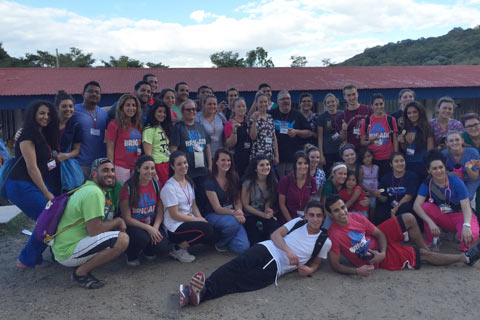 A group of 34 students from OU's medical and public health brigades chapters helped provide vital health resources to two impoverished communities overseas.
Last December, when classes were dismissed and final exams turned in, an altruistic group of Oakland University students embarked on an overseas mission to help impoverished communities gain access to vital medical and public health resources. The 34 students, members of OU's medical and public health brigades chapters, spent several days in the town of Regadillo, Nicaragua where they worked alongside licensed professionals – doctors, nurses, a pharmacist and a dentist – to provide free services to patients at a mobile health unit. Students helped with taking vitals, providing medical and dental care, dispensing medications and educating children on the importance of good hygiene. They also brought medical supplies and over-the-counter medications they had collected prior to the trip.
More than 600 patients were seen over a three-day period, according to Najwan Augustin, former president of the OU medical brigades chapter.
"For me, going on these brigades is a dream come true and this is the reason why I want to be a physician," said Augustin, who graduated from OU two days before going on the trip. "It is also a great opportunity for anyone pursuing a career in medicine. It opens our eyes to what is out there and why medicine is really a crucial part of life. The communities we visit have limited to no access to medicine."
Adding to her experiences, Augustin works as a part-time medical assistant and volunteers in the emergency center at Beaumont Hospital. She is also a volunteer research assistant for Dr. Amy Banes-Berceli, assistant professor of
biological sciences
at Oakland.
Along with the medical brigade, students in Nicaragua also participated in a public health brigade, which involved constructing concrete floors, bathrooms, showers and septic tanks for two families in the town of El Hatillo. The project was critical to preventing infections, Augustin explained.
"They use the nearest river for all their water needs, including drinking, showering and washing their clothes," Augustin said of the townspeople. "By building these hygiene stations, and especially the septic tank, there will be less exposure to parasite infections because the sewage will not be recycled back to the river like before."
She added, "Besides all of the firsthand clinical experience that the students get, we also learn how to appreciate the little things in life. The people in Nicaragua had little to nothing, but they were so humble and appreciative."
The medical brigades and public health brigades chapters are part of Global Brigades, the world's largest global health and sustainable development organization. Oakland also has a business brigades chapter, which seeks to create economic growth and opportunity for communities in the developing world.
"These types of experiences provide an environment for inquiry, and allow students the opportunity to think and make meaning of their lives and the world around them," said Dr. Scott Crabill, associate professor and faculty advisor for OU global brigades. "Students are exposed to different places and cultures. They develop a broader perspective and gain insights into health care, business and other fields."
Another medical brigade is planned for May when students will assist communities in rural Panama. For more information about global brigades at OU, contact Dr. Crabill at
slcrabil@oakland.edu
.
A group of 34 students from OU's medical and public health brigades chapters helped provide vital health resources to two impoverished communities overseas.

Created by Eric Reikowski (esreikow@oakland.edu) on Tuesday, January 20, 2015
Modified by Colleen Campbell (cjcampbell@oakland.edu) on Thursday, January 29, 2015
Article Start Date: Tuesday, January 20, 2015