Wednesday, January 14, 2015
Oakland Post editor selected as correspondent for USA TODAY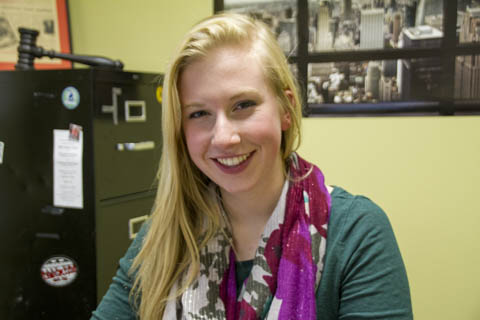 Oona Goodin-Smith, an Oakland University journalism major and editor-in-chief for The Oakland Post, is selected as a collegiate correspondent for USA TODAY. As part of the paid internship, Goodin-Smith's work is published to several USA TODAY platforms.
Oona Goodin-Smith dreams of creating change through the power of writing.
As a journalism major at Oakland University, Goodin-Smith excels as a member of the
Honors College
and Communication Honors Society, as editor-in-chief of
The Oakland Post
, and most recently as a USA TODAY Collegiate Correspondent.
"Maybe it's my love of spandex and a good cape, but I've always felt like journalists have somewhat of a vigilante 'superhero' position, informing and educating their communities on the issues which affect them," Goodin-Smith said.
Coming one step closer to heroism, Goodin-Smith was selected among a pool of scholarly individuals nationwide to receive a paid internship with USA TODAY. The internship receives applications from all over the country, and chooses an elite few to represent the prestigious news organization for a semester.
"Appropriately for an OU student, this achievement is golden for Oona, as well as for the university," said Holly Gilbert, OU journalism instructor and editorial adviser for The Oakland Post. "She's a player on a global level now, really, and her extraordinary work gets ultimate exposure."
Goodin-Smith's articles will be published on any one (and occasionally, all) of the following platforms: USA TODAY College, USATODAY.com, the USA TODAY College mobile app, USA TODAY's print edition, and the Gannett network of news and broadcast sites. This was evident with Goodin-Smith's first article submission on
President Obama's free college proposal
, which has been published on multiple USA TODAY platforms, as well as in Gannett-owned news publications including the Port Huron Times Herald and Detroit Free Press.
"I've lived in Metro Detroit almost my entire life and have grown up with a copy of the Free Press always sitting around the house, so to see my story featured on the website and then on the front page was really cool," Goodin-Smith said. "I feel so incredibly fortunate for the opportunity to not only work with USA TODAY but also to simultaneously represent OU in the process."
Equipped with a strong education and a passion for print media, Goodin-Smith says she is ready to "write stories that will change the world."
— by Kelli M. Titus
Oakland University journalism major Oona Goodin-Smith is selected as a collegiate correspondent for USA TODAY, being published on several of its online and print platforms.

Created by Colleen Campbell (cjcampbell@oakland.edu) on Wednesday, January 14, 2015
Modified by Colleen Campbell (cjcampbell@oakland.edu) on Wednesday, January 14, 2015
Article Start Date: Wednesday, January 14, 2015