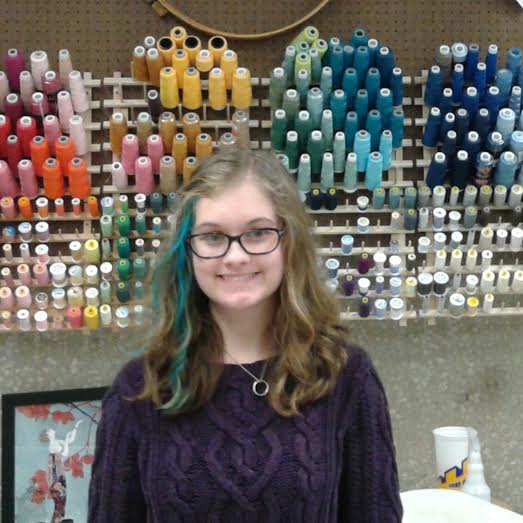 The primary business of Music, Theatre and Dance at OU is to educate students for careers in music education and the performing arts but we do so much more, because the arts are for everyone! Thousands of Oakland students take our general education classes every year, and thousands of community members enjoy the many and diverse events that make up our performance season.
We also have non-majors who study and perform with our faculty and students because they want to make music, theatre or dance a part of their continuing education. For example, about 40 percent of the Golden Grizzly Athletics Band are non-music majors.
The Oakland University Symphonic Band always has non-majors playing with them.
Madison Adams
, currently a liberal studies major, plays in the ensemble in part because she hopes to enroll in the music program as an auditioned minor in music. She said, "I want to continue music because it is my passion. Playing saxophone is my way of expressing myself. I also have an enormous amount of love for musicianship in the theatrical realm and love playing in the pit orchestras. I really enjoy playing in the Symphonic Band because even if I don't know everyone I play with, they feel like family to me. I've been involved in band since I was in seventh grade and have always felt a deep connection with my fellow musicians because together, we create art; we practice together, perform together, and enjoy together."
Noah Pollock
plays trumpet in the OU Symphonic Band. He will complete an M.S. in psychology this spring. He said, "When you consider each individual performer's role, their dedication to practicing, their focus on the conductor, or their struggle to create each note sounding effortless and beautiful, and when you consider the cooperation needed to place each note and each rest exactly where they should be, you can see that music is also magnificent because it's difficult. It's a game where there doesn't have to be losers for there to be winners. We're able to excel by challenging ourselves; we don't need to challenge others." Noah summed up his experience in the band like this. "I enjoy reminiscing about how terrible our first few attempts were, dwelling on how much better we play it now, and daydreaming about how great we will eventually perform it. I also enjoy listening to other students play and grow throughout the semester, and throughout their undergraduate years."
Graphic design major
Lauren Shin
plays clarinet in the Symphonic Band. She says that music has been a major part of her life for 10 years. She said, "I get such a thrill from playing it, performing it and writing it. I just could not see my daily routine without music in it. I love playing in this ensemble because it is fast-paced. I've also met a lot of friends through this ensemble, and just performing with the music department in general. I simply love the feeling and the atmosphere of being around other musicians who have the same feeling and passion for music that I do."
Emily Christenson
is majoring in writing and rhetoric and is pursuing a minor in theatre. So far she has taken classes in Theatre History, Acting for Non-Majors, Foundations of Theatre, and Costume Construction. Currently she is working in the costume shop. She said, "It's really just a job. It doesn't count towards my minor or anything. I took it because I absolutely love making costumes and thought it would be a lot of fun. I was right!"
She has no plans to pursue a theatrical career. "Mostly I chose to do this minor because I loved doing musicals in high school and I didn't want to let go of it." She plans to travel to Greece with the theatre study abroad class this summer. "I've always wanted to travel and study abroad, and this experience seems like it's unique. We will be performing a Greek play, in Greece, in places where people would have done those same plays in ancient Greek times. As a member of the Honors College, one of my requirements is creating a thesis project. I'm thinking of looking at playwriting as a focus, and possibly comparing modern and ancient times in regards to plays and playwrights." You can find more
information about study abroad here.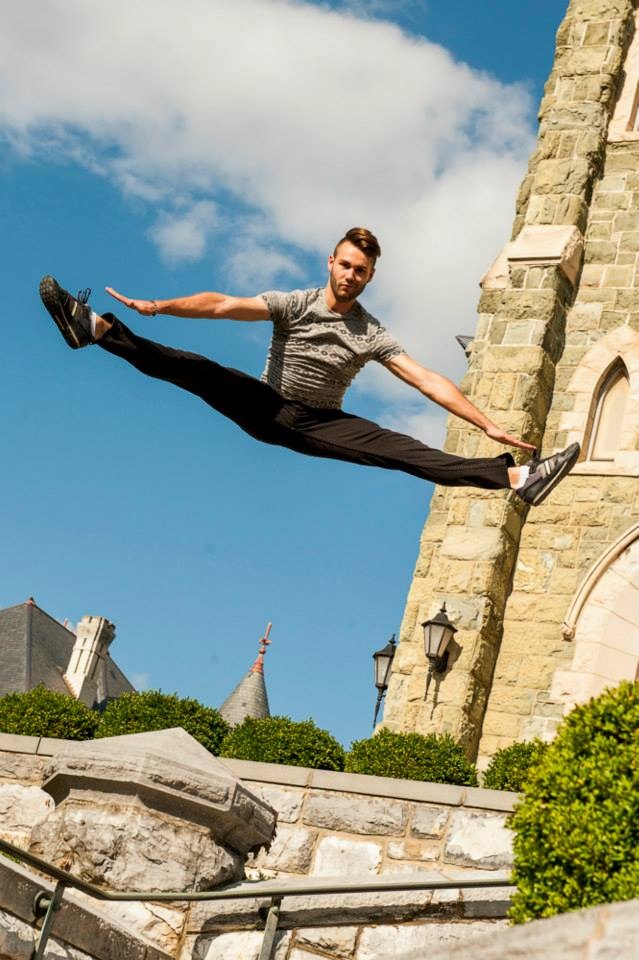 Two of the dancers in the Oakland Dance Theatre for the fall 2014 semester were non-dance majors.
Garrett Markgraf
is a junior B.F.A. musical theatre student with a dance minor. Garrett said, "I started dancing originally to help me get into a good musical theatre program, but I fell in love with it and continued to take classes. Something about expressing emotion through movement and the constant struggle to be as good as I can be drives me to continue dancing. I'm so excited to be a part of ODT this semester! It has been a dream of mine ever since I started college."
Alyx Winship
began the fall semester as a dance minor but ended it as a double major, with education as her second field. She said, "I am currently a teacher at a dance studio, so I wanted to be able to keep my dancing abilities but I was sitting in my improv class and I realized just how much I missed dancing, so I decided I needed to double major so I could fit that in. I hope to be able to teach dance and possibly become a professional dancer for a few years. Dance is my life and probably will always be my life. It is my emotional escape."
Feeling inspired? Some dance courses are open to all students and others are open to non-majors with instructor permission. You can find more details in the catalog. Non-majors who are experienced dancers may audition for Oakland Dance Theatre. You can contact
Professor Greg Patterson
, dance program director at
patterso@oakland.edu
if you have questions.
In addition to taking theatre classes, non-majors can audition for theatre productions or work as part of the crew. A list of theatre performance opportunities is available online at
oakland.edu/mtd/theatre
and is also posted on the theatre callboard, located on the first floor of Varner Hall.
Many music ensembles are open to non-majors:
University Chorus – a non-auditioned choral ensemble open to all students. Contact
Professor Michael Mitchell at
mmitchel@oakland.edu
Oakland Chorale – an auditioned choral ensemble that performs chamber choral repertoire from all eras. Contact
Professor Michael Mitchell
at
mmitchel@oakland.edu
.
Oakland University Wind Symphony – an auditioned symphonic wind ensemble that performs the standards of contemporary and traditional wind band literature. Contact
Professor Greg Cunningham
at
cunningh@oakland.edu
Oakland University Symphonic Band – an ensemble of wind instruments performing standard concert band literature, open without audition. Contact
Professor Jeff Heisler
at
jaheisle@oakland.edu.

Oakland University Brass Band – an auditioned ensemble of brass and percussion that performs standard works for brass band. Contact
Professor Ken Kroesche
at
kroesche@oakland.edu
.
Golden Grizzly Athletics Band – a school-spirit instrumental ensemble that performs at campus and athletic events. An audition isn't necessary but energy and enthusiasm are essential. Contact
Professor Ken Kroesche
at
kroesche@oakland.edu
.
Oakland University Jazz Band – a fully instrumented jazz ensemble open to all students. Contact
Professor Miles Brown
at
brown239@oakland.edu
.
University Chamber Orchestra – an auditioned ensemble that performs chamber orchestra repertoire. Contact
Professor Greg Cunningham
at
cunningh@oakland.edu
.
Oakland Symphony Orchestra – open by audition only, performing a full concert series of contemporary and traditional symphonic and chamber music. Contact
Professor Greg Cunningham
at
cunningh@oakland.edu
.
African Ensemble – a non-auditioned group open to all students, performing drumming and xylophone music on African instruments. Contact
Professor Mark Stone
at
stone@oakland.edu
.
Steel Band – a non-auditioned group open to all students, performing various Trinidadian and Caribbean styles using handcrafted steel drums.
Contact Professor Mark Stone
at
stone@oakland.edu
.
Non-majors who wish to study performance (voice, piano or an instrument) are welcome, providing they meet criteria established by the department, including a successful placement audition. Contact
mtd@oakland.edu
or 248.370.2030.
And, of course, just like everyone else, non-majors are always welcome to attend any performance. Saxophonist Madison Adams said, "I love going to concerts and other performances at OU. They really show what this school has to offer and it's spectacular to see how many talented students choose to attend this university."
Clarinet player Lauren Shin said, "I attend as many music, theatre and dance events as I can. I especially enjoyed seeing
The Life
in October, and watching the Repertory Dance Company and Oakland Dance Theatre's performance in December. Everyone in the MTD department is so talented, and it's so amazing to see everyone bringing their unique talents to showcase them and want to pursue them in the future." Exactly Lauren!
Everyone is welcome to bring their unique talents to Music, Theatre and Dance at OU. The arts are for everyone! You don't have to see your future in the arts to experience the joy of expressing yourself. We invite you to come and play or dance with us.
You can view the full schedule of Music, Theatre and Dance performances by going to
oakland.edu/mtd/academics
and clicking on the "performances" link. And you will find a complete list of all our classes
in the Academic Catalog
.
Photos:
Top right: Emily Christenson in the costume shop.
Lower left: Garrett Markgraf.