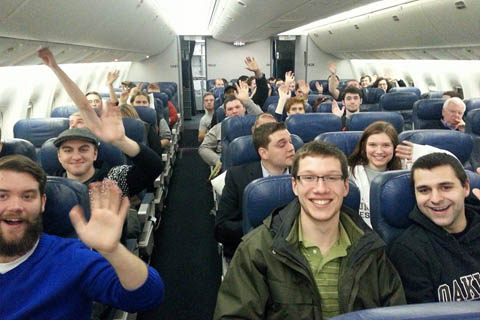 Crowdfunding campaign sends 34 OU musicians to Skegness, England, to represent Oakland University in the 2015 Butlins Mineworkers Open National Brass Band Festival.
UPDATE: Oakland University Brass Band won second place out of 19 bands in the first section of the 2015 Butlins Mineworkers National Open Brass Festival in Skegness, England. Their performance earned them a
£1,000 prize.
4barserest.com
reports:
"There was a great battle between the best of Britain and America in the First Section, where Unite the Union (City of Sheffield) claimed the £2,000 first prize ahead of the star spangled rivals of Oakland University Brass from Detroit.
The two expertly led competitors certainly showed their class on the dangerously under estimated set-work, 'Three Folk Song Settings', which bared its bucolic teeth to scupper the contest winning aspirations of many of the 19 contenders - almost from the word go."
The Oakland University Brass Band has only been around for five years, but they're already making history.
This week, 34 OU musicians are staying in Skegness, England, where they are performing at the 2015 Butlins Mineworkers Open National Brass Band Festival.
"I feel great. This is very exciting that we have this opportunity to travel to England, to take part in this experience and I'm just so proud of the group at this point," said Kenneth Kroesche, director of the band.
He and his students arrived in London on Tuesday morning, and are staying for nearly a week to compete and perform with some of the best musicians in the world. His students will be on the stage with some "very fine" groups, and the competition, held from Jan. 16 through Jan. 18, will be fierce.
But that's not the most impressive part.
"In the history of this festival, there's only been two American brass bands to actually go," Kroesche said. "We are the only university brass band that has ever performed at Butlins."
It's no easy thing to get invited to perform, but Kroesche and his students did so after winning the First Section of the North American Brass Band Association Championships back in April 2014.
Butlins waived the band's registration fee and is allowing it to stay directly at the festival free of charge, Kroesche said, which helped make this possible.
Even with this free housing and registration, however, the costs were high, and the band needed help.
"The entire campus community has really helped us to make this possible," Kroesche said.
A crowdfunding campaign began in November. The story was picked up by outlets such as the Oakland Post and the Oakland Press, and it didn't take long for the community to respond.
"By mid-December we had raised over 12,000 dollars, and this is all from alumni, from friends and followers of the OU Brass Band," Kroesche said.
Over 80 contributors donated to make this happen, including local music companies, a company from Chicago and OU faculty and staff members.
Above all, Kroesche said he felt it important to thank the university's administration, in particular Dr. James Lentini, senior vice president for academic affairs and provost; Dr. George Hynd, president; and Dr. Kevin Corcoran, professor and dean of the College of Arts and Sciences.
"I think that that's very special," Kroesche said. "That says a great deal about Oakland University and the community that we have here."
For updates on the band and its adventures in London, visit its Facebook page.

— by Kaylee Kean
Oakland University's band is only the second American brass band to be invited to the Butlins Mineworkers Open National Brass Band Festival.

Created by Colleen Campbell (cjcampbell@oakland.edu) on Tuesday, January 13, 2015
Modified by Eric Reikowski (esreikow@oakland.edu) on Friday, January 30, 2015
Article Start Date: Tuesday, January 13, 2015