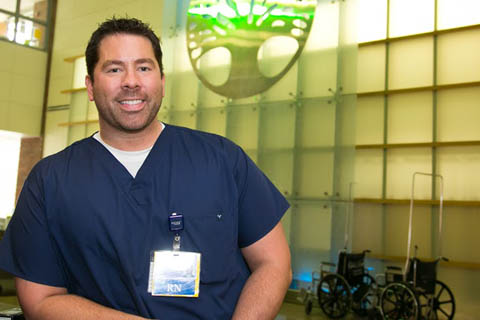 Steve Apigo takes lessons learned from his mentors in Oakland University's School of Nursing to his new role as educator at Oakwood Hospital.
Steve Apigo (BSN '98) is down to one hat.
After 15 years of juggling several hats at once, including ER nurse, entrepreneur and home health agency clinical director, his new role as clinical educator at Oakwood Hospital allows him to sport just one.
In this leadership position, he is responsible for Oakwood's staff development, orientation of new employees, competency assessment and the like.
"Teaching is always something that has been in the back of my mind and I found myself doing it in every job I've ever had," said the Clinton Township resident. "When I told people I was taking this job, they said, "Educator? Of course. It's a good fit for you."
Oakland University was a good fit for him as well.
He enrolled after a year at Macomb Community College because of its "growing reputation for being a good school and because it was more affordable than other nursing schools," Apigo explained.
It was one of those decisions that impacts him daily.
Not only did he meet his future wife and fellow nurse,
Jennifer
Fyda
(BSN '98), there, but also he soaked up all he could from the most influential professor of his educational career, Dr. Gary Moore, PhD, RN, Oakland University's interim associate dean for the
School of Nursing
.
Apigo respected him for many reasons. He is direct, genuine, entertaining — a naturally gifted teacher, he says.
But what he most appreciated him for were for the little things he taught that prevented him "from running around like a chicken with his head cut off" after graduating nursing school, Apigo revealed.
Moore stressed prioritizing. He'd create scenarios for the students to instruct them how to manage their time, even if it was just going to the supply closet.
"As with all of my students, I make it a priority to build upon their strengths and help strengthen areas that may need a little work," said Dr. Moore. "In Steve's case, he struggled with decision making and organization for a time in school. It was such a pleasure to watch him overcome these initial difficulties and become a knowledgeable, skilled, caring nurse upon graduation. I'm really gratified by his continued success in nursing."
Apigo confirmed, "He taught us how to organize the notes we carried in our pocket that helped us with patients," he revealed. "It was invaluable."
Moore also gave a list of why he himself would never work in an ER room, but his reasons enticed Apigo to give it a try. Until recently, Apigo's worked in one at least part time since graduation.
Apigo helped launch a medical spa company in 2004, providing such services as spider vein removal. Before Oakwood, he opened Lutheran Social Services, a home health agency.
Apigo was inspired to be a nurse after being hospitalized several times as a child with severe asthma.
"I was familiar with it and realized in high school that I really like people and helping others, so I knew nursing would be a good fit for me," Apigo revealed.
And if the hat fits, he wears it.
— by Rene Wisely
Steve Apigo takes lessons learned from his mentors in Oakland University's School of Nursing to his new role as educator at Oakwood Hospital.

Created by Colleen Campbell (cjcampbell@oakland.edu) on Tuesday, January 13, 2015
Modified by Colleen Campbell (cjcampbell@oakland.edu) on Tuesday, January 13, 2015
Article Start Date: Tuesday, January 13, 2015