Monday, January 12, 2015
Scott Crabill appointed interim associate dean of health sciences
Effective Jan. 1, Scott Crabill, Ph.D., has been named interim associate dean in Oakland University's
School of Health Sciences
. In his new position, Dr. Crabill will oversee academic advising and work with faculty on curriculum development, among other duties.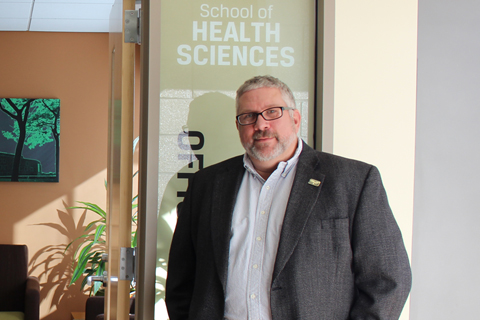 Dr. Scott Crabill will oversee academic advising and work with faculty on curriculum development in his new role as the interim associate dean of Oakland University's School of Health Sciences.
Dr. Crabill, who is also an associate professor of
communication
, most recently served as interim vice provost for
Undergraduate Education
. In that role, he was responsible for providing leadership and oversight for the university's accreditation and undergraduate curriculum. He formerly served as the director of
Integrative Studies
, Special Initiatives and Community Partnerships, along with other leadership positions in Oakland's Office of Undergraduate Education.
"Through his experience working with students, faculty and administrators, Dr. Crabill has derived an administrative philosophy that is collaboratively driven and practically focused," said Richard Rozek, interim dean of OU's School of Health Sciences. "He values integrity, reflective practices, and courage, and he will work to build consensus and provide a fresh outlook within the School of Health Sciences."
Dr. Crabill holds a
Bachelor of Arts in Psychology
and
Master of Arts in Counseling
from Oakland, and received his Ph.D. in Communication from Wayne State University. Since joining Oakland's faculty in 1998, he has worked to enhance campus life though many grant-funded initiatives in support of OU's
Center for Student Activities and Office
of
Academic Service Learning
. He has also served on various university committees and been a faculty advisor for OU fraternities and student service groups. His dedication and leadership have been recognized with multiple university awards, and he recently received the 2014 Michigan Adviser Association's "Pacesetter Award."
In addition, Dr. Crabill has organized the annual Conference on Teaching and Learning – which is hosted by Oakland University and the University of Windsor – as well as the
Michigan Conference on Student Success
. He is the author and co-author of numerous book chapters and articles on communication in new media and has presented at educational conferences in Michigan and around the country. He co-authored the book "Community Engagement 2.0? Provocations and Dialogues on the Future of the Civic in the Disrupted University," which was published in 2014.
Along with his academic experience, Dr. Crabill has served a number of community organizations, including the Troy Adult Learning Advisory Council and the Keep Michigan Working Talent Team. He is a member and past president of the Board of Directors for the Baldwin Center in Pontiac.
In his new position, Dr. Crabill will oversee academic advising and work with faculty on curriculum development, among other duties.

Created by Eric Reikowski (esreikow@oakland.edu) on Monday, January 12, 2015
Modified by Eric Reikowski (esreikow@oakland.edu) on Thursday, January 15, 2015
Article Start Date: Monday, January 12, 2015