Students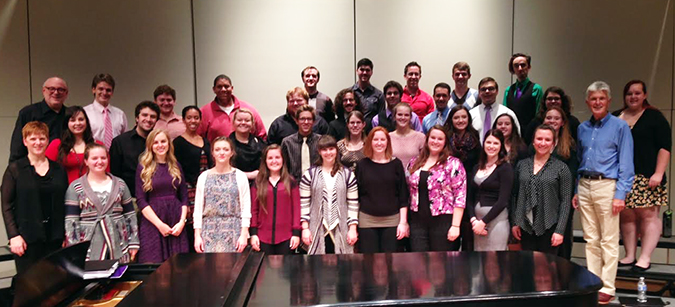 We are a little late in bringing you the news that
Simon Carrington
, professor emeritus of choral conducting at Yale University, was at OU last October. He worked with undergraduate and graduate conducting students and with the Oakland Chorale. D
irector of choral studies
Mike Mitchell
said, "It was an amazing experience." Mr. Carrington was a founding member of the King's Singers, a group that gave 3,000 performances at the world's most prestigious festivals and concert halls, made more than seventy recordings, and appeared on countless television and radio programs, including nine appearances on the
Tonight Show
with the late Johnny Carson!
The musical theatre students also benefited from a distinguished guest.
Shorey Walker,
the program coordinator at Actors Connection in New York City, gave two workshops about the business of acting in November.
Fred Love,
who directs the musical theatre program, told his students, "Shorey knows everyone in the NYC theatre business and everything about the theatre business." He was emphatic. "Trust me. You don't want to miss this. Please be there!"
While we're on the subject of musical theatre, if you thought our fall production of
The Life
was some of the best theatre you saw last year, you're not alone.
The Oakland Press
included it in its roundup of the Best of Local Theatre 2014.
Read more here.
Thanks to the generosity of brass band lovers and the support of the university, the
Oakland University Brass Band
will compete in the highly prestigious Butlins Mineworkers Open National Brass Band Festival in Skegness, England, from January 16 to 19. They have also been invited to perform a special concert, which band director
Dr. Kenneth Kroesche
has crafted to have a distinctly American flavor. American composers will be featured and the finale will be jazz. Two renowned guests will play in the concert. Trumpeter
Chad Shoopman,
the music director and conductor of the Brass Band of Central Florida and a professional conductor for Walt Disney Studios, will be in Skegness to adjudicate the competition. He will play a solo in the final piece of OU Brass Band's concert. And virtuoso trombonist
Brett Baker,
who played with the world famous the Black Dyke Band during the course of his stellar career, will also play in the concert.
The 31 students in the band are all excited to embrace this opportunity.
Emily Mass
wrote on her Facebook page, "So, performing with Brett Baker and sitting in on a Black Dyke rehearsal! Can't wait to go to England!" The students will indeed be welcomed to a Black Dyke Band rehearsal at the band's home in West Yorkshire. They are also going to use the famous band's space for a rehearsal of their own. We can't wait to hear more about all of this it. You can follow the adventures of our intrepid travelers on the
Music, Theatre and Dance Facebook page
. Read more about the trip in this
OU News story.
Also looking forward to a very special performance are the 2014 - 2015 winners of the Annual OU Concerto Competition. Congratulations to
Hannah Bossner,
piano;
Molly Bruner
, soprano;
Mark Hosseini
, bass;
Heather Neuenschwander
, flute; and
Alyssa Primeau
, flute. All five will perform with the Oakland Symphony Orchestra at the 18th Annual David Daniels Young Artists Concert on Sunday, February 15.
You can buy tickets for that event here
.
Other students are winning recognition outside of OU. Theatre faculty member
Milica Govich
wrote to tell us how great the fall semester had been for the students. At the end of Mila's Acting for the Camera I class,
Kathy Mooney
from Pound Mooney Casting visited the class for a Q & A about the business in the Detroit area and gave feedback on the students' work. Mila took the group, as well as some of the students she had been coaching one-on-one, to audition and register for the agents at Productions Plus/The Talent Shop in Bingham Farms. And occasionally Kathy Mooney has subbed for Mila in her Acting for the Camera II class, which means she has gotten to know the students, and their work, very well.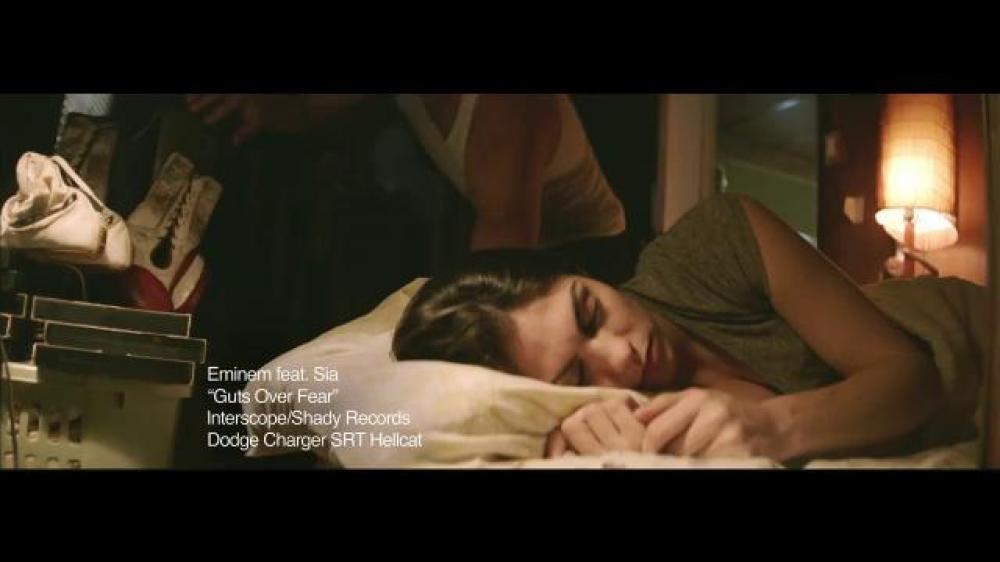 The entire Acting for the Camera class was invited by Kathy Mooney to be in the new
Eminem
music video.
Alexa Moffo
ended up with a leading role as the protagonist's girlfriend.
You can see the video here.
Be aware, as you might imagine, there is explicit language and adult content.
Jillian Hoffman
,
Almi Grishaj, Tim Falk, Kim Alley, Katrina Miller
and
Bridgette McCloskey
also participated in the day's filming, which was a great experience for them, but their work didn't make it into the final cut. Unfortunately they got to learn the lesson every actor hopes to avoid: that sometimes your work gets left on the cutting room floor.
Alexa found herself with a bonus. She'll be collecting SAG residuals because parts of the video were used for a commercial which aired during the American Music Awards.
You can see the commercial here.
Kathy Mooney also invited the students to audition for Warner Brothers feature
Batman v. Superman: Dawn of Justice
, directed by Zack Snyder, which shot in the area all summer. Again, a great experience, although no one was cast. One student, Jillian Hoffman, worked on the film as a stand-in.
Other students have been called in to audition for numerous commercial and film projects. Alexa Moffo booked a Michigan lottery commercial, which is currently airing, and an ad for the Long John's Silver restaurant chain. Others have auditioned for the film
Destined,
filming locally, and for
Chicago PD
and
Chicago Fire
. This has given students the chance to meet with other casting directors in town, including
Carrie Ray
of Carrie Ray Casting and
Dayna Polehanki
of Detroit Casting Company.
Other successes for the Acting for the Camera students include Bridgette McCloskey, who has won a leading role in a Netflix original TV show, which she is not yet able to discuss in detail, and Katrina Rene (Miller) who appeared in a music video with soul singer and rapper
Aloe Blacc
. She is also a leading character in a locally produced web series called
Wicked City
.
Mila's students also had the chance to work as extras on the new short film
American Prophet
by
Jasmine Rivera
, which is based on the life of
Bishop Thomas J. Gumbleton
. It shot right here in Detroit in December.
You can see the movie's website here.
Another of Mila's students is
Jaclene Wilk,
who, as we told you in the last issue, is playing the lead role in
Liberty's Secret,
a movie musical filmed and produced in Ann Arbor. Mila said, "Her work is terrific!" You can follow along with the film's production schedule and see that for yourself, right here
on the movie's Facebook page.
We are so excited to see what the future will bring for all these students!
Dance major
Laura Coleman
is looking forward to her immediate future. In January, she will begin an internship with the Disney College Program. She will work as a character assistant and is looking forward to spending time with the young visitors to the parks. She is also excited to have an opportunity to meet the choreographers and other performance professionals. Laura worked for Radio Disney for several years and loves the company. She is also looking forward to the regular auditions which are scheduled for interns. You can learn more about this program on the
OU Careers Services webpage
.
Alumni
Theatre alum
Dave Roy
(B.F.A.) announced recently that he has accepted a new position as a product specialist for the Chevy Racing Team Tour. He said, "I'm very excited to begin this new adventure. I go on a tour with Chevy and talk about their performance cars at auto shows, races and other events."
Theatre alum
Rachel Hull
(B.F.A.) had an announcement of her own. On December 9 she wrote, "With today's first rehearsal of
Steel Magnolias
at The Purple Rose Theatre Company, I am proud to say I am an official member of Actors' Equity!" Yeah Rachel! The show opens on January 15 and
you can read more here.
Music alum
Maggie Cocco
(B.M.) had a lot of publicity recently around her CD launch party. She was featured in
Deadline Detroit.
You can read that article here.
And you can
buy her CD Get Me on iTunes here
.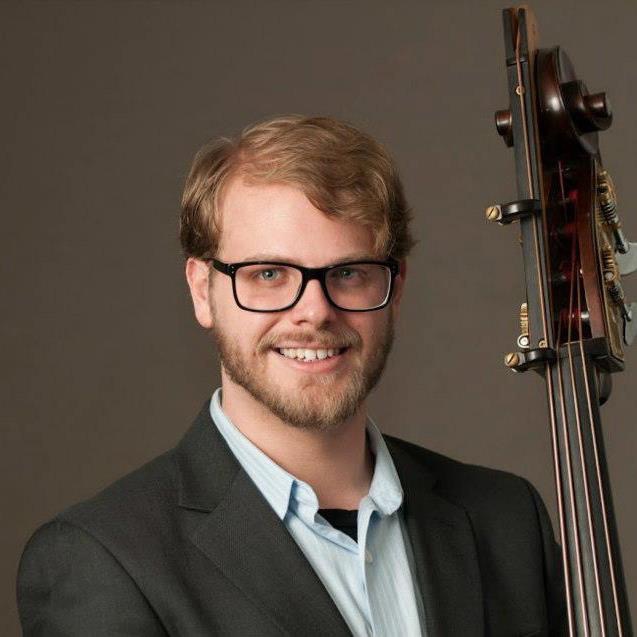 We have two alums who are sailing the seas for a living and apparently, having just as much fun as you might imagine they are.
Mark Johnson
(B.M. '12) has been sailing with Royal Caribbean Cruise Lines for 18 months. He plays bass in a 7-piece orchestra that has a distinctly international flavor. His current fellow musicians include colleagues from the Philippines, Poland, Ukraine, England, and two other Americans. Mark said when he first signed up he hadn't traveled to any other country except Canada, something the other crew members didn't understand. Now it might be quicker to list where he hasn't been! He's seen Caribbean islands aplenty and traveled to England, Sweden, Denmark, Russia, Iceland, Australia and Fiji. He's also traveled as far west in the US as Alaska and as far east as New England. Home for a few weeks over the holidays, Mark is leaving January 15 for a cruise that will take him to Singapore, Indonesia, India, Turkey, Greece, the United Arab Emirates and more. When he has free time Mark and his fellow crew members have opportunities to visit their ports of call. He says he loves his job and sees him himself doing this for some years to come.
Emily Stys
(B.F.A.) is working on board Fantasy 6 for Disney Cruise Lines as a main stage performer. She began in early June with two months of training in Toronto and boarded ship at the end of August. She will sail until the end of March. She wrote on her Facebook page, "Our first week on the ship has been a dream come true! Love my new cast and family."
Robert Benton
(B.M.) has won a position playing euphonium with the Dunshan Symphonic Wind Orchestra of Beijing, China. The orchestra employs musicians from Europe and North America as well as China. He began work in January.
You can read more about the orchestra here.
All of these alums may be traveling, but in January, one of our former music students made the long journey back to Detroit.
Walt Szymanski
, who lives and teaches in Ecuador, played at the Dirty Dog Cafe, as noted in
this article in the Free Press.
Mark Stryker called him "the consummate professional."
Finally in our alum section, we wanted to notify you of the death of
Matthew Tomlanlovic
. He was an OU theatre alum, who went on to earn a master's degree from the Central School of Speech and Drama in London and an M.F.A. in acting from the California Institute of the Arts. He had a distinguished 30-year career in theatre, as is clear from these obituaries in the
Dallas Morning News
and on the website of
Southern Methodist University
, where he taught. We have not been able to track down any of Matthew's contemporaries here at OU. If you remember him we would love to hear from you. Please email Gillian at
gellis@oakland.edu
.
Faculty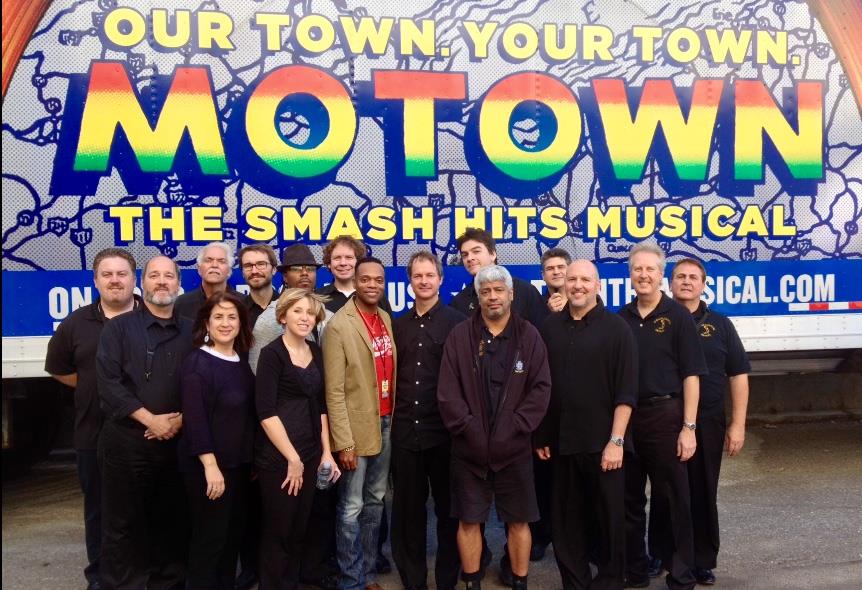 If you saw the show
Motown the Musical
during its sold-out run at the Fisher Theatre last fall, you heard our music faculty. Altogether five of them played in the orchestra:
Dan Maslanka, Liz Rowin, Patrick Fitzgibbon, Walter White
and
Paul McCaffery
. Dan stopped by the office to tell us about the experience.
Berry Gordy,
founder of Motown, wrote the book for the show. He attended opening night, and at the end of the show he told the audience, "If the lion doesn't tell his story the hunters will." On subsequent nights
Stevie Wonder, Smokey Robinson
and
Martha Reeves
all came, and all spoke to the audience. Stevie also sang the final song with the cast and asked the audience to help them "bring it home."
Dan Maslanka said when Stevie began to sing, he felt the same kind of awe he had on hearing Luciano Pavarotti sing for the first time at the opening of the Detroit Opera House. "Their recorded voices are great but live is something else. Stevie doesn't have an uncool bone in his body and it was an awesome experience."
Theatre instructor
Milica Govich,
who has been helping her Acting for the Camera students make connections and get work, has also been working herself. Most recently she played a nun in the movie
American Prophet,
which is being filmed in the Detroit area. Mila said her role was connected with Bishop Thomas Gumbleton efforts to integrate the Catholic schools in Detroit. You can follow the movie's progress
on their Facebook page here
.
Meanwhile, theatre professor
Karen Sheridan
is appearing on stage in
Things My Mother Taught Me
at Meadow Brook Theatre. The show runs from January 7 until February 1.
Get more information here.
Dance professor
Ali Woerner
has been nominated for a 2015 Teaching Award from Oakland University. Ali said, "Feeling thankful, blessed and humbled."
Ali and
Thayer Jonutz
, also a dance professor, are co-directors of
Take Root
, an OU dance-company-in-residence. Take Root has been funded with a $10,000 University Research Committee grant for work they plan to do this summer, as has music professor
Miles Brown
, director of our jazz program.
If you recall, Take Root launched a new venture last fall, their Dance for Parkinson's Disease classes. You can see a
slideshow of one of those classes here
.
Mike Mitchell,
the director of our music program (and this semester the acting chair of the Music, Theatre and Dance Department) will serve a two-year term as president-elect of the American Choral Directors Association - Michigan, beginning June 2015. That will be followed by two-year term as president.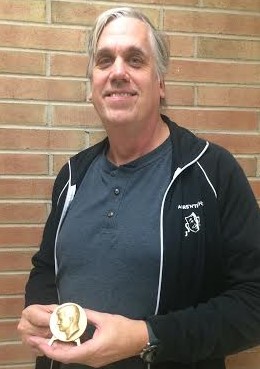 The whole department was delighted to hear that OU theatre program director
Kerro Knox 3
was to
receive a Gold Medallion from the Kennedy Center American College Theater Festival (KCACTF). He was chosen by the Midwest regional organization, to which he has given many years of service. "Each year, the eight KCACTF regions honor individuals or organizations that have made extraordinary contributions to the teaching and producing of theatre and who have significantly dedicated their time, artistry and enthusiasm to the development of the Kennedy Center American College Theater Festival. Most importantly, recipients have demonstrated a strong commitment to the values and goals of KCACTF and to excellence in educational theatre. It is the most prestigious regional award given by KCACTF and is considered one of the great honors in theatre education."
Kerro received his medallion at a dinner on the last day of the Midwest regional festival in Milwaukee, on January 10, 2015. On hearing the news,
Kevin Corcoran
, dean of the College of Arts and Sciences wrote, "Congratulations Kerro, on this well-deserved honor!"
Associate Dean
Robby Stewart
wrote, "Bravo Kerro . . . I am not surprised that you are being recognized in this manner. Well-deserved sir, well-deserved indeed!"
Photos:
Top: The Oakland Chorale with Professor Mike Mitchell (far left) and Professor Emeritus Simon Carrington (far right)
Upper left: Alexa Moffa in a still from a Dodge commercial
Upper right: Mark Johnson
Lower left: The Detroit
Motown the Musical
orchestra with OU faculty
Lower right: Kerro Knox 3 with his KCACTF medal