Tuesday, January 6, 2015
Laughs abound in classic comic opera 'The Pirates of Penzance'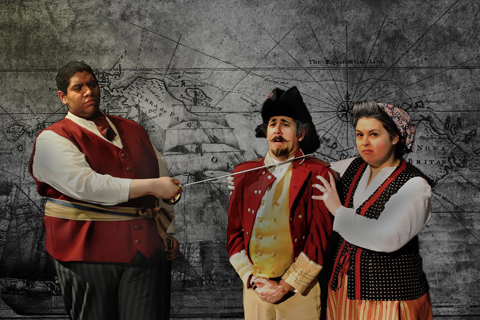 Tim Brown as Frederic, Kayvon Kashani-Gharavi as the Major General and Christine Devito as Ruth. Photo credit: Daniel Robinson.
If you are looking to brighten your mood and warm your heart in the midst of January's gloom, then travel back in time to visit with the gloriously funny cast of Gilbert and Sullivan's 1880 masterpiece "The Pirates of Penzance," as they take to the stage at Oakland University.
There will be four performances of this musical favorite, beginning on Thursday, Jan. 15 and ending with a matinee on Sunday, Jan. 18. The Thursday evening performance is an official
Arts at OU
event, which will be preceded by an alumni dinner.
PERFORMANCE SCHEDULE:
Thursday, Jan. 15, at 7:30 p.m.
Friday, Jan. 16, at 8 p.m.
Saturday, Jan. 17, at 8 p.m.
Sunday, Jan. 18, at 2 p.m.
Dr. Drake Dantzler
, renowned tenor performer and director of
OU's opera program
, notes that the production is double cast, reflecting the depth of talent at Oakland and showcasing the university's brightest young stars.
"It will be an evening filled with charming music, witty banter, and classic humor," he says. "The plot follows the quirky hijinks that befall Frederic, the slave of duty, and Gilbert and Sullivan's host of wonderful characters, including Mabel, Ruth, the Pirate King, and of course, the famous Major General."
The show is in Varner Recital Hall, which is located on the Oakland University campus. Maps of the campus are available at
oakland.edu/map
or by searching for "Varner Hall" on a smartphone. Parking is free.
Tickets are $18 for general admission and $10 for students. They can be purchased online without service fees at
startickets.com
or by phone at (800) 585-3737. They can also be purchased at the Varner Box Office on OU's campus. For more information on Music, Theatre and Dance programs and performances call (248) 370-2030 or visit
oakland.edu/mtd
.
Performances run Jan. 15-19 in Varner Recital Hall on Oakland University's campus.

Created by Eric Reikowski (esreikow@oakland.edu) on Monday, December 22, 2014
Modified by Colleen Campbell (cjcampbell@oakland.edu) on Wednesday, January 21, 2015
Article Start Date: Tuesday, January 6, 2015