Thursday, December 18, 2014
Campus Recreation team members bring home 2014 MIRSA awards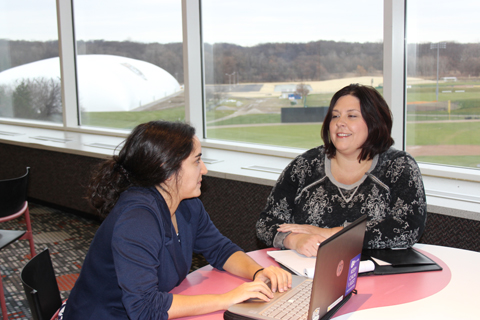 Marie VanBuskirk was named the 2014 recipient of the Dr. Michael J. Stevenson Outstanding Service Award and Sarah DiStefano was named the 2014 Bob England Outstanding Student Award honoree.
The Michigan Intramural-Recreational Sports Association (MIRSA) recently named its three annual award recipients and Oakland University took home awards in both the Service and Student categories.
Marie VanBuskirk was named 2014 recipient of the Dr. Michael J. Stevenson Outstanding Service Award and Sarah DiStefano was named the 2014 Bob England Outstanding Student Award honoree.
"Marie and Sarah are outstanding members of MIRSA, providing leadership and passion, and are excellent representatives of Oakland University," said Greg Jordan, Director of Campus Recreation. "Both show a high level of dedication to our campus community as well as to their respective programs."
VanBuskirk joined Oakland's
Department of Campus Recreation
in 2003 and serves as the department's student employee development coordinator. In this role, she is responsible for coordinating employee training and awards, along with supervising student managers and advising the Recreational Leadership Council at OU. She has helped foster employee development with the establishment of a leadership track and self-marketing track. Employees attend presentations from staff across campus and learn about various topics that will help them grow in their personal and professional lives.
"The goal is not only to help employees learn skills, but also to help them be able to articulate those skills on their resumes," VanBuskirk said. There's a lot our employees do on the job – serving customers, resolving conflicts…it's more than just a job. We want our employees to realize how much they have to offer and be able to promote themselves after graduation."
The Dr. Michael J. Stevenson Outstanding Service Award she received began in 2001 and is presented annually to a MIRSA member who makes a significant contribution to MIRSA during the previous year. She is currently serving as the Secretary of MIRSA. Oakland's Greg Jordan (2005) and Andre Love (2006) are past recipients of this award.
DiStefano is a graduate student working with club sports and has been with the University since 2013. In her role, she coordinates marketing efforts for club sports teams and ensures their compliance with University policies. With a focus on student development, she also facilitates workshops and trainings for club officers. These efforts have helped club sports flourish on campus and gain national prominence. In 2014, four club sports teams – football, women's lacrosse, division I hockey and division III hockey – competed for national championships.
"It's not cheap to run a club sport," DiStefano said. "It usually takes a few years for teams to get organized and become really competitive. Our teams are still young and have been able to fund themselves and win a lot of games, which is impressive."
The Bob England Award was created in 2010 to recognize a student who demonstrates outstanding leadership and service in the organization and is pursuing a career in campus recreation. DiStefano is the first Oakland University recipient of this award. She is currently serving as the State Student Representative of MIRSA.
About MIRSA:

The purpose of the Michigan Intramural-Recreational Sports Association is to promote and enhance the quality of recreational sports programs in various settings throughout Michigan. This may be accomplished through professional meetings, publications and/or methods for the dissemination of ideas. All policies and activities shall be consistent with the philosophy of the National Intramural-Recreational Sports Association.
About Oakland University's Campus Recreation department:

Campus Recreation oversees the campus memberships and runs the aquatic center, recreation center, outdoor complex and upper and lower fields. The group also facilitates intramural and club sports, as well as employee wellness programming, CPR and First Aid training, fitness classes, personal training and a bike loan program. The Department of Campus Recreation mission is to enhance the quality of life for individuals in the Oakland University community by offering programs, services and facilities that support healthy lifestyles.
Marie VanBuskirk and Sarah DiStefano were honored by the Michigan Intramural-Recreational Sports Association for outstanding contributions to the group.

Created by Eric Reikowski (esreikow@oakland.edu) on Thursday, December 18, 2014
Modified by Eric Reikowski (esreikow@oakland.edu) on Thursday, December 18, 2014
Article Start Date: Thursday, December 18, 2014