Tuesday, December 16, 2014
Michigan small businesses win cash, prizes in Macomb-OU INCubator pitch contest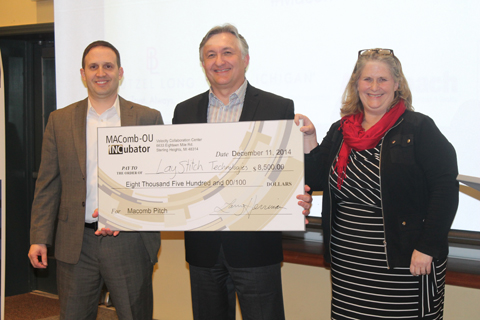 The winner of a small business competition through the Macomb-OU INCubator, Laystitch Tecnhologies LLC, is the developer of a process of making carbon-fiber composites at a reduced cost.
More than $23,000 in cash and in-kind prizes was awarded to the top three competitors of the Macomb-OU INCubator's Macomb Pitch: A Competition for Small Businesses on Dec. 11. The first-place winner out of eight finalists, Laystitch Technologies LLC, is the developer of a process of making carbon-fiber composites at a reduced cost.
Laystitch walked away with $8,500 in cash, as well as a yearlong service package from Mac-OU INC and seven-and-a-half hours of consultation with Butzel Long. The one-year affiliate membership to Mac-OU INC includes access to the Business Advisory Services Program; the Executives-in-Residence, currently including Butzel Long, Advicoach of Michigan, BiancoCPA and Jim Ruma, local defense expert; Pitch Prep; assistance with access to capital; and one-on-one business development with Mac-OU INC staff.
Re-Contour LLC, a developer of breast reconstruction dressings, won the second-place prize of $1,500. Warmilu LLC, a developer of advanced technology, thermal warming, nonelectric compresses targeted to the geriatric community, collected the third-place prize of $500. Both also received a one-year lease for a Mac-OU INC cubicle, five hours of consultation with Butzel Long, and a two-hour, strategic planning session with Advicoach of Michigan.
High-growth, Michigan-based technology companies with $2.5 million or less in revenue and five years or less in business were welcome to apply. Nearly 50 applications were received and then narrowed to the top eight finalists by a group of judges. Each finalist was required to participate in a Pitch Prep session, spending an hour with Mac-OU INC and top business professionals to develop a well-crafted pitch.
Judges for the evening included Frank Alex, Chief Financial Officer for Butzel Long, Amy Butler, executive director of OU INCubator and the Clean Energy Research Center, Anita Kuzmanovski, business banking relationship manager for Fifth Third Bank, Charlie Moret, president of Invest Michigan, and Stella Safari, analyst of the First Step Fund and Detroit Innovate Fund with Invest Detroit.
Other finalists included Localfu, a web-based trip planner that provides information from locals in various travel destinations; Phasiq Inc., a maker of medical devices to help researchers more quickly identify proteins in blood samples; Saras LLC, a maker of coatings to help convert more sunlight to electricity in solar arrays; Sound Barrier LLC, a maker of small devices that send out acoustic signals that negate the sounds hunters make in the field; and Triquetra Games LLC, which is marketing a video game designed to get girls in middle school more interested in science, technology, engineering and math.
Sponsors of the competition included the Michigan Economic Development Corporation, Butzel Long, Advicoach of Michigan, and Macomb County Planning and Economic Development.
More than $23,000 in cash and in-kind prizes was awarded to the top three competitors of the Macomb-OU INCubator's Macomb Pitch: A Competition for Small Businesses.

Created by Eric Reikowski (esreikow@oakland.edu) on Tuesday, December 16, 2014
Modified by Colleen Campbell (cjcampbell@oakland.edu) on Tuesday, December 16, 2014
Article Start Date: Tuesday, December 16, 2014