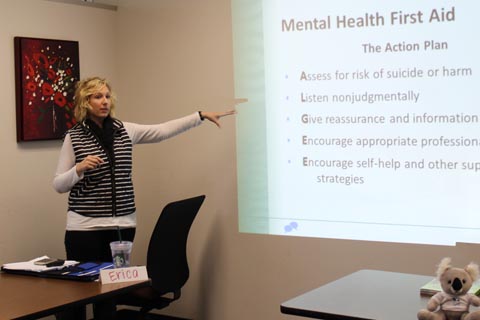 GRASP Program Manager Erica Wallace conducts a Mental Health First Aid class.
Anxiety, depression, and suicidal thoughts can affect anyone, but college students are especially at risk. Suicide is the second-leading cause of death for college students, according to suicide.org.
As part of an ongoing effort to raise awareness of mental health issues, Oakland University's Grizzlies Response: Awareness and Suicide Prevention (GRASP) offers a variety of training opportunities for students, faculty, and staff.
"We've educated more than 1,500 people in either the GRASP Gatekeeper, Assessing and Managing Suicide Risk (AMSR) or Mental Health First Aid trainings in just over a year," said Erica Wallace, program manager for GRASP.
Gatekeeper training provides the campus community with information and resources necessary to identify and assist those who may require professional mental health services. Led by GRASP's interdisciplinary team, the training sessions feature an hour-long presentation on suicide prevention basics, university response protocols, as well as an interactive question and answer session.
"One tenet of our gatekeeper training is engagement – acknowledging the people around you and taking an active interest in reaching out to others," Wallace said.
Along with the gatekeeper training, Mental Health First Aid is an eight-hour program that explores specific mental disorders and teaches individuals how to respond to mental health crises. AMSR training is an eight-hour program designed for individuals – usually with a clinical background – who respond directly to individuals considering suicide.
In addition, GRASP staff recently finished training the first cohort of peer trainers – students from a range of undergraduate and graduate programs who can deliver GRASP training.
The training is based on a peer health education model, which reflects the idea that students are often more willing to open up to a peer than to an authority figure, such as a professor, school administrator, or clinician. Kelsey Zuchowicz, one of the peer trainers, says that GRASP programs are vitally important within
Our role is not to diagnose or judge, but to help students identify the signs and symptoms, and know what the next steps are."



— Bradley Reichelt, peer trainer
the campus community.
"Many of my fellow peer trainers, including myself, have been touched by suicide and feel a need and calling in preventing others from experiencing such a great tragedy," Zuchowicz said. "The program is an excellent way for students to learn more about what they can do to assist others in prevention and learn valuable lessons that they can use in their personal lives."
Peer trainer Bradley Reichelt added that GRASP training also informs students about the multitude of resources available on OU's campus and in the surrounding community.
"Suicide and mental illness are real issues that students deal with and as a campus, we have to be aware of that and educate students on how to properly identify these issues. Our role is not to diagnose or judge, but to help students identify the signs and symptoms, and know what the next steps are," Reichelt said. "During the training sessions, we provide campus and community resources for the students, including Graham Health Center, OU Counseling Center and several suicide hotlines as well."
Oakland's GRASP project was launched in 2012 with support from a $612,000 grant to heighten suicide awareness and prevention both on campus and in the surrounding community. The three-year Garrett Lee Smith Suicide Prevention grant, awarded by the Substance Abuse and Mental Health Services Administration, is being used to train faculty, staff and students to effectively address mental health, build community relationships, and educate and provide resources to the OU community.
The members of the GRASP project are Dr. Michael MacDonald, associate professor of Education and principal investigator of the grant; Dr. Lisa Hawley, associate professor and chair of the Department of Counseling; and Dr. Patricia Wren, associate professor and director of the Health Sciences/Master of Public Health program.
For more information about GRASP, or to request a training session, call (248) 370-4377 or visit the website at
oakland.edu/grasp.
Students, faculty, and staff train to be gatekeepers and peer trainers as part of an ongoing effort suicide prevention effort and to raise awareness of mental health issues.

Created by Eric Reikowski (esreikow@oakland.edu) on Monday, December 8, 2014
Modified by Eric Reikowski (esreikow@oakland.edu) on Monday, December 8, 2014
Article Start Date: Monday, December 8, 2014