Accounting major Jasmine Moseley packed a wealth of learning experiences into her business education at Oakland University. Not only does she believe all the opportunities helped her grow, she's confident the combination of her studies, extracurricular activities, internships and the faculty and professional mentorship she received will yield benefits for years to come.
"My decision to come to Oakland University was the greatest decision I made out of high school," says Moseley, an Inkster native who has accepted a professional position with Ernst & Young (EY) that begins after she completes her Masters of Accounting in December 2015.
"The faculty and staff at Oakland's business school definitely helped me to be a better person and become a better professional."
Moseley's journey toward success began in the classroom, where she first devoted herself to academic achievement.
Seeking direction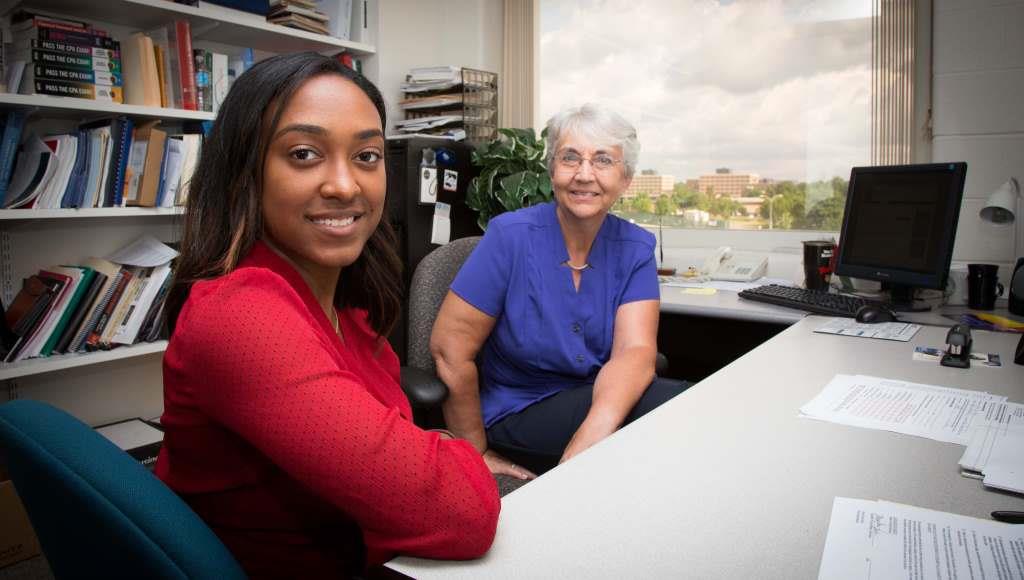 Jasmine Moseley and Accounting Professor Sandra Pelfrey
"When I started at OU, I knew I wanted a business a degree of some kind," she says. "I wasn't sure which direction to choose."
Thanks to the special attention and guidance from Associate Professor of Accounting Sandra Pelfrey, who taught Moseley's introductory accounting course, Moseley began to seriously consider a career in accounting.
"Dr. Pelfrey noticed how well I was doing in her class and that I had a talent for it," Moseley recalls.
Pelfrey didn't merely encourage Moseley to consider accounting; she also invited her to the school's Accounting and Finance Board meetings and introduced her to a recruiter at EY to help her learn more about the profession.
Impressed with Moseley's potential, the EY professional invited Moseley to the company's annual three-day, all expense-paid Discover EY event in New York, where high-achieving college students take part in interactive team-building exercises, leadership seminars, networking opportunities and conversations with EY's top leaders. Attendees also can interview for EY internships.
Growth opportunities
From there, EY offered Moseley her first internship, where she shadowed EY accounting professionals in various service lines, from assurance to tax services, at the company's Detroit office.
"If Professor Pelfrey hadn't taken an interest in me, I wouldn't be where I am today," says Moseley, who plans to pursue a master's of accounting degree at OU. "That's one of the things I love about Oakland – the support of the faculty and staff."
At her second EY internship, Moseley worked as part of an EY team at a client's office. "That was another opportunity to learn and grow," she says. "Shortly after that internship, EY offered me a professional position to start after I graduated."
Her last internship in accounts receivable and payable at TelNet offered yet a different perspective of her chosen career. "Because it's a smaller company, I can get my hands in more," she says.
Path to leadership
The more Moseley learned about accounting, the more excited she got about her chosen career path. She started to look for ways to build her leadership skills to augment her business classes and the real-world experience she was gaining through her internships. She didn't have to look far. Involvement in Oakland's student organizations gave Moseley a host of experiences that complemented her classroom education and helped her prepare for her career.
Among other roles, Moseley served as president of OU's National Association of Black Accountants (NABA) chapter, co-president of the Global Business Brigades chapter for business and as a student member of the Michigan Association of Certified Public Accountants (MACPA).
"As president of NABA, I had a lot of one-on-one time with accounting professionals," she says. "It was great for my networking skills."
Moseley also appreciates the advice from Professor Gadis "Buck" Dillon to get involved in MACPA, which led to a scholarship from the association's Michigan Accountancy Foundation as well as recognition as one of MACPA's 2014 outstanding student members.
Her experience with the Global Business Brigades was dramatically different. Through this international student-led organization, Moseley traveled with a team of students to the Darién region of Panama, where they spent a week holding financial literacy workshops for residents of this rural community. "It's a life-changing experience for everyone," she says.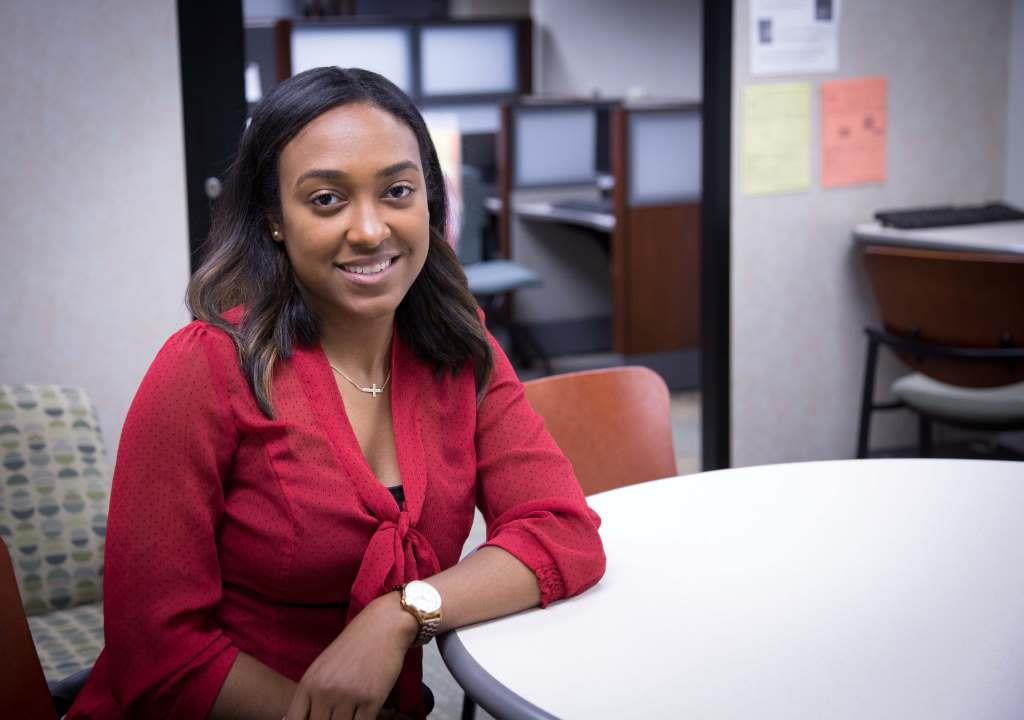 Jasmine Moseley
Bright future
These days, Moseley remains passionate about a career in accounting and, thanks to her experiences at Oakland University's business school, is optimistic about her future.
"I've learned so much about the field, met so many professionals and have taken part in a wide array of experiences," she says. "I can confidently say accounting is a very exciting field. There are so many different types of clients and so many opportunities."
By Flori Meeks
Accounting major Jasmine Moseley packed a wealth of learning experiences into her business education at Oakland University.

Created by Ann Beran (amberan@oakland.edu) on Thursday, December 4, 2014
Modified by Ann Beran (amberan@oakland.edu) on Thursday, December 4, 2014
Article Start Date: Thursday, December 4, 2014