Thursday, November 27, 2014
Evening vigil planned to honor the life of sophomore Chandler Swink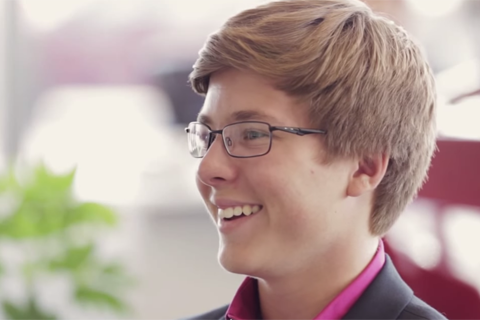 Oakland University sophomore Chandler Swink
Family, friends, a girlfriend and the Oakland University community are mourning the untimely death of Chandler Swink, a 19-year-old sophomore and aspiring nursing student. He died on Wednesday, Nov. 26, at St. Joseph Mercy Hospital in Pontiac. Having been hospitalized since Nov. 18, his death is attributed to a severe reaction caused by a longstanding nut allergy.
"Chandler Swink's death is a tragic loss for our University," said Glenn McIntosh, interim vice president for Student Affairs and Enrollment Management. "He was a scholarship student with a passion for learning and had a very bright future. We offer our condolences and stand by to support his family, friends and his girlfriend."
Oakland University students, staff, faculty and friends are planning to gather for a vigil to remember and celebrate Chandler's life at 7 p.m. on Thursday, Dec. 4. Set to take place at the Elliott Tower in the heart of Main Campus, the event will include song, thoughts and prayers in support of the Swink family, and remembrances shared by friends, family and faculty. All who are mourning Chandler's passing and wishing to offer support to those grieving are invited to attend.
Swink graduated from Avondale High School and was the 2013 recipient of the Oakland University Huntington Ford Scholarship – a four-year, full-tuition scholarship offered to an incoming freshman from a Rochester area high school.
Read more about Chandler's story from this Oakland Post student newspaper
feature article
.
Oakland University students, staff, faculty and friends are planning to gather for a vigil to remember and celebrate Chandler's life at 7 p.m. on Thursday, Dec. 4.

Created by David Groves (groves@oakland.edu) on Thursday, November 27, 2014
Modified by Colleen Campbell (cjcampbell@oakland.edu) on Friday, December 5, 2014
Article Start Date: Thursday, November 27, 2014