Thursday, November 20, 2014
OU community offered DSO discounts for Thanksgiving weekend performances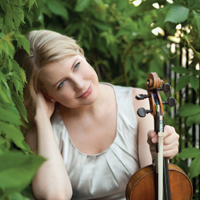 Finnish violinist Elina Vähälä
The Detroit Symphony Orchestra is offering the Oakland University campus community a discount ticket offer for its Thanksgiving weekend performance series, which will feature Finnish violinist Elina Vähälä performing John Corigliano's cinematic "Red Violin" concerto and conductor Leonard Slatkin leading the DSO premiere of Aaron Copland's one-act ballet, "Grohg."
Set for 8 p.m. on Friday, Nov. 28, and Saturday, Nov. 29, as well as at 3 p.m. on Sunday, Nov. 30, the concert series will be accompanied by informative discussions with Mark Clague, associate professor of musicology and director of research at the University of Michigan School of Music, Theatre and Dance. The discussions will start one hour prior to each performance.
While the regular ticket price for main floor seating is $50, Oakland University students, faculty, staff and family and friends can purchase tickets for $20 each. The offer is available online only and the deadline for ticket purchases is 5 p.m. on Thursday, Nov. 27. It does not apply to previously purchased tickets.
To order tickets, visit dso.org, click on the concert date in the performance calendar and click on "Buy Tickets." Enter the promo code "CORPEXPRESS" and click on "Apply." Then select seats, ensure the applied ticket price is correct and check out.
For additional information, visit
dso.org
.



Created by David Groves (groves@oakland.edu) on Thursday, November 20, 2014
Modified by Colleen Campbell (cjcampbell@oakland.edu) on Monday, December 1, 2014
Article Start Date: Thursday, November 20, 2014