Wednesday, November 19, 2014
Staying connected with NYC
Armed with #ThisIsOU T-shirts, 106 Oakland University students traveled by bus to New York City with the Student Program Board.
On the agenda: explore, have fun, and meet with Oakland University alumni living and working in the city.
Each day, an optional excursion hosted by an OU alum gave students a taste of NYC and life after graduation.
Going to grad school: a look at NYC's Ivy life

Kay Nguyen (CAS '12) went to work as a news reporter in Aberdeen, South Dakota, after graduation and is now pursuing her master's degree at Columbia University.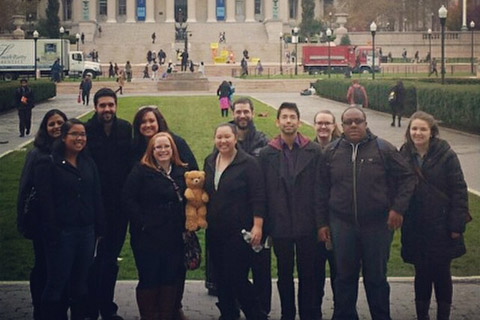 A Walk down Wall Street

Shawn Ward (SECS '98) is an entrepreneur in the footwear industry and the founder of his own consulting firm, Boardroom Rockstars.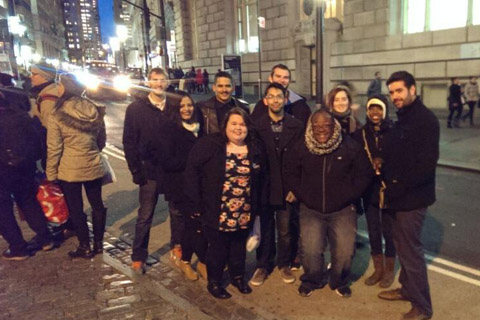 Brave the Brooklyn Bridge after dark

Ross Maghielse (CAS '11) is a journalist with Facebook. Yes, THE Facebook. While at OU Ross was the sports editor for The Oakland Post.
Getting linked in
In addition to the alumni meet ups with current OU students, three more alumni met with OU's regional development officer Luke Fleer, fostering their relationship with their alma mater and keeping Oakland connected with the Big Apple.
On Sunday, Fleer caught up with the creator of OU's theatre program, retired professor Adeline Hirschfeld-Medalia, 93, who served Oakland University from 1966 to 1986.
Read Adeline's story
.
Two more face-to-face meetings stemmed from a
LinkedIn conversation
, showing an interest in meet up events for the 439 alumni living in New York, as well as other major cities across the U.S.
On Monday, Fleer met with the originator of the LinkedIn thread, Kasey Kaplan (SEHS '11). Kaplan is the co-founder and COO of Urbanft.com.
That morning, Fleer met with Linda Voss (SBA '82) in her office. Linda is COO & CFO of Ally Commercial Finance as well as board member on OU's business school advisory board.
Sparked by the social media excitement, OU's
Alumni Engagement
office is working to plan an alumni gathering in New York City in 2015. Regardless of miles between, alumni can stay connected with Oakland University by being on the
Social Media Street Team
.
Oakland connects 6 New York City alumni in 5 days on social media and on the streets

Created by Colleen Campbell (cjcampbell@oakland.edu) on Wednesday, November 19, 2014
Modified by Colleen Campbell (cjcampbell@oakland.edu) on Friday, November 21, 2014
Article Start Date: Wednesday, November 19, 2014