Tuesday, November 18, 2014
OU Credit Union increases its sponsorship for Oakland University events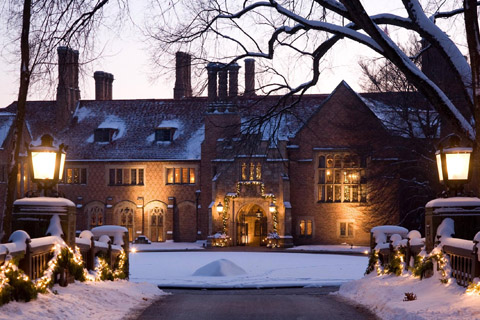 A Holiday Walk at Meadow Brook Hall is one of the Arts at OU series that the Oakland University Credit Union sponsors.
Oakland University Credit Union (OUCU)
has increased its sponsorship with the Golden Grizzlies, reaching more than half a million dollars over the next nine years, announced Director of Athletics
Jeff Konya
. This becomes the largest sponsorship in Oakland University athletics history.
"We are excited that Oakland University Credit Union decided to enhance their partnership with us," said Konya. "In order for us to provide a unique student-athlete experience at Oakland, we need sponsorships such as these to elevate our brand."
The deal will be $65,000 per year for nine years, bringing the total to $600,000 over a 10-year period. OUCU will have its logo displayed on the O'rena floor as part of this new agreement, as well as signage in all athletic facilities and on GoldenGrizzlies.com.
"The Oakland University Credit Union sponsors a variety of programs that enrich the campus community, benefiting students, faculty, staff, alumni and friends," said Eric Barritt, OU's vice president for Development, Alumni and Community Engagement. "We are grateful for their longstanding support as the University continues to reach new heights in many areas, including student population, academics and capital enhancements. Their generous commitment will help Oakland continue to build its reputation in the collegiate sports world and beyond."
Along with increased support for Athletics, the 2015 OUCU sponsorship package funds a variety of campus activities and events, including:
Varner Vitality Lecture
Oakland University SCHOLARS Program
School of Business Undergraduate Recognition Dinner
14th President's Golf Invitational
Oakland University Alumni Association Golf Challenge
"We're proud to support Oakland Athletics, as it allows us to further develop our more than 50-year partnership with Oakland University," said April Clobes, executive vice president and chief operating officer for Oakland University Credit Union. "We look forward to continuing to support the Oakland University community and help provide the tools and resources for those in this community to achieve their goals and dreams."
The Oakland University Credit Union has been a financial services partner of Oakland University for more than 50 years. Along with its presence on Oakland's Campus, the OUCU has a branch location on Five Points Drive in Auburn Hills, across from the University.
For additional information on the Oakland University Credit Union, visit oucreditunion.org.
The enhanced partnership is worth more than half a million dollars.

Created by Eric Reikowski (esreikow@oakland.edu) on Thursday, November 13, 2014
Modified by Colleen Campbell (cjcampbell@oakland.edu) on Wednesday, November 19, 2014
Article Start Date: Tuesday, November 18, 2014