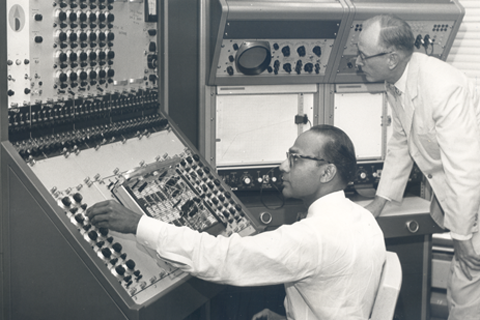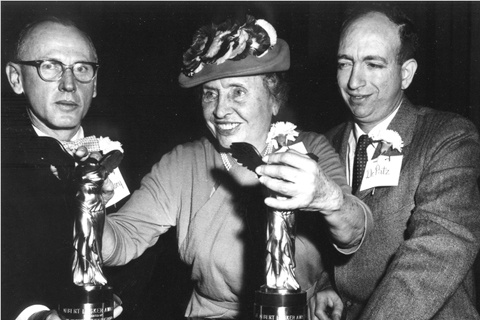 Above: Dr. Kinsey and Dr. Reddy work together on an analog computer in the early 1950s. Below: Dr. Kinsey (far left) and Dr. Arnall Patz (far right) are presented the 1956 Albert Lasker Medical Research Award by Helen Keller.
Dr. V. Everett Kinsey was revolutionary in his ocular research, helping thousands see the world through healthy eyes. He and his wife, Irene Kinsey Stare, shared a love of contributing to the greater good. Their contributions in both research and financial support to Oakland University has created a legacy that will forever impact the community.
Dr. Kinsey passed away in 1978, and his wife followed him in death 35 years later. The two were passionate about the research conducted at Oakland's
Eye Research Institute
, an organization that thrived under Dr. Kinsey's leadership.
Creating a legacy
As a key component in the establishment of the National Foundation for Eye Research in Washington D.C., Dr. Kinsey was considered one of the foremost eye researchers in the nation. Due to his prestigious credentials, he was invited to join the OU staff by the University's first chancellor, Woody Varner. Utilizing his knowledge and experience, Dr. Kinsey and fellow researcher Dr. Venkat N. Reddy founded Oakland University's Eye Research Institute (ERI) in 1968.
"Because of Dr. Kinsey's status, Oakland University was put on the map as far as eye research is concerned," said Dr. Reddy, who worked alongside Dr. Kinsey for 12 years prior to coming to Oakland. "He made a national impact on how eye research should be funded in this country."
Dr. Kinsey became the first director of the ERI, building a foundation for innovative research that would support the institute's endeavors for years to come. He was a top researcher, devoting much of his career to the study of blindness in premature infants. Due to his exceptional leadership, Dr. Kinsey became the Director Emeritus of the ERI in 1975, three years before his death.
"One of Dr. Kinsey's greatest accomplishments was that he was one the first people among all the institutes to have a clinical trial on premature infants with pediatric retinopathy," Dr. Reddy said. This work led to Dr. Kinsey's receipt of the Lasker award in 1956, one of the most respected science prizes in the world.
Today, the ERI is a nationally recognized center for ophthalmic research. The institute maintains full-time faculty members, research associates, post-doctoral fellows, affiliated clinical faculty and students, all working diligently to conduct and support research to prevent blindness and vision loss by exposing the underlying causes of eye diseases.
Impacting the community
Even after Dr. Kinsey's death, Mrs. Kinsey Stare stayed connected with the research and the people of the ERI, watching from afar as they carried on her late husband's work. Seeing the institute's commitment and growth prompted her to give back to the University that held her and her late husband in such high regards. In 2004, Mrs. Kinsey Stare created the V. Everett Kinsey Endowed Professorship, committing to a planned gift of $525,000 to help fund vital research projects by ERI professors. At the time, Mrs. Kinsey Stare stated that her late husband "was a brilliant, remarkable man," and that she "would like this gift to be a legacy for him."
Mrs. Kinsey Stare became remarkably close to the researchers in the facility, along with many other individuals on the University's campus.
"Mrs. Kinsey Stare was a delight to work with," said Angie Schmucker, executive director of Planned and Annual Giving. "She was truly interested in the research and the people of the ERI, despite the fact that she had left the area decades ago. She believed in the work they were doing and helped advance it by making gifts each year to support our students and our researchers."
Mrs. Kinsey Stare went on to remarry and relocated to Boston, Mass., where she lived with her new husband, Dr. Frederick Stare of Harvard University until he passed away in 2002.
In January of 2013, Mrs. Kinsey Stare added the University as a beneficiary to her will. It stipulated that OU would receive another $500,000 at the end of her life. Upon her passing on March 13, 2013, just months after her 100th birthday, Oakland learned that the ERI would also receive the residue of her estate. Mrs. Kinsey Stare's gift totaled $3.7million.
"Irene was a very lively, gracious and elegant lady who was passionate about wanting to help the Institute remain strong in the future in order to continue the legacy of her first husband," said Dr. Frank Giblin, professor of biomedical sciences and director of the Eye Research Institute.
The funds will go directly into the ERI, providing two professorships and allowing the institution to enhance its endeavors in the field that Dr. Kinsey and Mrs. Kinsey Stare adored.
"The wonderful generosity of these two inspiring individuals," Dr. Giblin said, "will forever be remembered by the faculty, staff and students of not only the Eye Research Institute, but of the entire Oakland community."
— by Kelli M. Titus

The funds provide two professorships to continue research to prevent blindness and vision loss

Created by Colleen Campbell (cjcampbell@oakland.edu) on Tuesday, November 18, 2014
Modified by Colleen Campbell (cjcampbell@oakland.edu) on Friday, November 21, 2014
Article Start Date: Tuesday, November 18, 2014