Friday, November 7, 2014
OUWB and Avondale School District hosting Harvest of Health Nov. 15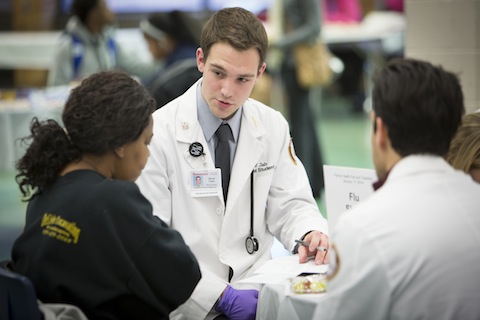 OUWB students will be participating in the Harvest of Health
A new health fair called
"Harvest of Health"
is scheduled for Avondale High School on Saturday, Nov. 15 from 10 a.m. to 2 p.m.
There will be free flu vaccinations for the first 100 people. In addition, there will be healthy heart and lifestyle demonstrations, interactive health education stations for children and adults, free food, games, prizes and giveaways.
This is a free public event co-sponsored by the Oakland University William Beaumont School of Medicine and the Avondale/Oakland University Partnership. It is funded through the generosity of the Pino Insurance Agency.
Avondale High School is located at 2800 Waukegan Street, Auburn Hills, Mich. 48326
For more information on the Harvest of Health event, contact Marcia Hudson at 248-537-6002 or Marcia.hudson@avondale.k12.mi.us.
The Avondale/Oakland University Partnership is an exciting blend of Avondale's excellence in teaching and teacher leadership, along with Oakland University's educational resources and commitment to community involvement.
A new health fair called "Harvest of Health" is scheduled for Avondale High School on Saturday, Nov. 15 from 10 a.m. to 2 p.m.

Created by Brian Bierley (bierley@oakland.edu) on Friday, November 7, 2014
Modified by Eric Reikowski (esreikow@oakland.edu) on Friday, November 7, 2014
Article Start Date: Friday, November 7, 2014