Friday, November 7, 2014
Catching up with the creator of Oakland University's theatre program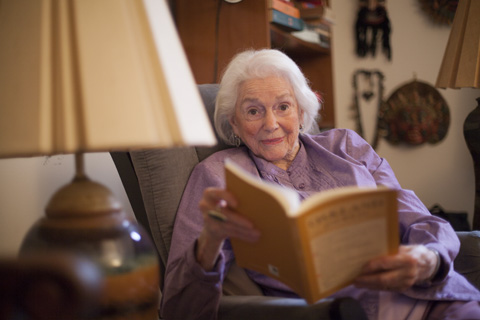 "A low profile no more," is how the creator of Oakland University's
theatre program
sees it today from her Upper West Side apartment.
"These things have all gotten so much bigger than I ever would have imagined," said Dr. Adeline Hirschfeld-Medalia, 93, who served Oakland University from 1966 to 1986. "Really it's heartwarming. It's worth staying around to see."
Adeline began at OU just three years after the University graduated its first class. She obtained a grant to teach one course per semester, and six years later was appointed OU's first female department chair, presiding over a new department for Speech Communication. In the mid-1970s she assisted with the creation of a theatre major, producing her first show in Varner Hall's Studio Theatre in 1976, G.B. Shaw's Candida, with a mixed cast of students and faculty.
An inspiration to aspiring theatre students, Adeline's accomplishments are all her own. She relates her 20-year journey at OU, and in life, to theatre — of course.
"Every life is its own story. You're writing your own novel," she said. "You're the lead in your own drama so you just have to make it happen. Then when you get to my age you've got something nice to talk about. I did make a script out of my life."
Prior to her retirement, Adeline created a scholarship endowment in honor of her parents, The Ruth and Alex Gittlen Endowment. The scholarship rewards students for outstanding things they have done. Over the past 30 years the scholarship endowment has been awarded to 75 students majoring in the Department of Music, Theatre and Dance (MTD).
Adeline stays connected with OU — seeing firsthand how her ambition has turned into a program that's now known nationally — by attending the annual
BFA Musical Theatre Senior Showcase
in New York City.
"Here are these really professional looking students full of that young enthusiasm and with a lot of the skills that they've acquired in their undergraduate days at Oakland University. So there's a lot of reason for having a lot of pride in Oakland University."
The lead in her own drama, Adeline Hirschfeld-Medalia founded the program in 1972 and established an endowment that's provided scholarships for three decades (and counting).

Created by Colleen Campbell (cjcampbell@oakland.edu) on Friday, November 7, 2014
Modified by Colleen Campbell (cjcampbell@oakland.edu) on Monday, November 10, 2014
Article Start Date: Friday, November 7, 2014