Wednesday, November 5, 2014
Students make top 10 at MHacks for diabetes app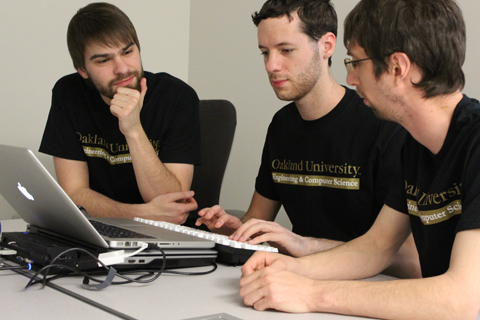 Three computer science majors build a working app for diabetics to aggregate readings from a diabetic device in a 36-hour hackathon session.
Innovation and focus helped senior computer science majors Andrew Clissold, Steven Wiggins and Brandon Powell achieve success at nationwide programming competition MHacks, where they ranked in the top 10 for their application TypeOneTwo.
"The team created a great app that services to people with diabetes," said Sebnem Onsay, Oakland University professor. "I thought it was incredible that they put something like this together in such a short period of time. With all the time pressure (36 hours), they delivered a high quality and most importantly — a working app.

This is no a small achievement. These students who joined MHacks loved programming, they already were feeling confident with their skill set."
TypeOneTwo, described by the team as "a trifecta of apps for diabetic tracking and analysis," takes diabetics' glucose and insulin readings from their diabetic device, aggregates it and graphs it using Google Charts.
The app was created using Swift programming language on iOS, and Java on Android, and is integrated with Facebook's Parse framework as well as a custom web server written in Go.
With an endless supply of snacks and caffeine, Clissold, Wiggins and Powell built the app during the 36-hour coding marathon, and earned attention from big companies like Google.
"We each brought our own unique skillset to the table, and that is what enabled us to excel," Wiggins said. "It was a great opportunity and experience, and we're super excited for the next one."
After encouragement from judges, the team is looking to expand the app in the future, and said they plan to participate in the next MHacks, scheduled for Jan. 16-18, 2015.
"Hackathons are a great tool to develop a network," Onsay said. "I encourage our students to participate more in these type of events if they would like to work for highly popular companies. We are so proud of our OU students. Congratulations to all who took the extra step to go to this event and test their skills."
To learn more about the Computer Science Program at Oakland University, visit
oakland.edu/secs/cse
.
— by Stephanie Sokol

Three computer science majors build a working app for diabetics to aggregate readings from a diabetic device in a 36-hour hackathon session.

Created by Colleen Campbell (cjcampbell@oakland.edu) on Wednesday, November 5, 2014
Modified by Colleen Campbell (cjcampbell@oakland.edu) on Wednesday, November 5, 2014
Article Start Date: Wednesday, November 5, 2014