Monday, November 3, 2014
Nightingale scholarships encourage nursing students in rigorous programs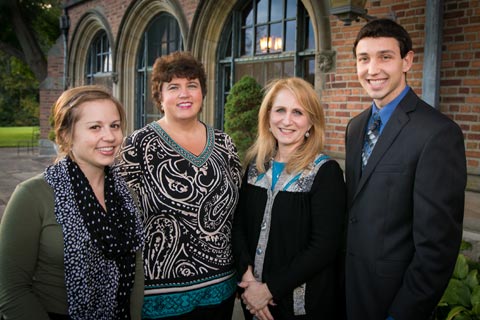 From Left to right, Nightingale scholarship award winner Kimberly Taphouse, Board of Visitors Chairperson, Sandy Schmitt, board member Michelle Seid and Nightingale scholarship award winner Justin Walukonis.
The influence of the
Nightingale
event continues to be felt long after the statues are awarded and the celebration is over. The proceeds from this year's awards resulted in five nursing students receiving Nightingale Scholarships supported by the School of Nursing Board of Visitors for the 2014-2015 academic year.
Justin Walukonis is one of those scholarship recipients. Diagnosed with an autoimmune disorder at the age of twelve, Justin came to the realization during his treatment that he wanted to be a nurse so he could care for others the way his nurses cared for him. This opportunity will help him fulfill that role with a scholarship that helps him achieve his educational goals.
"The support of nursing students via the Oakland University School of Nursing Board of Visitors Nightingale Scholarships are the most important things we do as a Board, " says chairperson, Sandy Schmitt. "These scholarship winners demonstrate a continuous commitment and vigilant dedication to the academic pursuit of their nursing career … what a wonderful thing to be able to assist in ensuring their success."
While she may be the chairperson of the Board of Visitors and the manager of Nursing Development of Nursing for Oakwood Corporate Services, Schmitt was once a nursing student at Oakland University who received a scholarship that would prepare her for the successes and opportunities that she hoped would be a part of her future. "Not only did the scholarship help me financially, but it also gave me confidence in my abilities as a nursing student, encouraged my continuous attainment of academic excellence, and helped to confirm my nursing career choice!"
Kimberly Taphouse knows exactly how that feels. As a student in the
Accelerated Second Degree BSN program
and recipient of a Nightingale scholarship, she is half way through the particularly rigorous process of becoming a nurse in a program that condenses three years of coursework into one which means late nights, frequent study sessions, clinical rotations, and more studying.
"It's easy to get discouraged or overwhelmed, but remembering that I have this scholarship is the kind of validation and encouragement that gives me the energy to continue with my work. It's a reminder that I am on the right path, and that is just as important as the financial assistance provided by my Nightingale Scholarship."
A scholarship can truly make a positive difference in a student's academic pursuit, just as it did for Justin, Sandy and Kimberly. Support of the Nightingale awards directly impacts nursing students and helps build the future of the profession. Nominating a nurse recognizes a lifetime of achievements in improving the lives of patients, and the scholarships recognize the potential of individuals who will make just such contributions in the years to come.
The Oakland University
School of Nursing
is now accepting nominations for the
27th Annual Nightingale Awards for Nursing Excellence®
, which will be held on
May 7, 2015
at the San Marino Banquet Center in Troy. Nomination forms are available on the Oakland University School of Nursing website at
oakland.edu/nightingale
and must be received by
February 2, 2015
.
Learn more about the 2015 Nightingale Awards.
Annual School of Nursing award program raises important scholarship money, recognizing the potential and fueling the passion for future caregivers.

Created by Colleen Campbell (cjcampbell@oakland.edu) on Monday, November 3, 2014
Modified by Colleen Campbell (cjcampbell@oakland.edu) on Monday, November 3, 2014
Article Start Date: Monday, November 3, 2014