Student News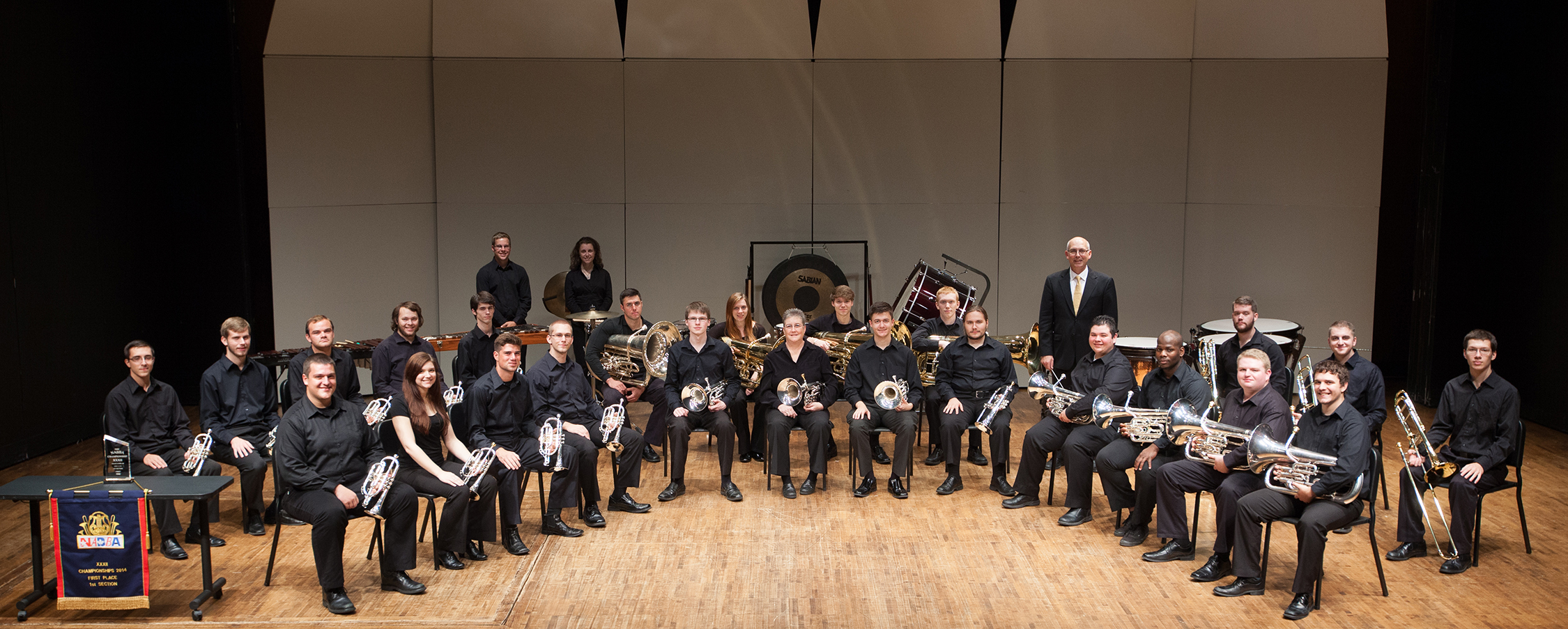 On September 19, our nationally recognized
Oakland University Brass Band
played at the dedication of the university's new centerpiece, the Elliott Carillon Tower. It was a perfect time for them to be heard by the campus community and assembled dignitaries, because it coincided with the launch of their fundraising campaign to help defray the cost of attending the Butlins Mineworkers Open National Brass Band Festival at Skegness, England in January 2015. They would be only the second American brass band to compete in this prestigious competition.
Read more about the competition here.
For more information about how to support the band,
visit OU's iSupport site.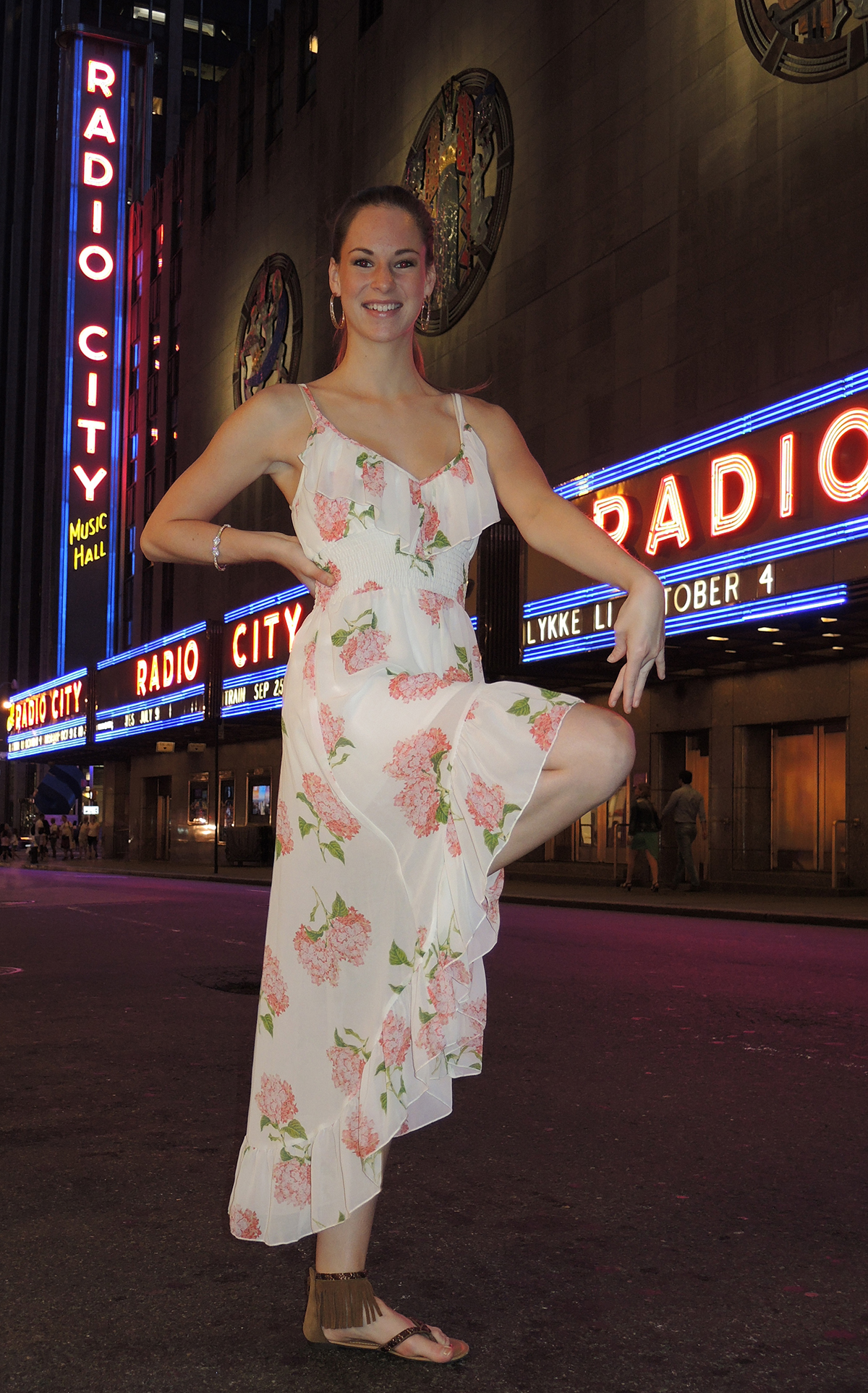 Katie Reid,
a sophomore B.F.A. dance major, spent her summer at a Rockette Summer Intensive in New York. The Rockettes are an American institution; they have performed at Radio City Music Hall since 1932. Rockettes must be proficient in ballet, tap, modern and jazz, and competition for the troupe is fierce. Every year more than five hundred women audition. Katie auditioned for the company and was selected. This year she'll join the Nashville, Tennessee cast.
Katie will be able to combine her professional life with her academic life. She will perform with the Rockettes from October to December, and continue her education during winter semesters. Dance program coordinator
Gregory Patterson
said, "We are very proud of Katie and I believe she is an example of not only the strength of our dance program, but also the caliber of our dance students."
Sarah Hannigan
, a Bachelor of Arts in Music student, traveled independently to Trinidad this past summer, where she taught Aural Development and Sight Singing during a five week vacation camp. She was also a technical adviser for a group of students who played J.S. Bach's music arranged for steel pan and chamber ensembles with winds and pan. One student, a young boy soprano, sang his solo piece for the final concert under her instruction.
With this trip she was able to fulfill her requirement for her World Music minor, and also gain cultural knowledge and teaching experience. She gave a presentation about her trip on October 28, as part of our Arts At Noon series. Sarah said, "I'm incredibly thankful for the opportunity to travel and learn about holistic education abroad. I would especially like to thank
Patrick Fitzgibbon
and Professor
Mark Stone
for helping make sure the trip went forward successfully and smoothly."
The Guardian Online
of Trinidad and Tobago, mentioned her in their review of the camp's final concert: "Sarah Hannigan of Oakland University, shared classical expertise which was eagerly absorbed by the youngsters."
You can read more here.
Jaclene Wilk
, one of our musical theatre students, was cast in the lead role of the movie musical
Liberty's Secret
, written and directed by University of Michigan professor
Andy Kirshner
. The movie filmed over the summer and plans to resume filming again in November. OU theatre students
Brianna Fogelson
and
Jake Daley
are also involved in the production. You can read more about the movie
on this website
. Once completed, the movie will make the rounds of the film festivals, so watch this space. We think you'll be hearing more about this!
For the last student catch-up, please read the article about the adventures of the OU students who took part in Drum Corps International this summer!
Alumni News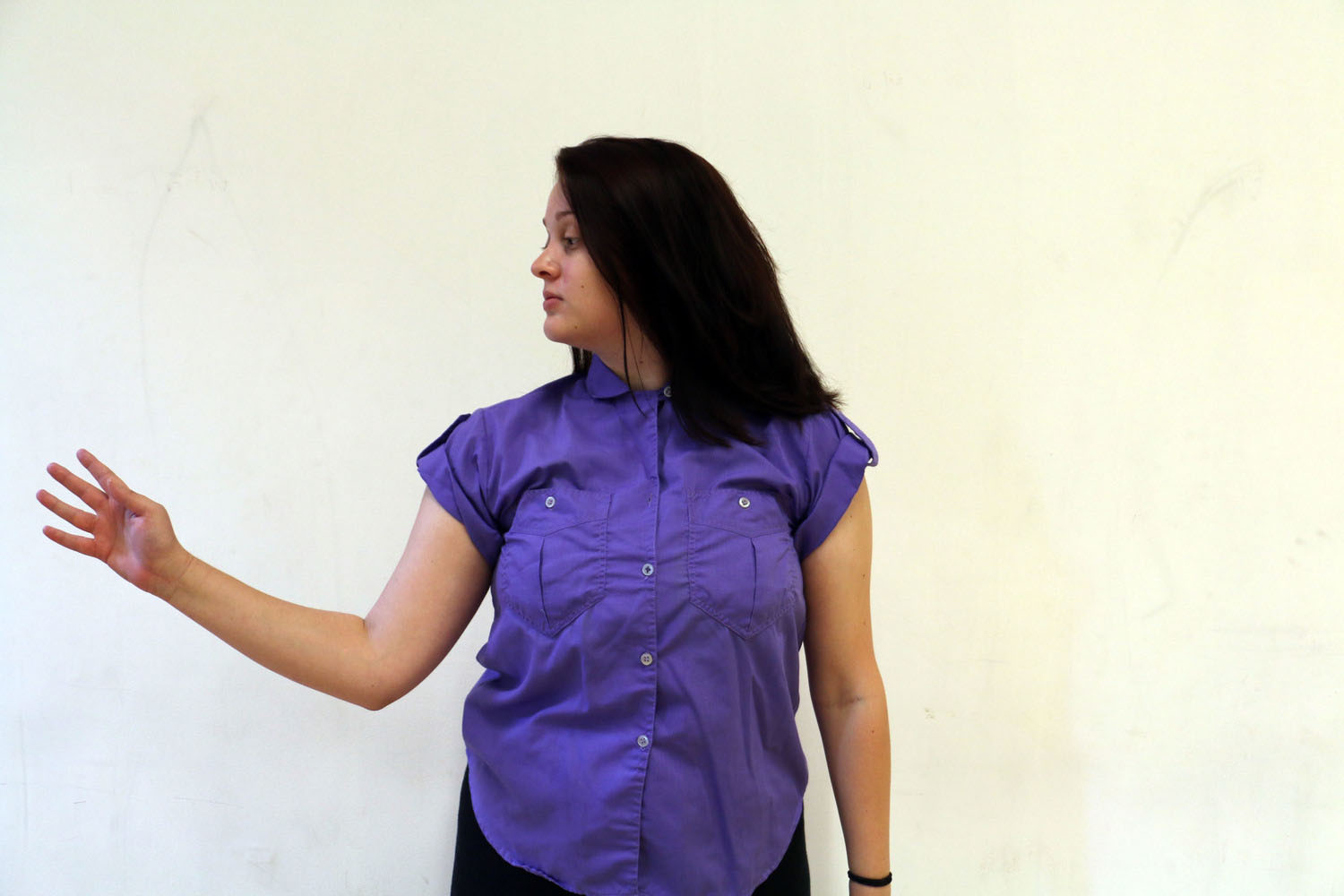 Shortly after she graduated, dance alum
AJ Sharp
(B.F.A. '13) left Michigan for New York City. Recently she wrote to her former dance professors to let them know she's been working with Median Movement, a company run by
Alex Springer
and
Xan Burley,
both of whom also dance with Doug Varone and Dancers, a distinguished company which has performed all over the world. AJ wrote, "I will have my very first professional performance with them at the end of October! I've had a blast working with them and their amazing dancers. I've been working directly with Alex and Xan as their company intern/admin as well. It has been a great way to gain insight on running a company in the city. And I will be presenting my first solo work in the city in January, as part of the WAXworks showcase at Triskelion Arts." You can see AJ's
bio on the Median Movement site here
.
AJ wanted to share her news because, she said, "I definitely wouldn't be where I am without all of your guidance, encouragement, and inspiration. Thank you for that. Thank you for being the best mentors anyone could ask for."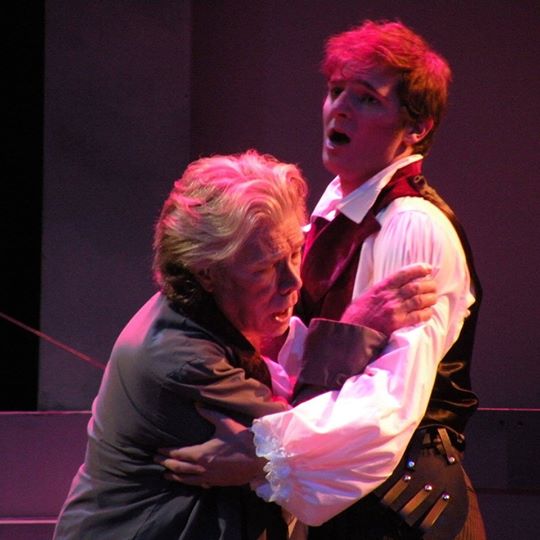 In August,
Constantine Novotny
(B.Mus.'13) posted the following on Facebook. "I am excited to announce that I will be singing the title role of the opera that made me want to be a singer, Mozart's
Don Giovanni
. I'm also excited to create this beautiful music with my other talented colleagues, and I'm excited for this experience to bring me closer to Mozart himself." Constantine is a graduate voice student at Wichita State, where he is a
Samuel Ramey
Scholar. Mr. Ramey, a renowned operatic bass, is himself an alumnus of Wichita State and is also appearing in the production, which opened on October 30.
We want to congratulate theatre alum
Travis Walter
, artistic director at Meadow Brook Theatre. He directed the 2013-2014 show
Lysistrata Jones
, winner of the Wilde Award for Best Musical, which was presented at a ceremony at The Berman Center for the Performing Arts in West Bloomfield in September.
Patrick Fitzgibbon
is both alumni and faculty. After several years working as a professional musician, Patrick came to OU to resume his academic studies. He completed a Master of Music degree in performance, with a concentration in world music, and stayed to teach. He recently released
The Travelers
, a new album of original music for steelband, which is available on iTunes.
See it here.
Patrick was recently featured in an article in
The Oakland Post
.
Read it here
.
Faculty News
On November 3, Oxford University Press released the third edition of Department Chair
Jackie Wiggins
' book,
Teaching for Musical Understanding
. The book is already a much-used textbook. For those of you not familiar with it, the OUP website description says, "[The book] explains current research-based theories of how students learn in order to show prospective and practicing music teachers how to teach effectively." You can read
more on the OUP website here.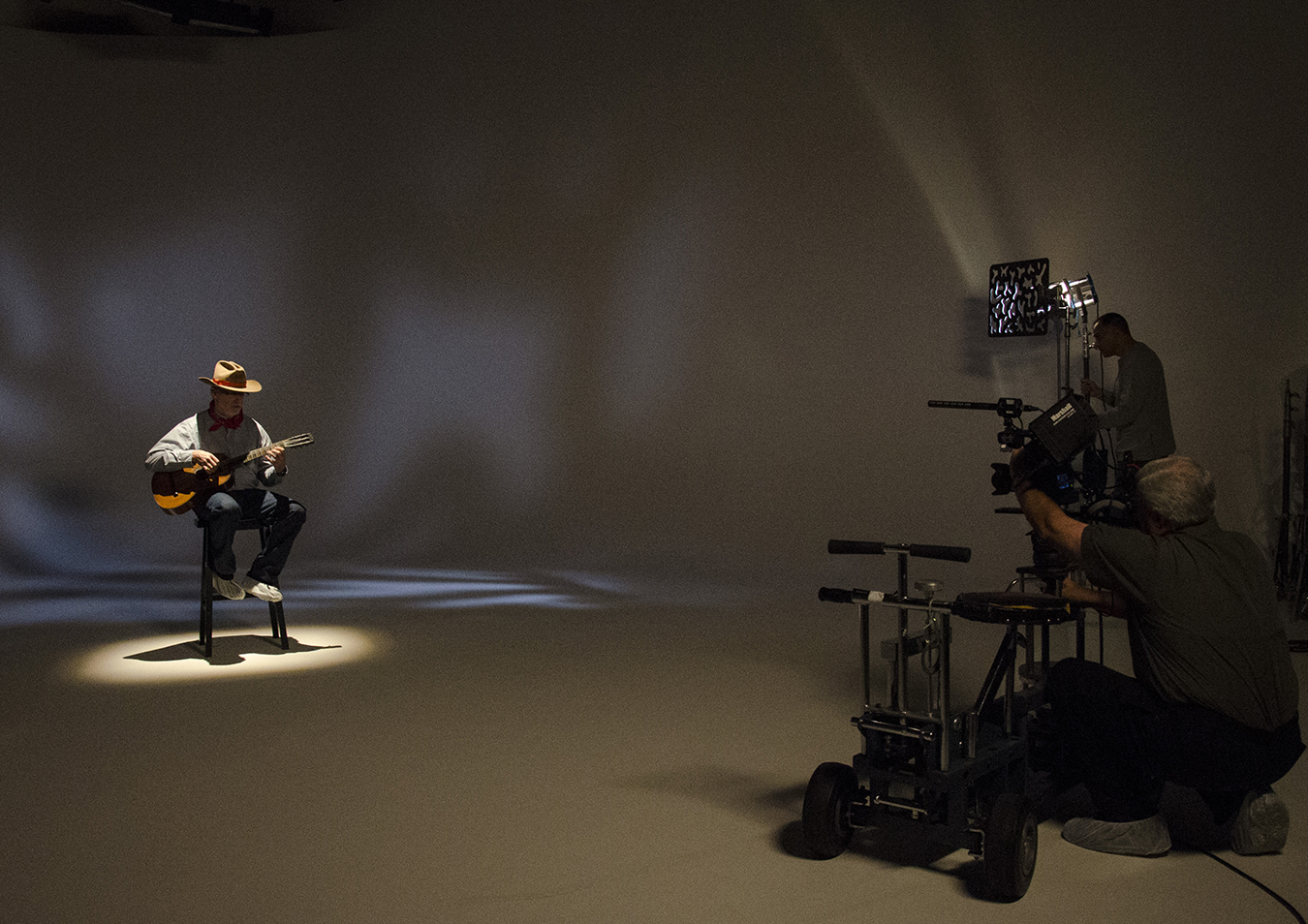 Terry Herald,
composer and audio specialist, has been hired to compose the musical score for the film
The First Rosa
, an historical drama about Rosa Young, who fought the KKK and established 30 schools throughout rural Alabama in the early part of the twentieth century. You can
read more about her life here
. The script called for a cowboy to sing the Boll Weevil song and Terry was asked to perform the role. He recorded the guitar track in his own studio and had choral music professor
Mike Mitchell
record the vocals. He then headed to St. Louis, where he filmed the segment, lip syncing to the recording while dressed in cowboy gear. In January, Terry will fly to Los Angeles for more work on the score. Read more about
the movie production here.
In September music faculty member
Phyllis White
proudly announced that a former private student's song was featured in a Budweiser commercial.
Dan Rodriguez
both composed and sang "When You Come Home." Dan told us, "She [Phyllis] is a huge reason why I'm able to do music for a living today." Dan's commercial has gone viral in a huge way. As of mid-October it had almost 19 million hits. You can read more about
Dan on his website here.
Acting instructor
Tom Mahard was
on stage this fall at the Jewish Ensemble Theatre. It's too late to catch that show, but we want to remind you that Tom will once again bring Ebenezer Scrooge to life in the perennially popular
A Christmas Carol
over at Meadow Brook Theatre. You can find information
about the holiday favorite here.
We have three faculty members on sabbatical this semester. Professor
Mark Stone,
world music and percussion program coordinator, has research trips planned to Uganda and India. He'll also do some guest teaching in both countries. Mark said, "I love teaching and just can't stay away!" Before he makes the first of his trips he has two residencies at Ohio University: one with the Mark Stone Trio in "Experience Percussion" and the second to present the
Embaire – Xylophone Music of Busoga
as part of Ohio University's "Global Excursions." If you want to follow Mark's travels
you can check his website here.
Musicology professor
Jessica Payette
is spending a few weeks in "glorious Vienna." Jessica said, "I'm working on a project on Mahler's revivals of French grand operas which feature themes of religious intolerance. Antisemitism was rampant in Vienna in 1902-1903 when Mahler was the director of the Vienna Opera." In November, Jessica will present her research at the national meeting of the American Musicological Society in Milwaukee.
Music theory professor
Melissa Hoag
is also on sabbatical. She writes, "I have been analyzing some of Brahms's lesser-studied song bouquets (as he called them), and am working on two new pedagogy-related papers. In addition, I've been busy with review work for the journal
Music Theory Pedagogy Online
, which has been receiving a number of hefty submissions lately. Finally, I am in the throes of planning the 2015 Music Theory Midwest meeting, which will take place on Oakland's campus on May 8-9." For more information about Music Theory Midwest
visit their website here.
Professor Emerita
Adeline G. Hirschfeld-Medalia
was interviewed this summer about her work at OU. She was the university's first female department chair (the Department of Speech Communication) and had an enormously influential role in the development of the theatre program, a discipline which faced considerable resistance
in 1966,
when she first came to OU and was told to "keep a low profile."
Watch this video, "Believing in the Magic of the Theatre" to learn more about Adeline's life, her endowment and her legacy. Adeline wrote about her years at OU and the development of the theatre program in
this article in the Oakland Journal.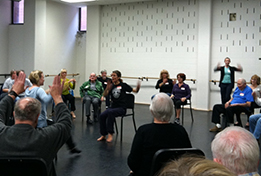 Finally, our dance company in residence,
Take Root
, began offering
Dance for Parkinson's Disease
classes this fall. Dance professor
Ali Woerner
successfully completed the specialized training at the Mark Morris Dance Group in Brooklyn, New York this summer and now she writes, "Take Root hosted our first class today [October 4] in Varner Hall. We had 40 people come and dance with us! It was unbelievable! The class was fantastic -- unbelievably inspiring and there was pure joy felt throughout the room!" The other Dance for Parkinson's Disease classes are on November 15 and December 13 from 11 a.m. to 12:15 p.m. in studio 132, Varner Hall. There is no fee but donations are appreciated. You can see more on
Take Root's website here.
Also on the company's website is information about their upcoming performances at
Red Bull House of Art in Detroit,
on November 23, when they will premiere their new works for this season. There are two performances, one at 2 p.m. when tickets will be $15, and a second "drinks and appetizers" event at 5 p.m. when tickets are $100. This is a perfect opportunity for dance lovers who would like to support the company. For now, these $100 tickets are only available through Take Root's KickStarter campaign, which closes on November 16.
You can visit the KickStarter page here.
This event is free for current Friends of Take Root. To read more about becoming a
Friend of the company see their website here.
Photos -- from the top:
The Oakland University Brass Band - photo by Rick Smith
Rockette Katie Reid
Sarah Hannigan and her students in Trinidad - photo by Dr. William Pfaff
AJ Sharpe - photo by Vesa Loikas
Samuel Ramey and Constantine Novotny in
Don Gionvanni

Terry Herald on the set of
The First Rosa
- photo credit LCMS Communication/Amanda Booth
Jessica Payette at The Vienna State Opera, the

Wiener Staatsoper


Ali Woerner leads the inaugural session of Dance for Parkinson's Disease