Friday, October 31, 2014
Famed guitarist Celino Romero to perform at OU Nov. 9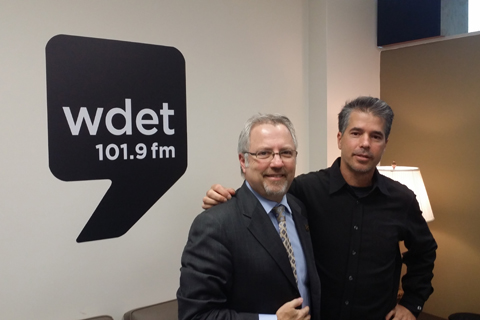 Oakland University Provost James Lentini and famed guitarist Celino Romero promote their Nov. 9 concert on campus on WDET 101.9FM.
As part of the 2014-2015 Chamber Music Society of Detroit at Oakland University series, renowned guitarist Celino Romero will perform at 3 p.m. on Sunday, Nov. 9, in Varner Recital Hall.
Romero is the youngest member of the famed Romero quartet – known to millions as "The Royal Family of the Guitar." He will play a selection of favorites for Classical and Flamenco guitar, including a duet with OU provost, guitarist and composer James Lentini.
The program will feature "Granada," by Isaac Albéniz, excerpts from "12 Danzas Españolas," by Enrique Granados, "Suite Analuza," by Celedonio Romero, plus music by Mudarra, de Narvaez, Sanz, Tarrega, Bustamante, Torroba, York and Iradier.
Varner Recital Hall is located on the Oakland University campus. Maps of the campus are available at oakland.edu/map or by searching for "Varner Hall" on a smartphone. Parking is free.
Tickets are $30 for general admission and $15 for students. They are available online, by phone and in person from Oakland University. See complete ticket information at oakland.edu/tickets or call (248) 370-2030.
Part of the 2014-2015 Chamber Music Society of Detroit at Oakland University Series, the performance includes a duet with OU provost, guitarist and composer James Lentini.

Created by Eric Reikowski (esreikow@oakland.edu) on Friday, October 31, 2014
Modified by Colleen Campbell (cjcampbell@oakland.edu) on Monday, November 10, 2014
Article Start Date: Friday, October 31, 2014