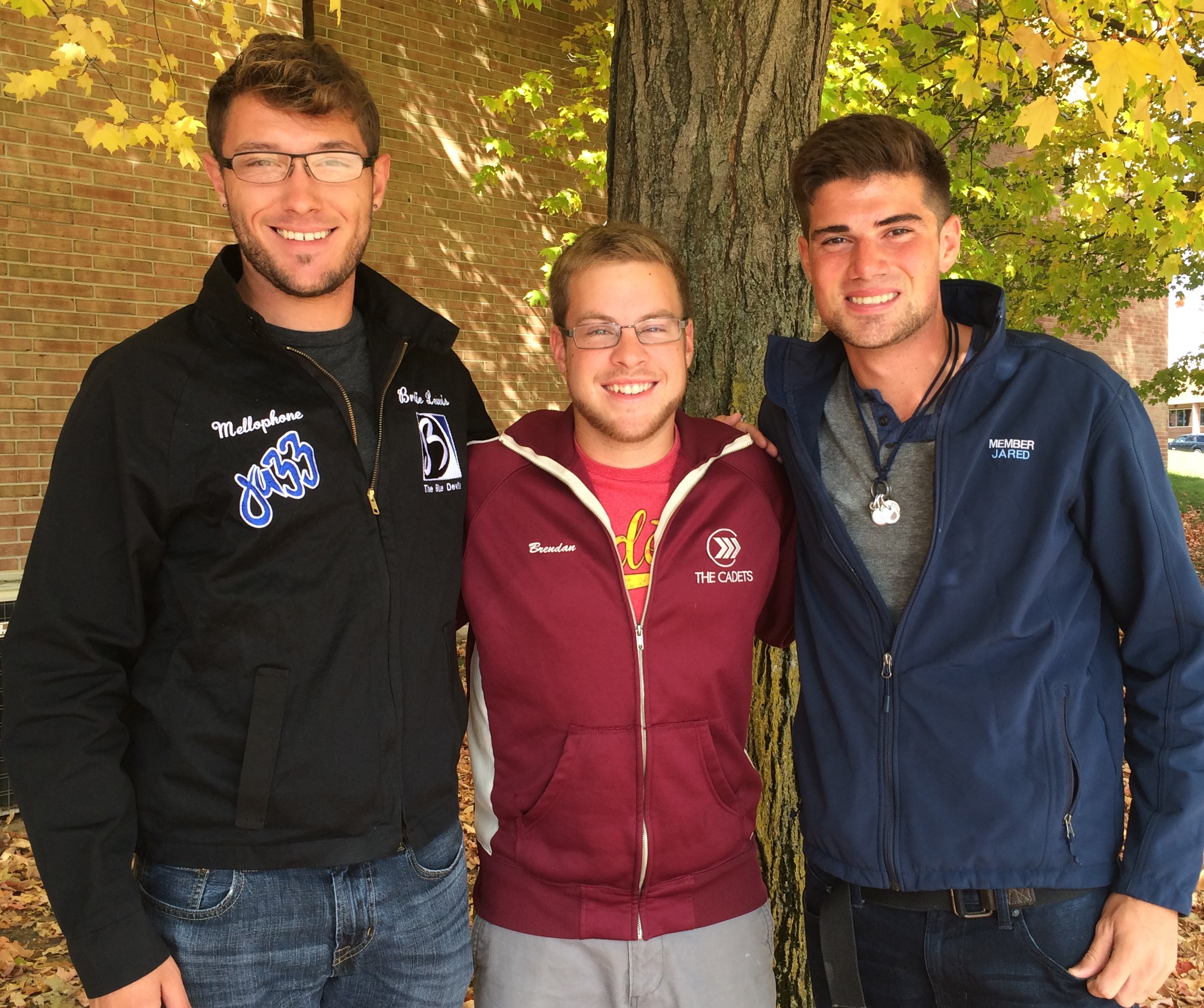 Imagine spending your summer working harder than you've ever worked before, but at something you love,
really love
; making friends so close they feel like family; traveling the country giving performances to adoring audiences; and rounding out the journey winning an honor that's of inestimable value to you and highly prized by your peers. That sounds like a truly amazing experience, doesn't it? Add to the mix the fact that this intense summer experience offers music education students an opportunity to build a nationwide network of fellow music educators, and you will understand why participants in Drum Corps International (DCI) speak of their marching seasons with such passion.
This past summer, three OU students finished in the top tier at the 2014 Drum Corps International World Championships.
Brodie Lewis
, who plays horn in the Oakland University Wind Symphony and is an accounting major, was a member of the
Blue Devils,
based in Concord, California. His corps won first place at the championship with an all-time record-breaking score.
Music education majors
Jared Seymour
and
Brendan Walter
also competed this summer. Jared was a member of the
Bluecoats
, based in Canton, Ohio and his corps took second place. Brendan spent the summer with the
Cadets,
out of Allentown, Pennsylvania, the corps that took third place. All three students are DCI veterans and all of these corps rank consistently high, but this was an unprecedented one-two-three OU slam dunk!
Jared, a trumpet player, and Brendan, a percussionist, both believe that spending the summer with DCI gives them access to some of the best marching and music teachers in the country. Brendan said, "We are working with some of the best instructors in the world."
The final product of the summer is a big, complex, polished show, but Jared said, "It's both a professional and an educational environment. We build the show by working on the fundamentals of both playing and marching. The experience prepares you to be a better educator."
And it's hard to gain access to that experience. Being accepted into a corps is a competitive process and everyone auditions. Jared said before his first audition for the Bluecoats, he practiced five hours a night. "I have never practiced so hard for something in my life."
That means, as Brodie points out, "The talent level is so high. It's an experience you can't find with a marching band." It must be a truly extraordinary experience. Both Jared and Brendan told us it profoundly changed their lives. So what happens in a DCI summer?
In early May, members of the corps gather at their home base and begin to work on their show, twelve hours a day, for perhaps five weeks. The show then hits the road with members crisscrossing the country, riding in buses and sleeping nights on gym floors. They perform in 25 to 35 competitions and shows, which are attended by supporters, alumni and other lovers of the pageantry arts. The final event of the season is DCI World Championships at Lucas Oil Stadium in Indianapolis.
Brodie's group, the Blue Devils, began their tour in Stanford Stadium. Their winning show, "Felliniesque," was awarded high marks throughout the season and was seen by everyone as the front runner. In Indianapolis they received 99.65 out of 100, including perfect scores for both General and Visual Effect.
Jared's Bluecoat corps performed "Tilt" to specially arranged music by Tyondai Braxton and Vienna Teng. They traveled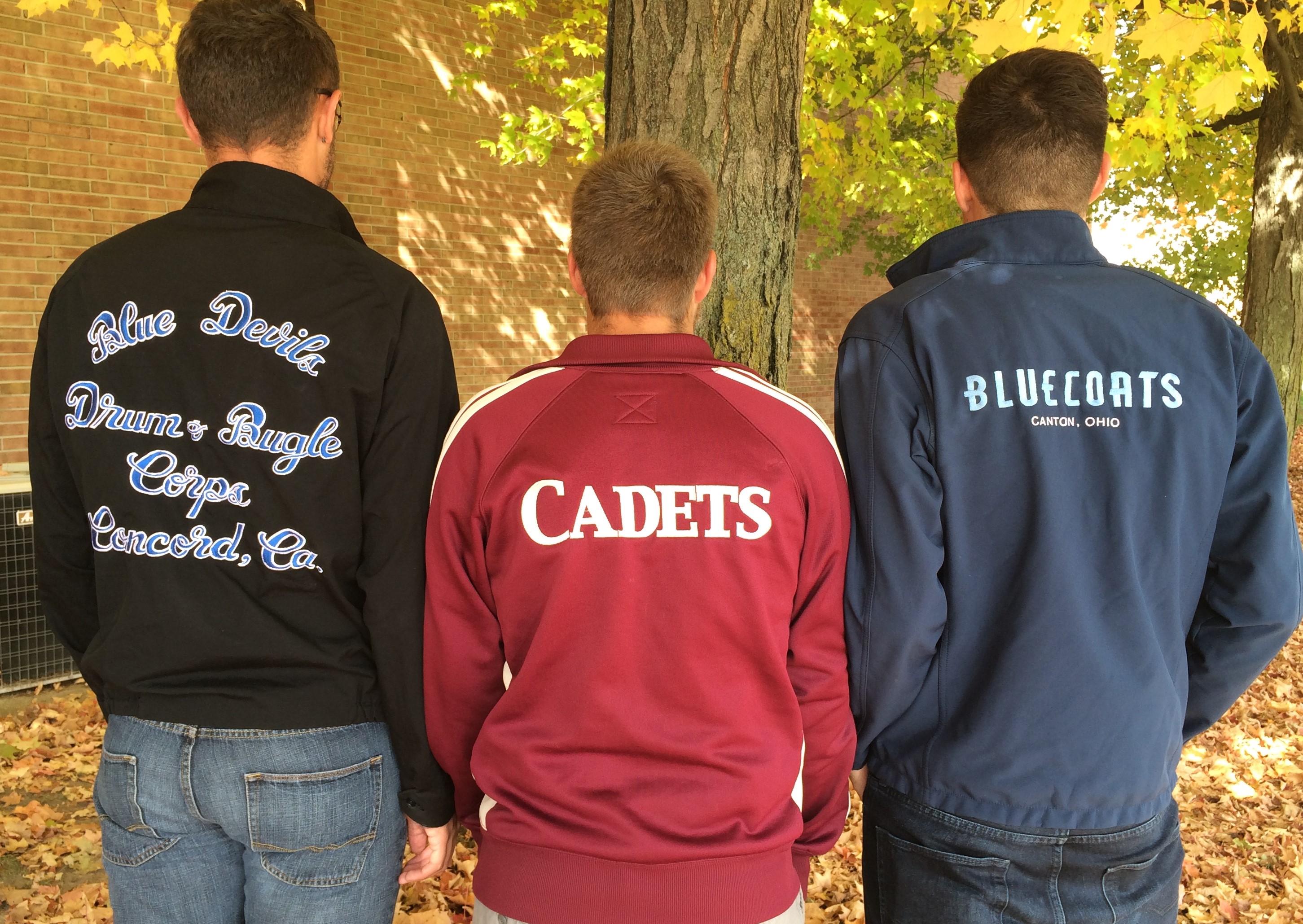 to places as far afield as Texas and Montana. Jared believes the Bluecoats, "had a lightning in a bottle year." They placed second at the world championships, a surprise ending to a season that had seen them finish third on points through the summer tour.
That meant that Brendan's corps, the Cadets, with their show "An American Portrait" performed to the music of Aaron Copland, finished one place lower than they anticipated going into the final competition. That second spot had been theirs all summer, but Brendan said, "I don't think the placement mattered." Their tour had taken them from Boston to Texas and Oklahoma, and reflecting on this he said, "Really it's the satisfaction of the whole work that went into it that matters, and the people around you. It's a great accomplishment going through it."
Speaking of the DCI experience as a whole Brendan said, "The instruction is to 'be perfect' and the paradox is that we strive for perfection but nobody ever quite gets there."
Brendan and Jared brought that passion for perfection back with them in the fall, and not just to the ensembles they play with at OU. Both teach at local high schools. Brendan teaches the percussion front ensemble at Troy Athens High School. Jared is the visual caption head at Lamphere High School in Madison Heights. He said, "I have 70 kids and I'm making sure they march really well. I work on all the visual aspects of the marching and playing."
As a music education major he thinks this is an especially valuable experience. "It's amazing to have this opportunity, which I don't think you'll get at any other university because you're stuck at marching band every Saturday. My Saturdays are filled with teaching students and spreading the joy of marching that I gained from marching three months out of the summer." Jared concludes, "A big thing I like about OU is that it doesn't have a marching band."
While OU doesn't have a marching band, music education majors take a course in marching band methods. It is not unusual to see class members outside Varner Hall spinning flags or learning to teach drill with Associate Professor of Music Education
Joe Shively
.
Dr. Shively, who marched his last summer of drum corps 30 years ago, said, "I could not have been more proud when this year's scores were announced at finals. These young men are a testament to the quality of students who are part of our instrumental music program."
Jared thought OU really made its mark at the DCI World Championships. "That the top three corps all had someone from Oakland shows just how much talent there is here. We all met up at the finals and agreed it was an amazing year for Oakland."
An amazing year for Oakland, an amazing experience for all the musicians who took part, a peerless opportunity to build a network of professional and educational contacts, and oh yes, we hear it's also one of the best workouts imaginable!
Photos:
(Left to right) Brodie Lewis, Brendan Walter and Jared Seymour - photos by Carly Uhrig