Tuesday, October 28, 2014
Professor launches journal for interdisciplinary research in evolutionary psychology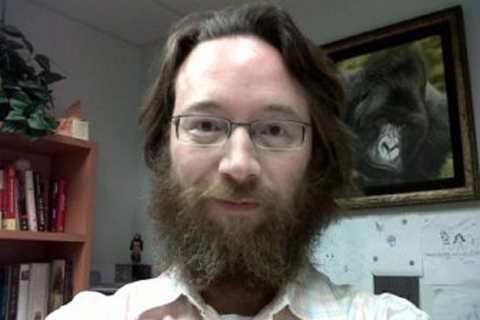 Dr. Todd Shackelford is the founding editor of an interdisciplinary journal that will publish research addressing mainstream psychological and social issues.
"If humans say it, do it or think it, it has an evolutionary foundation. That gives us a broad range of disciplines to work with." — Todd Shackelford
It has been just four years since Oakland University welcomed Dr. Todd Shackelford, an internationally prominent evolutionary psychologist, as chair of the
Department of Psychology
.
In that time, he has:
built new Ph.D. and M.S. graduate programs in psychology from the ground up;
recruited widely respected scholars to bolster the department's accomplished faculty;
worked with several departments across campus to establish the interdisciplinary Center for Social and Behavioral Research;
organized three annual, interdisciplinary evolutionary psychology conferences that have attracted dozens of scholars from across the world each year;
helped to exponentially raise interest in and submissions to the academic journal "Evolutionary Psychology," of which he is a co-editor;
was awarded esteemed "Fellow" status in the American Psychological Association and the Association for Psychological Science;
and contributed significantly to international efforts to raise the profile of evolutionary psychology as an academic discipline.
Despite the demands behind all of this and still other professional responsibilities, Dr. Shackelford never lost sight of an eagerness to answer two compelling needs.
The first was his own desire to continually be involved in creating something new, and the second was a broader need for an academic journal that fully embraced and promoted interdisciplinary scholarship in the field of evolutionary psychology.
As the founding editor of "Evolutionary Psychological Science," Dr. Shackelford will produce the exclusively online journal's first quarterly issue to be published in March 2015. It will be published by Springer, one of the world's most respected publishers of academic journals.
Shackelford and the equally accomplished members of the editorial board he has assembled have already begun to review article submissions from researchers ranging from ambitious graduate students to renowned and prolific scholars.
The work of these authors is both theoretical and empirical, and it emanates from disciplinary concentrations including psychology, sociology, anthropology, philosophy, law, political science, history and more.
"Much of what our contributors will be writing about will address mainstream psychological and social issues," Shackelford said. He noted that the journal's interdisciplinary focus is sure to nurture new knowledge and unique perspective on these issues.
"If humans say it, do it or think it, it has an evolutionary foundation. That gives us a broad range of disciplines to work with," Shackelford added. As long as a submission we receive has a solid foundation in theory and scientific knowledge, we will be taking a serious look at it."
Establishing "Evolutionary Psychological Science" was three years in the making, and by no means a walk in the park – even for one of the world's most respected scholars in the field.
"They put you under a microscope when you propose something like this, and it is nothing close to a cursory review process," Dr. Shackelford said. "They will vet you in every way they can. In the end, moving the idea forward is all about persistence."
In sum, hundreds of scholars contributed in some way to making the journal a reality. Shackelford is confident that their interest and that of many more soon to discover the journal will fuel its growth over time.
"I have no doubt that this will become the premiere evolutionary psychology journal," he said. "It will take time, but we will get there."
To learn more about the journal, visit Evolutionary Psychological Science or Dr. Shackelford's homepage.
Psychology Chair Dr. Todd Shackelford is the founding editor of "Evolutionary Psychological Science" addressing mainstream psychological and social issues.

Created by Colleen Campbell (cjcampbell@oakland.edu) on Tuesday, October 28, 2014
Modified by Colleen Campbell (cjcampbell@oakland.edu) on Monday, November 3, 2014
Article Start Date: Tuesday, October 28, 2014