Tuesday, October 28, 2014
OU alums in Fraser Schools see positive impact of iPads on student learning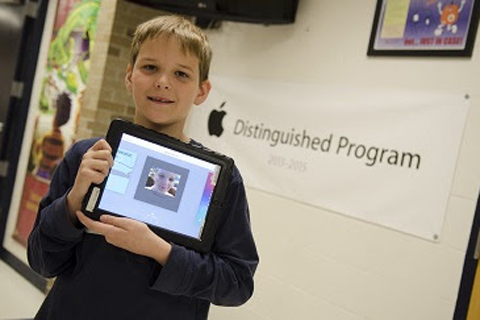 More than 5,000 iPads are being used in Fraser Schools. OU alum and Fraser High School teacher Chris Stanley says the technology helps students show how they understand class material.
"Kids are more excited." "Kids are truly beginning to own their learning." "School shouldn't be a one-size fits all program."
This is what you hear from students and staff when you walk the halls of Fraser Schools where Oakland University alum Dave Richards is the superintendent (Education Specialist '00, Ph.D. '04).
This is how it happened:
Fraser Schools is located in a small, working-class community in Macomb County. During the Great Recession, job losses, home foreclosures and other economic challenges hit them especially hard. And when times were toughest, you know what they did? They rallied around their schools.
In 2011, Fraser voters adopted a school bond proposal that has since placed them in the top districts across the country for the utilization of technology to advance 21st century learning.
Today, there are more than 5,000 iPads deployed district-wide that, as a part of a comprehensive educational framework, are helping kids maximize their learning and helping them achieve big results.
There have been many situations where even in my own classrooms a student will say, 'Hey Mr. Stanley, can I show you how I understand this in a completely different way?'" says Fraser High School teacher and OU alum Chris Stanley (Education Specialist '13). "You might have some students that do a better job making a movie to show what they've learned, you've got some students do a better job typing up a paper."
This is the second video vignette released as a part of their
"It's About Kids!" campaign
, which is dedicated to highlighting the wonderful stories that are happening every day in public schools across Michigan.
The "It's About Kids" campaign highlights 21st century teaching techniques in Michigan.

Created by Colleen Campbell (cjcampbell@oakland.edu) on Tuesday, October 28, 2014
Modified by Colleen Campbell (cjcampbell@oakland.edu) on Tuesday, October 28, 2014
Article Start Date: Tuesday, October 28, 2014