Tuesday, October 28, 2014
Family shares their late daughter's spirit with endowment and social movement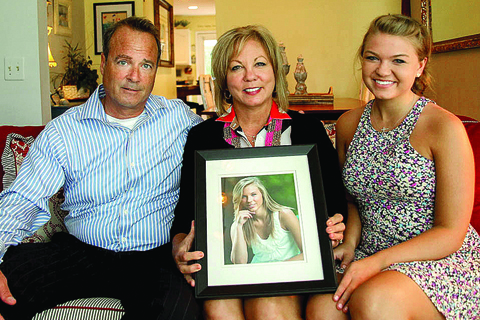 Hailey's father (Wayne), sister (Morgan), and mother (Lori) strive to spread the joy and optimism Hailey had in life. Photo by Patricia O'Blenes, courtesy C & G Newspapers.
The loss of Hailey Brouillet's life in the fall of 2013 was tragic for the Oakland community. Her memory will live on, though, through an endowment made by her family to the university she called home.
"Hailey chose (to attend) Oakland University because it was close to home and she thought it was the best university for her degree," said Hailey's mother, Lori Brouillet. "She said she 'was on the right path' at OU."
Hailey was working towards a degree in health sciences, with dreams of becoming a physical therapist. Eight months after the 20-year-old's fatal car accident, her family created a fund at OU in the hopes of establishing a scholarship in Hailey's name.
With a goal of $25,000, family and friends rallied together, holding fundraising events to raise money for the endowment. Their efforts paid off, and the Hailey Brouillet Endowment for Study Abroad Scholarships was created to support those interested in studying abroad: a program Hailey was very passionate about.
"The study abroad program expanded horizons much more than I ever thought it would," Hailey had said upon returning from her trip to Amsterdam and London. "It was the best experience of my life."
The Hailey Brouillet Endowment for Study Abroad Scholarships will pay out around $1,000 annually to one study abroad student. The family hopes that the endowment will continue to grow, providing more students with the opportunity to embark on a life-changing, international experience.
"Hailey wanted to share her passion of travel after returning from the CIEE study abroad program in the summer of 2013," Lori said. "She was the most giving, thoughtful young woman. She always put others before herself."
To further honor their late daughter's memory, the Brouillets, along with Hailey's boyfriend and roommate, created the #shareherspirit movement to promote the positivity and passion Hailey had for life.
"The 'Share her Spirit' movement keeps her spirit alive," Lori said. "Through social media sites we were able to share things about Hailey as well as keep the community informed on what fundraisers were happening to establish the scholarship. It was started to help us heal, and took on a life of its own."
Lori describes Hailey as fearless, hopeful and full of love. With the endowment, the Brouillets share their late daughter's spirit by providing other students the opportunity to expand their horizons studying abroad. As noted in Hailey's journal as her purpose in life, "We are not made for Earth. We are made for so much greater than this…heaven. All the struggle people go through is going to be worth it. I know someday I will find my purpose, I believe everyone will."
Follow the campaign on
Facebook
,
Twitter
and
Instagram
. To donate to the Hailey Brouillet Endowment for Study Abroad Scholarships, visit
OU's giving website
.
Honoring Hailey Brouillet's passion for travel, her family starts an annual scholarship to share the study abroad experience with Oakland University students for years to come.

Created by Colleen Campbell (cjcampbell@oakland.edu) on Tuesday, October 28, 2014
Modified by Colleen Campbell (cjcampbell@oakland.edu) on Tuesday, October 28, 2014
Article Start Date: Tuesday, October 28, 2014