Tuesday, October 21, 2014
Dr. Pamela Marin retires; Dr. Kristina Aaron named SON interim Assistant Dean for Student Services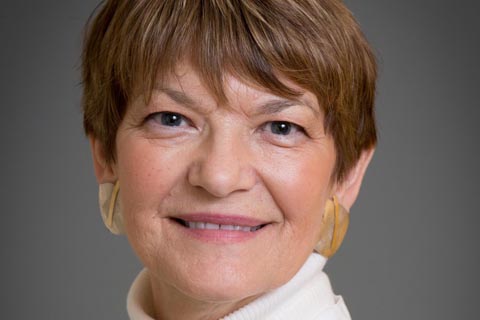 Pamela Marin, Ph.D.
After 41 years of service to Oakland University, Dr. Pamela Marin will retire from her position as Assistant Dean for Student Services in the School of Nursing. She has served in her current role since 1997 and previously held positions in admissions, career advising and continuing education.
Prior to arriving in the School of Nursing, Pam worked as an Admissions Adviser and was promoted to Assistant Director of Admissions. She went on to serve in Career Advising and Placement, and later became Executive Assistant to the President and Director of Continuing Education before assuming her current role in the School of Nursing.
As Assistant Dean, Pam and her department are the central point of communication among students, academic advising staff, faculty and administrators. In 2011, Pam received an award from the National Academic Advising Association for her achievements, which included expanding SON's new student orientation, initiating the Enterprise database for advising; auditing to ensure compliance with CAS standards and guidelines for Academic Advising, and assisting with development of the online RN-BSN degree completion sequence and regulatory approval. She also administered SON scholarships and awards and introduced a student town hall series to provide nursing students with regular access to SON Deans.
Kristina Aaron, Ph.D.
Dr. Kristina Aaron will serve as interim Assistant Dean for Advising in the School of Nursing. Kristina has been at Oakland University since 2002, serving first as the Admission Adviser/Recruiter, before being hired as the Academic Adviser for Accelerated Second BSN students. She has more than 13 years of experience in higher education, including previous roles at Western Michigan University and Wayne State University Law School.
Kristina has worked extensively with SON faculty and staff, as well as University administrators across campus. She has in-depth knowledge of campus resources and a passion for creating programs to increase the recruitment and retention of underserved students. She currently serves as the Adviser for the student chapter of the National Black Nurses Association at Oakland University and was instrumental in developing the successful Camp RN pre-college program. With the recent completion of her doctoral degree in Educational Leadership from Oakland University, Kristina has a strong background in college student development theory and is currently working on professional research.

A Farewell Reception for Pam will be held from 2-4 p.m. on Monday, Oct. 27 in room 2045 of the Human Health Building. All are welcome to attend. Please R.S.V.P. to Ashley Samson at samson@oakland.edu.
As Assistant Dean, Pam and her department are the central point of communication among students, academic advising staff, faculty and administrators.

Created by Colleen Campbell (cjcampbell@oakland.edu) on Tuesday, October 21, 2014
Modified by Colleen Campbell (cjcampbell@oakland.edu) on Tuesday, November 11, 2014
Article Start Date: Tuesday, October 21, 2014