Wednesday, October 15, 2014
PNC executive, OU Trustee Richard Devore shares advice with OU business students
"Find something no one else wants to do and do it really well," said PNC Financial Services Regional President Richard Devore, sharing the advice his father gave him. Devore offered advice and insight his 35 years in the financial services industry to OU business students at the Financial Management Association's fall speaker event.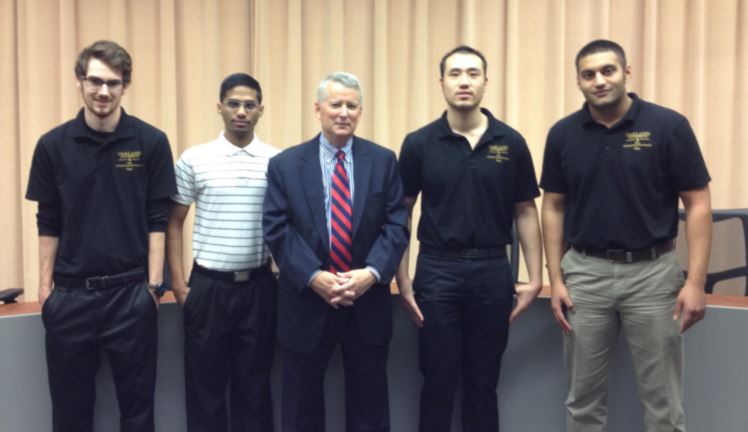 From the financial crisis through the rebuilding of Detroit, Devore engaged students with stories from his career and his excitement about his field.
DeVore is an executive vice president of PNC Bank, a member of the PNC Financial Services Group. A seasoned banker, he has more than 35 years of financial institutions experience. In his current role as regional president for Detroit and Southeast
Michigan, DeVore serves as PNC's lead banker in the region and chairs the local PNC Foundation. He also serves as Vice Chairman on Oakland University's Board of Trustees.
Since joining PNC in 1991, DeVore has held a number of leadership positions, primarily in the credit and marketing groups. He was named executive vice president in 2001, and assumed his current position in 2010.
He shared his optimism for the future of Detroit, saying Detroit will be okay because the young people in this room have a better can-do spirit than most of the people of my generation.

"What frustrates me," he said "is the person who thinks their education is done after they have their degree. You should always be learning."
"Find something no one else wants to do and do it really well," said PNC Financial Services Regional President Richard Devore, sharing the advice his father gave him. Devore offered advice and insight his 35 years in the financial services industry with OU business students at the Financial Management Association's fall speaker event.


Created by Claudette Zolkowski-Brown (zolkowsk@oakland.edu) on Wednesday, October 15, 2014
Modified by Claudette Zolkowski-Brown (zolkowsk@oakland.edu) on Wednesday, October 15, 2014
Article Start Date: Wednesday, October 15, 2014