Thursday, October 9, 2014
Southeastern Michigan manufacturing jobs are on the rise again, says economics professor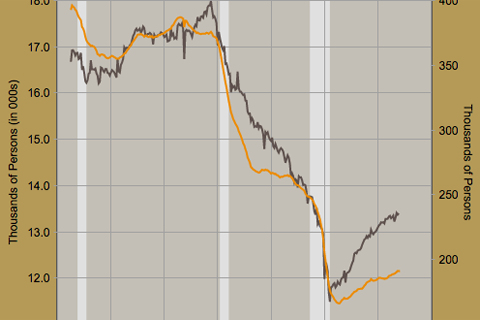 Since the turn of the century, manufacturing jobs in Southeastern Michigan — following the national trend — experienced a quick decline. But in recent years, Southeastern Michigan is seeing a much quicker recovery.
According to a new report by Oakland University's Jonathan Silberman, professor of economics, the digression from the national trend can be credited to no other than the automotive industry's Big Three.
"Two factors behind the renaissance are the desire by General Motors, Ford and Chrysler to move suppliers and production closer to corporate headquarters and the growing importance of research and development (R&D) to the automotive industry. Southeastern Michigan is the epicenter of automotive R&D in the U.S. that spans advanced electronics and IT components, electric and hybrid vehicle technologies, and automatic guidance systems. Innovation in these realms has the possibility to cross over into other industries generating more economic growth in the region."
Read the
original report
.
Learn about Oakland University's School of Business Administration at
oakland.edu/business
.
Professor Silberman in Oakland University' business school credits the region's recovery, which is happening at a faster pace than the nation, to the Big Three.

Created by Colleen Campbell (cjcampbell@oakland.edu) on Thursday, October 9, 2014
Modified by Colleen Campbell (cjcampbell@oakland.edu) on Thursday, October 9, 2014
Article Start Date: Thursday, October 9, 2014