Tuesday, October 7, 2014
Play begins at the Recreation and Athletic Outdoor Complex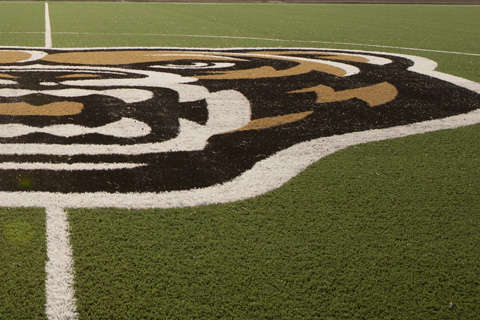 The Recreation and Athletic Outdoor Complex is now open for play! The tennis courts will be open and ready for use soon, weather dependent.
Oakland University has opened the west side recreational fields in the Recreation and Athletic Outdoor Complex (RAO), formerly the Upper Fields.
The complex features a track, a soccer field, eight tennis courts and two multi-purpose turf fields.
The tennis courts will open no sooner than Friday, Oct. 10, depending on weather conditions effecting the painting of lines and installation of nets.
Due to ongoing construction work, the track and interior soccer field will not open until late October. Additional information will be shared as it becomes available.
"I am extremely excited about the opening of the outdoor complex," said Greg Jordan, director of Campus Recreation. "Each fall, more than 1,200 students participate in outdoor intramural and club sports."
"In addition to varsity, intramural and club sport events, the multi-purpose turf fields and tennis courts will be available for open recreation by all students, faculty and staff members."
While RAOC playing surfaces other than the track and soccer field are be ready for use adjacent grounds have just been seeded. RAOC visitors are asked to stay on the sidewalks to avoid disturbing the seeded areas. "There are five different sidewalk entrances to the space, so we're asking all participants to use them. When the grass matures, there will be great natural seating throughout the complex," Jordan noted.
Intramural and club sports teams must schedule practice and game times through the
Department of Campus Recreation
. Use of the facilities outside of scheduled events will be allowed on a first-come, first-served basis. Additional information, details and openings will be shared in a timely manner.
The complex features a track, a soccer field, eight tennis courts and two multi-purpose turf fields. The tennis courts will be ready for use soon, weather dependent.

Created by David Groves (groves@oakland.edu) on Tuesday, October 7, 2014
Modified by Colleen Campbell (cjcampbell@oakland.edu) on Friday, October 17, 2014
Article Start Date: Tuesday, October 7, 2014