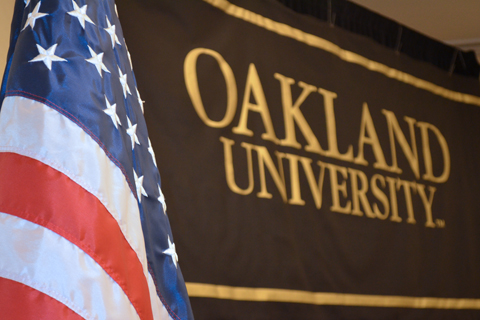 Photo by Chelsea Kattleman
For the sixth year in a row, Oakland University has been named a "Military Friendly School" by G.I. Jobs magazine, a distinction reserved for the top 15 percent of all colleges, universities and trade schools nationwide.
The work of the entire Veterans Support Services team has established the University as a leader in providing exceptional services to student veterans and their families. OU student veterans receive priority registration, in-state tuition rates (regardless of residence) and red, white, and blue honor cords at graduation. The University also offers evaluation of veterans' transcripts based on American Council on Education guidelines, an arrangement that allows service members to receive credit for courses taken as part of military training. In 2011, Oakland's Veteran Transfer Student Services program was recognized with the Michigan Association of Collegiate Registrar and Admissions Officers Outstanding Transfer Program Award.
Through the Office of Veterans Support Services, the University serves student veterans and their dependents year-around and can direct students to many resources, including the registrar's office, financial aid office, OU Counseling Center and the Pontiac Vet Center.
"The main focus of our office is to help military members and their dependents attain their educational benefits," said Bradley Reichelt, Oakland's veteran liaison. "We also assist in easing the transition from the military to college by working with the University's Student Veterans of America chapter to create events and programs that will help integrate our veteran population into college life."
Building on these efforts, OU is a charter member of the Michigan Educators Veterans Support Consortium and participates in numerous veterans support programs across the state and nation. This year, Oakland pledged its support of the 8 Keys to Veterans' Success, a collaborative initiative created through the U.S. departments of Veterans Affairs, Education, and Defense. The keys focus on ways that colleges and universities can support veterans as they pursue their education and enhance their careers.
This August, Oakland was approved as a participating institution in the Department of Defense Voluntary Education Partnership Memorandum of Understanding. The document requires signatories to review programs for compliance on an ongoing basis to ensure that quality programs are implemented on behalf of service members, their families and for civilian personnel providing them key support around the nation and world.
"As an institution committed to our active and retired service members, as well as their dependents, we want to provide as many opportunities for those who give so much to our country," said Steve Shablin, OU Registrar. "I am proud of our faculty and staff who provide support on a daily basis."
In addition, Oakland supports student veterans through the annual Veterans Jump Start event, a welcome reception for returning and first-year student veterans. Sponsored by the Delphi Foundation, the event features guest speakers, community resources and networking opportunities to enhance the students' academic endeavors. The Delphi Foundation also annually awards four $3,500 scholarships to OU student veterans in recognition of outstanding academic performance, leadership and involvement on campus and in the community.
G.I. Jobs provides a resource for the eight million military members and veterans seeking a new school or job. General topics include tips to find a school, build a successful resume, career and how to prepare for a recruiter interview. The military friendly school list was compiled through extensive research and a survey of more than 12,000 schools nationwide.
For more information on services for veterans or their dependents, contact
veterans@oakland.edu
, visit the veterans support services website or call (248) 370-2010.
OU was named a "Military Friendly School" by G.I. Jobs magazine, a distinction reserved for the top 15 percent of all colleges, universities and trade schools nationwide.

Created by Eric Reikowski (esreikow@oakland.edu) on Tuesday, September 30, 2014
Modified by Eric Reikowski (esreikow@oakland.edu) on Tuesday, October 7, 2014
Article Start Date: Monday, October 6, 2014