Wednesday, October 1, 2014
$1.5 million will carry Eye Research Institute into its fourth decade of grant-funded cataract research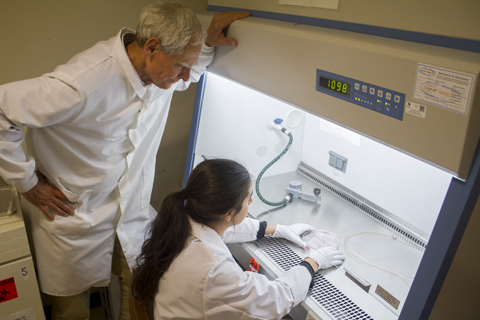 Undergraduate student, Nahrain Putris, is one of several students who works with Dr. Giblin on cataract-related research.
For 36 years, the National Institutes of Health (NIH) have funded Dr. Frank Giblin's research on cataracts. This fall he will expand his work with a four-year grant totaling $1.5 million.
"It's unusual to have a grant for 36 years with the same title and grant number," Dr. Giblin said.
Dr. Giblin is a professor of
biomedical sciences
and director of the
Eye Research Institute
at Oakland University. His research on "Proteins of Normal and Cataractous Lenses" has received more than $10 million since the grant's conception in 1977. At that time, there was little known about oxidative stress and its involvement in causing cataracts, a loss of transparency in the lens.
"My first 10 or 15 years, I just really studied and evaluated all the different antioxidant mechanisms that are present in the lens, the main one was glutathione," Dr. Giblin said. "The lens has one of highest concentrations of glutathione in the body, so I studied how that works and why it doesn't work so well in the nucleus, or center of the lens."
Although the name of the grant has remained the same, Dr. Giblin's studies have evolved as he has uncovered the mysteries of age-related cataracts and their relationship to proteins in the ocular lens. "One discovery leads to something else," he said.
His newest NIH grant will continue until the fall of 2018. In that time, he plans to further explore the cause of age-related cataracts in relation to oxygen and study fragments of proteins called peptides that may be involved as well.
A postdoctoral fellow will be hired and Dr. Giblin will collaborate with researchers from universities across the country, including Vanderbilt University, Oregon Health Sciences University and the University of Missouri.
"The grant will study the role of oxygen in causing a common type of human age-related cataract called nuclear cataract, which forms in the center of the lens and can cause blindness," Dr. Giblin said.
Dr. Giblin's research expands further than this NIH grant, encompassing various other cataract-related studies where he enlists the help of students. He works on various side projects with OU biological sciences undergraduates Mirna Awrow, Nahrain Putris and Mason Geno.
"It's experience I never expected to get at an undergraduate level," said OU sophomore Putris, a biochemistry (
pre-med
) major and student in the
Honors College
.
The pioneering efforts of Dr. Giblin's cataract-related research will provide the University's Eye Research Institute with the knowledge and funds to continue to grow and expand the studies of ocular diseases.
— by Kelli M. Titus
The grant will study the role of oxygen in causing a common type of human age-related cataract called nuclear cataract, which can cause blindness.

Created by Colleen Campbell (cjcampbell@oakland.edu) on Wednesday, October 1, 2014
Modified by Colleen Campbell (cjcampbell@oakland.edu) on Friday, October 3, 2014
Article Start Date: Wednesday, October 1, 2014