Tuesday, September 30, 2014
Actress and AIDS activist Jurnee Smollett-Bell to speak at 2015 KOD celebration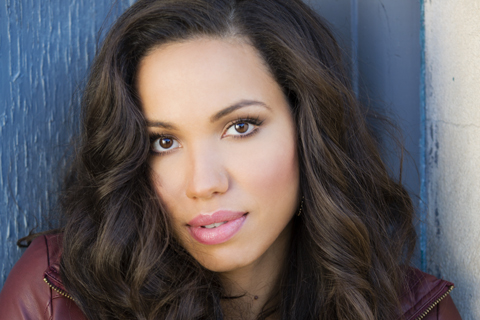 Award-winning actress and activist Jurnee Smollett-Bell will be the keynote speaker at the Keeper of the Dream Scholarship Award event on Monday, Jan. 19. Students can apply for scholarships up to $5,000 until Oct. 10, 2014.
As part of the celebration for the 23
rd
annual
Keeper of the Dream Scholarship Awards
, Oakland University will welcome award-winning actress and activist Jurnee Smollett-Bell as keynote speaker.
Smollett first gained fame as a child actress, starring in popular sitcoms such as "Full House" and "Hangin' With Mr. Cooper." She was most recently seen on NBC's critically acclaimed series "Parenthood" and is currently co-starring on HBO's "True Blood." A versatile performer, Smollett's other acting credits include NBC's Emmy Award-winning series, "Friday Night Lights," "House," "The Great Debaters" and "Grey's Anatomy." She landed her breakout film role at age 11, starring in "Eve's Bayou" opposite Samuel L. Jackson.
Along with her entertainment career, Smollett is an activist and the youngest board member of Artists for a New South Africa (ANSA), a nonprofit working in the U.S. and South Africa to combat HIV/AIDS, advance human rights, and educate and empower children orphaned by AIDS, as well as other at-risk youth. She has been involved in ANSA since age 11, and in 2006, became the organization's pioneer presenter for Speaking Positively, a program in the Los Angeles Unified School District HIV/AIDS Prevention Unit that helps raise awareness of the disease. Through her efforts with ANSA, she has traveled to South Africa and met with Nelson Mandela, Archbishop Desmond Tutu and Zackie Achmat, as well as people living with HIV/AIDS and children orphaned by the disease.
In 2010, Smollett completed an official mission for the U.S. State Department in which she was sent to Botswana, Swaziland and South Africa to conduct workshops with women and youth about activism, empowerment and HIV/AIDS.
"Jurnee Smollett's spirit of activism, education and giving voice to the voiceless embodies what the KOD celebration and scholarship are all about," said Omar Brown-El, director of the Center for Multicultural Initiatives. "We are excited and looking forward to the day when we welcome her to campus."
Established in 1993, Keeper of the Dream provides scholarships up to $5,000 for students who have demonstrated strong citizenship, scholarship and leadership in breaking down cultural stereotypes and promoting interracial understanding. Since its inception, more than 80 students from a wide variety of academic majors have been awarded scholarships.

Past keynote speakers include esteemed public figures such as rapper and activist Common, actor and director Danny Glover, journalist and editor Susan L. Taylor, and civil rights leader Coretta Scott King.
The 2015 Keeper of the Dream Award will be presented on Martin Luther King, Jr. Day, Monday, Jan. 19, at an award luncheon. Nominations for the award will be accepted until 5. p.m. on Friday Oct. 10. Applications are available online at oakland.edu/cmi/kod.
For additional information, contact the Center for Multicultural Initiatives at cmi@oakland.edu or (248) 370-4404.
Students can apply for Keeper of the Dream Awards up to $5,000 until Oct. 10, 2014.

Created by Eric Reikowski (esreikow@oakland.edu) on Tuesday, September 30, 2014
Modified by Colleen Campbell (cjcampbell@oakland.edu) on Wednesday, October 1, 2014
Article Start Date: Tuesday, September 30, 2014